"… I found my thoughts returning to a troubling dream the night before, the meaning of which remained obscure: I had been clambering with difficulty over a rocky hill near my childhood home, and found myself moving toward a large white nightshirt hung ominously from the electrical wires, as some kind of warning or portent. The nightshirt was riddled with bullet-holes. Though I turned away, in the dream, I only found my path leading me toward another, identical nightshirt, also bullet-riddled, but farther off. ... This was all accompanied by a feeling of foreboding."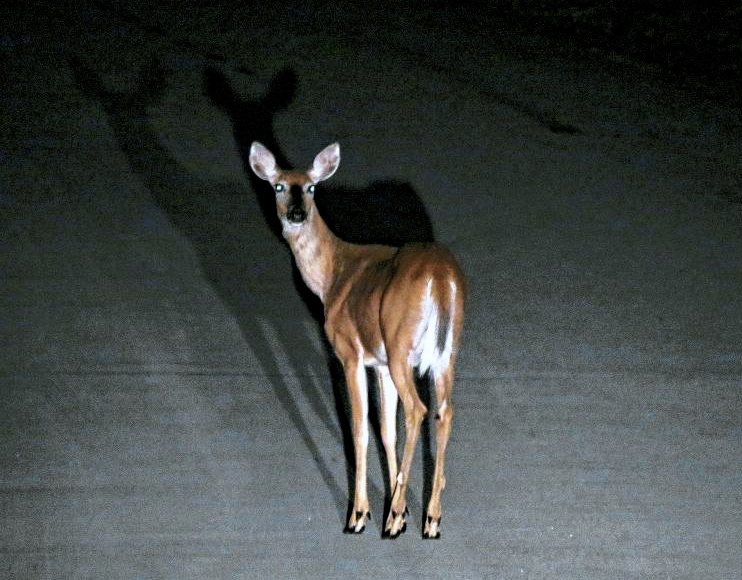 "The world is a dynamic mess of jiggling things if you look at it right. And if you magnify it, you can hardly see anything anymore, because everything is jiggling and they're all in patterns, and they're all lots of little balls. It's lucky that we have such a large scale view of everything, that we can see them as things, without having to worry about all these little atoms all the time." — Richard Feynman
Lately lots of anti-materialist writers are describing the brain as an interface between consciousness and the physical organism, a way of translating nonlocal mind into material intention. Quantum physics is typically invoked to explain how this might happen, yet it often involves a lot of vague hand-waving. I admit to being guilty of said hand-waving. It sounds nice and impressive to talk about "collapsing wave functions" and whatnot, but there's no way for non-physicists to really evaluate such claims, and honestly, resolute skeptics and materialists are right to distrust us when we make these kinds of speculations.
The privileging of consciousness in most of our jerry-rigged and often desperate-sounding New Age accounts of intention affecting reality sound a lot like wish-fulfillment: We want it to be the case, but we can't actually say how it is the case, with any kind of real conviction.
Although the idea that consciousness emerges from material processes can never be more than an idea, hence within consciousness—as any number of writers, from Rupert Sheldrake to Deepak Chopra to Bernardo Kastrup have very nicely pointed out in recent books—the materialist bad guys are on much firmer ground in saying that quantum effects, at least in most mainstream interpretations, hold mainly on a microscopic level. How does collapsing an electron's wave function through observation translate to changing the New York Times on my doorstep from a possibility to an actuality when I open the door to retrieve it?
Another big Achilles heel in anti-materialist invocations of quantum mechanics is in somehow thinking that the randomness that negates determinist causation on the particle level by itself opens the door to free will on a human scale. Even if it's not actually a classical, billiard-ball world down there with all those jiggling particles, randomness alone does not provide any account of consciousness as a free agent in our human world.
Thus, as it now stands, the privileging of consciousness in many of our jerry-rigged and often desperate-sounding New Age accounts of intention affecting reality sound a lot like wish-fulfillment: We want it to be the case, but we can't actually say how it is the case. Frankly, I wouldn't trust us on these questions, if I were a heardheaded materialist skeptic.
This is where I have been extremely impressed (blown away, really) by the work of Henry P. Stapp, a theoretical physicist who has been working on this problem his whole career, and who has produced a rather dazzling quantum-mechanical account of how the brain may translate conscious intention into macroscopic effects. This isn't the usual vague hand-waving. Stapp's book Mindful Universe
walks the reader through the history and underpinnings of quantum physics in a thorough but remarkably readable manner, and explains at every step of the way not only why consciousness must factor in to our understanding of the physical universe on a very fundamental level (the Copenhagen-Von Neumann Interpretation) but also how our brains may work as an interface between consciousness and the machine of the body, through precisely the "probing" (i.e., posing of "yes/no" questions) that quantum mechanics models in its most iconic experiments.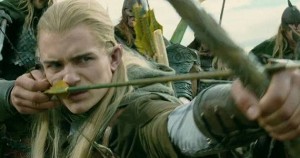 Consciousness basically is an experimenter, Stapp says—a chooser of what questions to ask of nature. On a particle level, nature is free to answer however she chooses (i.e., randomly), yet there is a crucial loophole: a phenomenon known as the Quantum Zeno Effect. This effect may be decisive for the way consciousness influences the actions of the meat machine via the brain. Specifically, persistent rapid probing of reality produces the same "answer" repeatedly from the physical world, effectively "stopping time" in some sense—hence the name of the effect, which refers to Zeno's paradoxes like an arrow that must first get halfway to its target, but first halfway to that, and so on, and thus never being able to leave the bow at all.
Previous efforts toward a quantum neuroscience, like that of Roger Penrose (Shadows of the Mind
), have focused on narrow cellular structures where quantum indeterminacy can come into play. Penrose focused on microtubules that extend through cells, but Stapp focuses on very narrow ion channels in the walls of synapses as sites where, through probing actions that amount to querying the behavior of particles, consciousness takes control of the brain and body. We're obviously not conscious, in the sense of "aware," of this querying, as it happens many times a second, at trillions of locations throughout the nervous system; the idea is that cortical activity is entangled and coherent, a unified orchestration of these micro Zeno effects. It reminds me of Feynman's sense of relief that we do not need to actively micromanage our affairs at the particle level, which would be just too daunting a task. The brain, conveniently, is the organ scaling up those particle-level actions via quantum coherence, enabling them to have macro-level effects. If Stapp is right, we ourselves are macro-scale quantum phenomena.
From Quantum Hand-Waving to Quantum Finger Lifting
Stapp uses the Quantum Zeno Effect to account for the most baffling (and on the surface, most seemingly materialism-supporting) finding in neuroscience, Benjamin Libet's 1983 discovery of a roughly half-second delay between the initiation of a consciously formulated action—a measurable neurological "readiness potential"—and its actual appearance in conscious awareness. Libet's and subsequent experiments on this phenomenon (for instance those of psychologist Daniel Wegner) seemingly were the nail in the coffin of "free will" as we ordinarily understand it, since they seemed to show that an intention to move the body follows rather than precedes the observed action. In his contribution to the recent collection, Beyond Physicalism
, Stapp addresses Libet's finding, arguing that it reflects instead an illusion produced by observation-related collapse a la Heisenberg.
If Stapp is right, the bodymind is PhilDickian to its core: The calcium ions triggering neurotransmitters to cross the synaptic cleft are little Schrodinger's cats.
To perform an action, the neural command architecture should already be primed in advance and ready, like a spring; in an uncertain universe, a range of possible actions should all be readied, and thus a large range of neural actions should be primed in the invisible no-space of quantum superposition (what I have called the Quantum Not Yet). The choice to make a particular action amounts on the neuronal level to a choice to observe a quantum state (in other words, consciousness as experimenter again), which collapses that fan of potential action templates to a single actual readiness potential; the unactualized possibilities disappear. In a very real sense, our every decision to move a muscle is acting "retrocausally" by collapsing the fuzzy smear of possible readiness potentials to a definite, determined one, producing an apparently paradoxical effect of an effect (the measured readiness potential) preceding its cause (the conscious decision to make this muscle motion rather than that one or none at all).
If Stapp is right, the bodymind is PhilDickian to its core: The calcium ions moving through narrow vesicles and triggering neurotransmitters to cross the synaptic cleft are little Schrodinger's cats, and the implication is that in our very early development our consciousness learned to control this process through a form of (small-scale) persistence, repeatedly posing the same "yes/no" questions and discovering that this persistent probing had the power to move the body in relatively predictable ways.
Watched Pots
The Quantum Zeno Effect could be described as a prophylactic against information loss (entropy gain), as a result of focused, persistent attention, or the seeking of information. Sometimes called the "watched pot effect," this can even be thought of as the local stopping or slowing of time, could it not? Reality, in other words, is like a deer that freezes in attention's headlights. One mind-blowing implication of this—although I don't think Stapp articulates it this way—is that it seems to offer further evidence there is no single temporal stream but that everything, every particle, has its own temporal flow, depending partly on the level of attention it receives. Those flows locally may tend to average out and give the illusion of coherence, but focused attention on some part of a system may actually slow its unfolding, perturbing the whole in a certain direction.
Could narrow focused engagement actually alter the local flow of time around the object of attention? Is the shaping of time around our activity a real effect and not just a subjective illusion?
If the Quantum Zeno Effect is the basic "hack" by which conscious intention fashions the world to its desires and in its image, it could explain numerous effects experienced by athletes and creative writers and artists who experience "flow" states—expanded subjective time as a function of how narrowly versus diffusely the attention is focused on a problem or task. Could narrow focused engagement actually alter the local flow of time around the object of attention? Is the shaping of time around our activity a real effect and not just a subjective illusion?
It's easy to extrapolate from this small-scale, nuts-and-bolts picture of quantum interfacing with our meat-mecha-body to advanced and effortful kinds of coherent "probing" in the form of meditation and other types of focused mental discipline. These may potentially capitalize on the Quantum Zeno Effect for more remarkable feats in which we influence not only the body but also the external material world, for instance in psi phenomena. Stapp's theory has implications, in other words, for how attention might manifest intention.
That would be just one more reason why attention—the focusing and directing of consciousness—is the most precious resource there is, as well as our fundamental superpower birthright. There are countless ways our attention is captured and redirected by media, technology, and attention-needy persons and institutions; and there are many ways culture itself acts as a psi-delimiting system, precisely by scrambling and weakening our powers of attention. So, if you aren't already working your attentional muscle in some kind of daily meditation practice, to defeat these corrosive forces on your psi, WTF are you waiting for?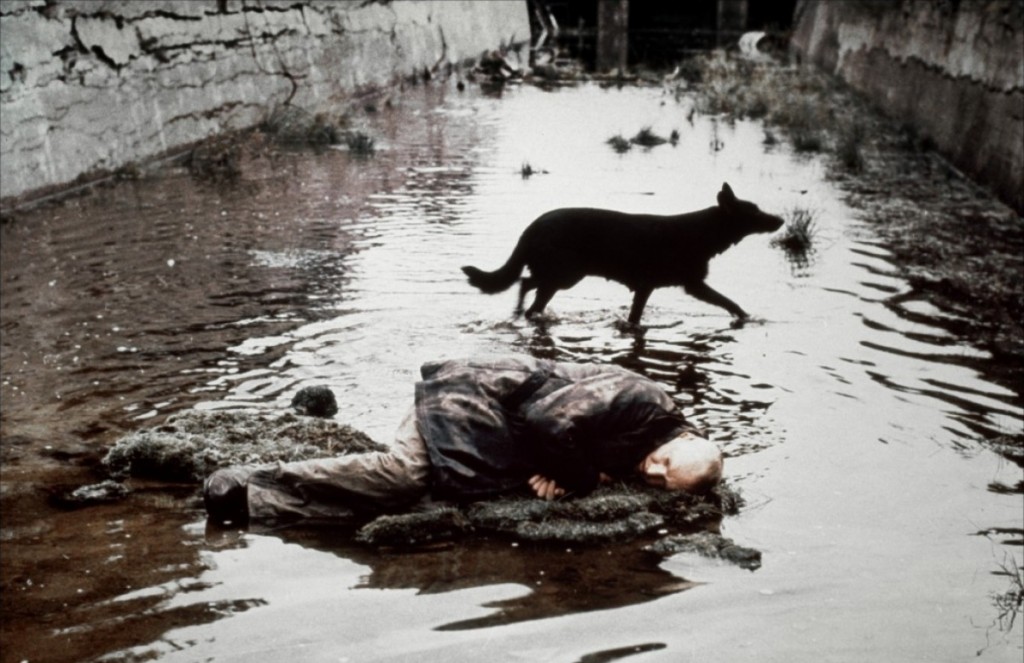 The Zone in Andrei Tarkovsky's late sci-fi masterpiece Stalker is one of my favorite places, real or imagined. It is a landscape of overgrown ruins, where spacetime itself is uncertain and only the experienced can guide you through. It is not that the guide (the "Stalker" of the title) knows the way—because the way is never the same as it was last time—but because he knows the indications, and knows how to test the reality there, to guide his companions safely.
Stalker, the film, is, recursively, a lot like the ambiguous catastrophe that created the Zone: It has destroyed and bent time itself, and caused causality to rupture.
The Zone could stand as the prototype for practically every postapocalyptic landscape in cinema or fiction. It is the dead marshes that surround Mordor, for instance, as well as Mordor itself. In Peter Jackson's film of The Two Towers, the armored Elvish corpses lying just under the water seem to have been modeled on the marsh over which Tarkovsky's famous tracking shot slowly inches, toward the Stalker's sleeping hand. Just inches under the water are objects from various times, partly exposed in the mud: a metal tray, a syringe, coins, a religious icon, a gun, a spring. bathroom tile … You could miss them if you weren't looking.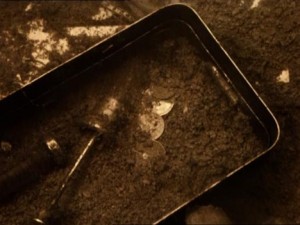 More fundamentally, the Zone is the Grail Kingdom from the Arthurian romances and Wagner's Parsifal: a beautiful but strangely timeless and desolate place, where time itself seems to slow down in the vicinity of the traumatic yet life-giving miracle at its center. The Zone is the waste land created by the Grail King's curse, like the "bradychronality" (region of viscous time) near a black hole, where the ordinary rules do not apply. It is the realm on the edge, on the rim of the symbolic—you can see its broken wreckage around you, you can grip tight to the twisted rebar jutting from the shattered concrete—but it is not yet the Real. It is what lies between the Real and consensus reality, a trickster landscape of danger and possibility.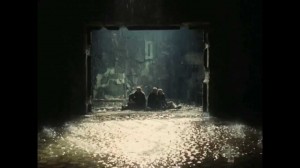 At the heart of the Zone is a room where, it is said, one's deepest wish will be granted. This is why two men, a famous writer and a prominent scientist, have paid dearly to have the Stalker guide them through this landscape. But once they get there, they find just an empty, dirty room with water covering the floor—a nothing. They bicker, and fight, and hesitate to go in. The Stalker himself won't go in. He reveals that his predecessor and mentor, the great master-stalker named "Porcupine," went in, and came out to find himself a rich man. He hung himself after that, because he had gone in seeking to bring his dead brother back to life—his brother, whom he had led to his death in the Zone. The room knew better than Porcupine did his own heart's true desire, and it was not pretty or noble.
The scholar turns on his guide and accosts him, accusing him of toying with them. The scientist pulls out a small nuclear device he had smuggled in his backpack, to destroy the room and the superstition the room represents. But both men realize the pathetic absurdity of their gestures, and back down from their threats. The journey seems to teach them something about themselves. It is enough to come to the threshold and not walk through.
From Wish to Enjoyment
I have frequently dreamed and thought about the Zone, and the dripping, watery room at its heart, ever since I first saw Tarkovsky's masterpiece about 30 years ago. It is a real place—in a very precise sense. Or rather, it is the no-man's land on the edge of the Real, a dangerous margin between the Real and the ordinary world. And the film Stalker itself (based on the also-excellent novel Roadside Picnic by Boris and Arkady Strugatsky) is like the supplement, or a permutation, of countless other philosophical and sci-fi parables. It radiates outward in time and space in all directions. It is always present, like one of Phil Dick's "common constituents."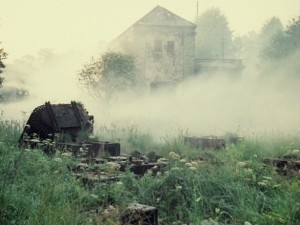 Stalker is a permutation of the Robert Scheckley's short story, "The Store of Worlds," for one thing. An old man in a run-down shack on the edge of town peddles a drug that will take the user to a dimension where your deepest wishes are fulfilled. The main character, Mr. Wayne, hesitates upon first visiting the old man, and leaves saying he will consider the offer. Later he resolves to go back and take it, yet he continually hesitates, continually puts it off because the mundane demands of his work and family routine make him too busy. Eventually he wakes up in the old man's shack, in a dismal postapocalyptic "real world," and pays the old man everything he owns—just some scraps—satisfied that indeed the drug (which he did in fact take on that first visit) did as promised: The banal tedious reality of an ordinary life was actually what he wished for.
On the outside, or to other people, our secret enjoyment may look like trash or junk—indeed, just like that miserable, dripping, peeling room—but to us it is everything.
Stalker is also a lot like Kafka's famous parable "Before the Law." A "man from the country" comes before the Door of the Law and begs to gain access but is prevented, giving up all his money in bribes to the gatekeeper but to no end. The man waits and waits, and the gatekeeper finally shuts the door as he dies, telling him that all along this door was meant only for him. Even if, in death, he seems separated from his ultimate consuming goal, we may realize that his deeper more inaccessible wish (rather neurotically) has been to live his whole life in the presence of the gatekeeper, asking him questions, paying him bribes. This is what gives his life meaning, even if he has required this other fantasy screen (the door) as a way to explain it to himself.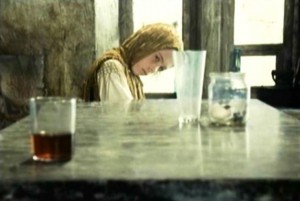 It is sometimes said that the danger of the wish-granting room in the Zone is that your deepest wish won't be what you want (or believe) it to be, or that you won't be able to phrase it correctly. At the end, on their return to civilization, when we see how the Stalker of the film lives in a modest dwelling, with a crippled, mutant daughter, we understand exactly his fear: that somehow his obvious wish to cure his daughter or provide better for his family may not be his deepest. It is thus better to be ignorant of our deepest unconscious wish lest we end up like Porcupine.
But I believe this emphasis on wishes is wrong—indeed, that is meant to distract us from the real thing. Wish belongs to the category of desire, and thus is about our lack; but the more fundamental thing is enjoyment. Desire always beguiles us and causes us to misperceive or overlook the way we enjoy even in deprivation: In fact, we are always enjoying, always extracting a sustaining meaning from our circumstances. Enjoyment is our secret "thing," that which makes life liveable. On the outside, or to other people, our secret enjoyment may look like trash or junk—indeed, just like that miserable, dripping, peeling room—but to us it is everything.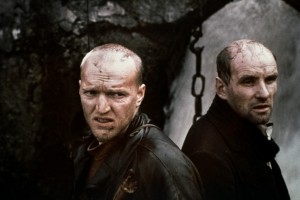 You might even say that this whole film, about a miserable man not going into the room that might fulfill his wishes, actually presents the contents of the room he does not go in; the structure of the film is a moebius, in that respect. The reality is, the Stalker is already living in and with his deepest enjoyment: His poor home, his daughter, his wife that nags and berates him, the mysterious dog that followed him throughout the film and that we now realize is his (or that has adopted him) are all he needs. Despite his pained expression, they are what his life is really about. (That vivid pain itself, etched upon a scowling, world-weary face, seems like a typically Russian form of enjoyment-in-misery.)
The writer detects this all along, in fact: Outside the room, he accuses their guide: "It's not even the money. You're enjoying yourself here."
The Home of Enjoyment
Our enjoyment does not concern our desire, whose object/cause is always fleeting and out of reach. Desire and the language of desire highlights and centralizes a lack, and distracts us from our enjoyment, which, though we cannot put it into words, is what we are living right now, even in our deprivation.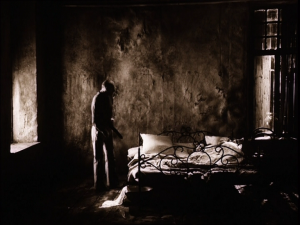 Every uncontrollable emotion that tips over into its opposite or otherwise verges into perilous realms—an orgasm so intense it causes pain, a joke that makes us spit coke out our nose, a religious experience or UFO sighting that causes our friends and family to be embarrassed for us, a drug addiction that ruins our life, or an affection that is so extreme we keep it hidden (like sudden affection for a pet or a child that arouses tears)—this is enjoyment. Enjoyment is what it is all about, it is the meaning of life, it is the "only substance," and it is "why there is something and not nothing."
Actually, all these "different forms" of enjoyment—which you could also call by the Anglo-Saxon word bliss—are the same. It is only our attitude that determines whether enjoyment presents to us as fearsome, revolting, painful, or pleasurable. When we cling to the linear world of ego and desire, enjoyment materializes or manifests as threat. Žižek cites endless examples from horror cinema—the terrifying alien or undead "thing" that seems indestructible and threatens to destroy us is our enjoyment under its negative aspect of ego-destroyer. Suffering comes from ignorance about our enjoyment, misperceiving it from the vantage point of the ego and language.
If it were not for the fact that they claimed his life, the deeply faithful Tarkovsky would probably not be troubled by Stalker's coincidences.
In previous posts I have discussed the prophetic enjoyment that seems to be the "carrier wave" of psi information from our own future. Even (and sometimes especially) traumatic experiences like deaths and disasters actually carry an enjoyment hidden within them, which may boil down to nothing more profound than the simple joyful realization of being alive, which death always frames for us especially vividly. I suspect that this current may have somehow been responsible for the whirlpool of prophecy and tragedy around this film. The film lies at the heart of a synchronistic (or synchromystic) storm.
Stalker Synchronicities
Stalker, the film, is, recursively, a lot like the ambiguous catastrophe that created the Zone: It has destroyed and bent time itself, and caused causality to rupture.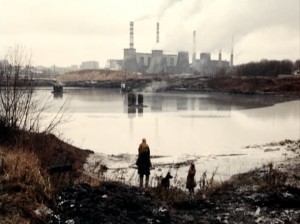 In the film, the Stalker is clearly radiation-sick from his time in the Zone—a third of his stubbly hair having turned white—and his daughter is a full-on mutant with telekinetic powers. Six years after the film was released, in April 1986, an explosion in Chernobyl's fourth energy block created a 30-kilometer "zone of alienation" in Soviet Ukraine, and immediately the similarity between the film and the calamity were obvious to everyone.
For example, while the book the movie was based on clearly explains that the Zone was created by an extraterrestrial force or visitation, the cause of the Zone in the movie is left more ambiguous, and one of the explanations mentioned is "a breakdown in the fourth bunker." Today, in real-life, youth "stalkers" with nothing else to really live for guide people into the irradiated, mutant-haunted land around Chernobyl; a video game called S.T.A.L.K.E.R.: Shadow of Chernobyl mashes up Tarkovsky's spiritual sci-fi meditation with the real deadly wilderness the reactor created. And photos of Chernobyl's abandoned buildings (e.g., below) look just like scenes out of the movie.
Eight months after the Chernobyl explosion, Tarkovski died of an unusual form of lung cancer almost certainly caused by filming Stalker in the genuinely toxic landscape surrounding an Estonian chemical plant. Although a conspiracy theory floated around that the KGB had actually "cancered" him because his films were somehow growing more anti-Soviet, this seems unlikely given that his wife (who also worked on the film) and one of the three lead actors also died of the exact same rare lung cancer.
If it were not for the fact that they claimed his life, the deeply faithful Tarkovsky would probably not be troubled by these coincidences.
Tarkovsky as Hermetist
Analyzing Stalker, Žižek dismisses Tarkovsky's "religious obscurantism," and he shrugs and assures us that this is not what makes Tarkovsky interesting. Rather it is, he says, the "form" of his films, and the "density of time" he presents. Somehow the fact that Tarkovsky's characters pray to the ground or actually kiss the ground means that he is more interested in matter than in the standard spiritual impulse to rise above matter. But the fact is, this sense of the spiritual manifesting in matter is nothing other than Hermeticism, which has a long and hallowed tradition in the West and took a very distinctive form in Russia; it is different from the materialism Žižek preaches.
The Cosmist school of Nikolai Fedorov and his intellectual descendents all melded a nationalist mysticism with futurist ideas for which "out there" is putting it mildly. George Young's survey, The Russian Cosmists, is a gold mine for any aspiring sci-fi writer. On a hunt for great novel (or trilogy) ideas, they could start with the Big Idea of Fedorov himself, that our human mandate and destiny is to fulfill the Bible through technology, by bringing about the physical resurrection of all past humans. The Russian Cosmists were essentially the Eastern counterparts (or perhaps a continuation) to the Hermetic tradition, but with much more concrete visions for how future man would complete the divine work.
I don't know if Tarkovsky has been linked to the Cosmists and their school, but I think it's natural that the most spiritual/religious of Soviet filmmakers gravitated to science fiction for his last, most deeply spiritual works; the spiritual and science fiction were and are a natural pairing in that country. Like some Cosmists, Tarkovsky was also a fervent believer in the paranormal, including UFOs. It all goes together. Tarkovsky made films about enjoyment, which is the substance of both the paranormal and the sacred.
From Consciousness to Enjoyment
The home of enjoyment, the Zone, the perimeter of the Real, has much in common with many spiritual concepts, from the "Imaginal" of the Sufi mystics to the spirit worlds of shamanism.
The Stalker is the ultimate Taoist, favoring weakness over strength.
The Real is not endlessly duplicated. It is endlessly the same. My Real is your Real. Through the Real—or, just across its boundaries, its tangents, its perimeter—is where causality breaks down, Time distorts, and you may find information that has no business being there. It is in this liminal edge zone that phenomena like UFOs and ESP manifest. It is a trickster realm of danger as long as we misperceive what it is really about (i.e., mistake our enjoyment for our desires or wishes, like Porcupine).
Enjoyment was what Lao Tze called "Tao," and indeed, the Stalker is the ultimate Taoist, favoring weakness over strength, as in this strange monologue he delivers amid the ruins:
"Let everything that's been planned come true. Let them believe. And let them have a laugh at their passions. Because what they call passion actually is not some emotional energy, but just the friction between their souls and the outside world. And most important, let them believe in themselves. Let them be helpless like children, because weakness is a great thing, and strength is nothing."
Writing on his blog, the Hermetic scholar Aaron Cheak also describes the Stalker in Taoist terms, and beautifully expresses the crucial difference, central to this trickster's whole message, between (temporal) desire (or "passions") and this more ineffable and timeless counterpart or what he calls "liberating force":
Unfortunately we are far too concerned with what we 'want', and put more effort into assuaging our ego's desires than refining and deepening them to discover the liberating force that lies at their root. Our own 'wish-fulfilling jewel' runs deeper, operates unconsciously, and speaks a mysterious language. We must silence ourselves before we can hear it, even though its tributaries may be bubbling all around us in an abundance of synchronicities.

To silence ourselves is to open our senses to the invisible—to open our mouths and eyes to the ever-present—yet ever-occulted—symbols that live all around us. If we do this whole-heartedly, our world becomes animated like a divine icon. But if we can't let go of our need for rational certitude at every step of the way, we risk being lead further astray that we could possibly imagine.
Enjoyment is just another word for this quintessence, which, I have argued in previous posts, is the energy in synchronicity and the modernized alchemy called psi, as well as the 'shamanic' force liberated through even the most vanilla of Zen meditation.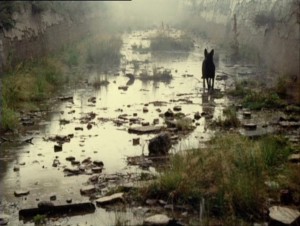 I have described the Lynchian Twin Peaks-like imaginal realm that can be accessed while meditating, but the no-man's land of Tarkovsky's Zone would be another good analogy. In the Real's vicinity, where concepts falter and overlap and where its pulsing heart can be glimpsed, we feel a vague trepidation and fear as well as delight. I think this Zen realm or state is much closer to the "spirit worlds" of shamanism than either tradition would want to acknowledge, because their guiding sensibilities and metaphysics are so different.
The Stalker himself has been compared to a shaman, showing his paying clients a spiritual truth through fraud, by leading them through a landscape whose magic only he can see, to a room that, he claims, will grant their wishes, but refusing to go in himself as a way of making sure they do not either. Yet this trickery is central to his magic.
Tarkovsky himself said that "The Zone doesn't exist. Stalker himself invented his Zone …. so that he would be able to bring there some very unhappy persons and impose on them the idea of hope. … This provocation … corresponds to an act of faith." Yet is fiction fraud if it gives access to a genuine spiritual boon? Hope in this sense, as a sustaining source even in deprivation (or desire/lack), is none other than one of the many outward forms of enjoyment or, as Joseph Campbell might say, one of the masks of God.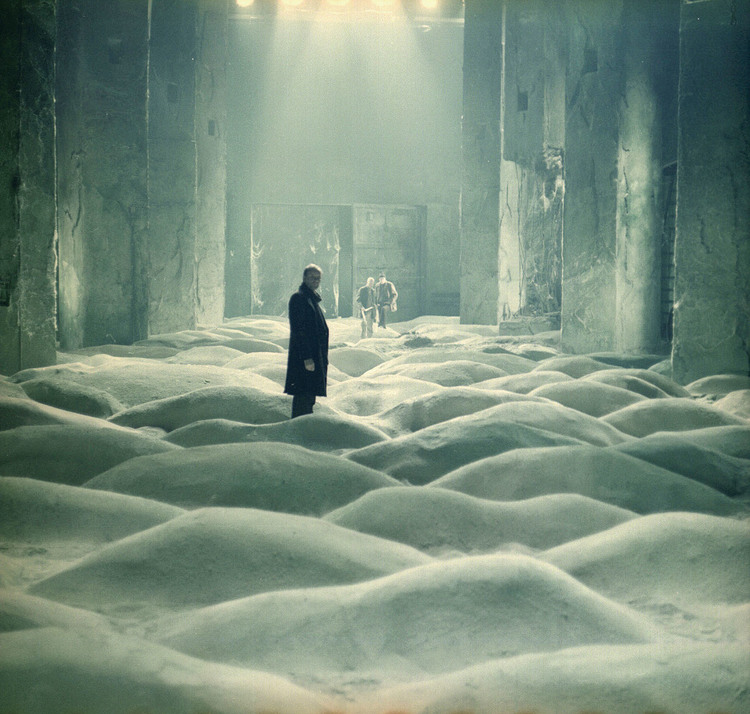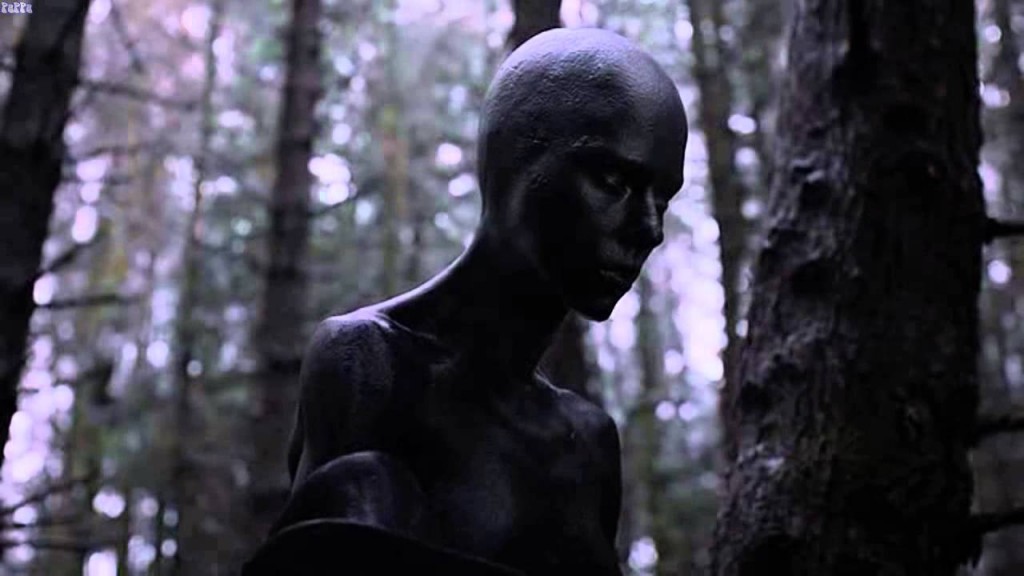 I have suggested in previous posts that psi may operate not directly on actual reality, but on the unactualized quantum potential of superposed states prior to physical observation, or what for convenience I call the "Not Yet." I don't know if this is a widely held interpretation, although quantum mechanics is felt by many theorists to hold the key to understanding psi in one way or another. It seems eminently reasonable to me that consciousness may have some deep affinity for (or even identity with) the non-actual and could be constantly interacting with it.
Anything that remains unobserved is still indeterminate, and this should render even large portions of the past subject to change. Behind the surface of what already exists there must be vast reserves of unobserved potentiality.
Such a notion not only would account for psi but also preserve free will in a non-causally-closed universe, which is crucial given my opposition to the Minkowski glass block universe in which the future somehow already exists. Even though Slavoj Žižek is a die-hard materialist opposed to all manner of "New Age obscurantism" (which would certainly include the woo I spout on this blog), I agree with his argument in The Parallax View against attempts to neatly sew up philosophical and scientific contradictions via pop-Taoist yin/yang symmetries or Jungian archetypes. The dualities of life, including the future and past, exist in an anamorphic, irreconcilable, non-sew-up-able state; nothing adds up, and there is an instability and indeterminacy even in what seems most secure and definitive. This ultimate non-closure and non-self-identity (Buddhist "no self") is what enables free will to exist; the human subject is an agent participating in making reality through observation—the Copenhagen Interpretation of quantum mechanics insists on this. The future thus cannot exist fully formed "out there" in some preexisting Platonic realm.
Where I depart from Žižek is in suggesting that this asymmetry and non-closure even includes the existent past. The past can really be changed, and not just in its retroactive framing via the ever-shifting Symbolic (which I suggest is just Žižek's materialistic evasion of paranormal possibilities like precognition). As Richard Shoup writes (in his contribution to the excellent new collection Extrasensory Perception edited by Edwin May and Sonali Bhatt Marwaha), "in the quantum realm, possibilities are 'real' and can interact to have real effects." If psi is an interaction with these possibilities prior to their physical observation, it could explain both precognitive phenomena and psychokinetic (PK) effects, and even "retro-PK" effects: Anything that remains unobserved is still indeterminate, and this should render even large portions of the past subject to change. Behind the surface of what already exists there must be vast reserves of unobserved potentiality.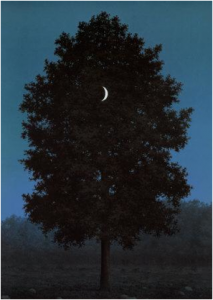 The possibility that focused attention can actually alter the past has been explored experimentally—for instance, Helmut Schmidt's work with retroactively altering the outcome of random number generators. In his book First Sight, James Carpenter argues that psi—including both ESP and PK—is an intrinsic (albeit largely unconscious) part of our everyday functioning. If so, and if psi involves some kind of unconscious tampering with the latent potential of quantum superposed states prior to physical observation, then we may be continually traversing the Forbidden Zone of the Not Yet and thereby creating our own order and moving toward it, hidden even from the eyes of God and Heisenberg. In other words, we are not only reacting to our probable futures through some unconscious precognitive channel; we may even, without knowing it, be setting up opportunities and obstacles for ourselves that could affect our future outcomes by meddling in the past via our attention or our intention.
The possibilities could go well beyond the implications for our personal fates. Interacting with the quantum Not Yet may be the 'secret' in various ancient alchemical, magical, or shamanic practices. Such retroactive effects may be exploited for healing, for instance, and may be the mechanism involved in nontraditional or spiritual curing modalities (see below). Although scandalous to the materialistically minded, it is not really such a far-out idea, if you have any magical inclinations: Such meddling in the unseen/hidden is what the occult means, after all.
"Pulsing slowly with inchoate life"
Folklore, myth, and art have produced many ways of personifying the abhorrent/fascinating notion that the past is not safely buried and that inert matter may hold weird and awesome surprises in its dark heart. In my last post I mentioned Oedipus as a kind of time traveler, but vampires and other undead creatures are also classic representations of the idea of the fixed (i.e., "dead") past somehow still subject to change because of a latent unseen potential still lurking under the skin: Despite being inert, cold, and lifeless, a vampire is paradoxically alive, animated by and seeking out a vital energy, symbolized by the blood of the living, especially of youth.
The obvious fact that our bodies are not transparent creates worlds of possibility within us, vast reserves of Not Yet for psi to exploit.
The psychoanalyst Jacques Lacan made such a hidden, unsymbolized-yet-vital domain central to his theory of the human condition: The Real is that which is unspeakable, unknowable, not even actually existing, yet uncannily and outrageously still exerting a tangible effect. It is the very model of the sacred, the impossible acausal cause, and it is the home of jouissance, the excessive painful enjoyment that is "the only substance acknowledged by psychoanalysis." Jouissance is that blood of youth that keeps the vampire alive, and, I have argued, it is a better candidate than "trauma" for the carrier of precognitive information about our own future. Lacan's understanding of the psychoanalytic cure was having the patient traverse the fantasy keeping them in ignorance of their enjoyment, thus implicitly carrying them closer to the (terrifying) Real.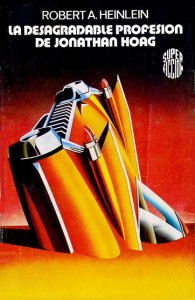 One of Žižek's favorite illustrations of the Real is a 1942 Robert Heinlein story, "The Unpleasant Profession of Jonathan Hoag": The title character comes to learn that our universe is only one of a plurality of universes created as works of art by mysterious beings, and that he himself has been assigned by an evil lesser divinity to corrupt our world. Hoag informs his friends of his mission and lets them know that, later that day, he will be fixing a few minor blemishes in reality that he has discovered; he warns his friends not to open their windows or look outside during the minutes when he will be making these fixes. When Hoag's friends of course do roll down the window of the cab they are riding in, despite his warning, they see a "formless gray flux" where their view of the city had been, "pulsing slowly as if with inchoate life." This, Žižek says, is the Real—"the pulsing of the pre-symbolic substance in all its abhorrent vitality."
I don't know whether Heinlein was knowingly alluding to quantum physics, but his "formless gray flux" seems precisely to represent the "spread-out smear" of non-actualized quantum potentials. More recently, Žižek has described the inscrutable equations of quantum mechanics as a manifestation of the Real—simply because those equations are intimidating gibberish to most of us—but clearly the "abhorrent" (to a mechanistic materialist) smear of indeterminacy itself is really where the Real is at.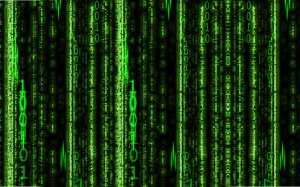 Almost as if to illustrate my proposal that this flux may be directly manipulated or reprogrammed, Hoag's editorial emendations of reality work through this non-public-facing "quantum back end." His intervention may look to us today very much like an administrative change to a website, or the Matrix, but the Real does not consist (ultimately) of strings of green numbers tumbling in black space. It is profoundly non-symbolic, not a code, and not even informational in the usual sense. The Real/Not Yet is a domain prior to information as such. This is why, instead of (or in addition to) a "physics of information," we may find a physics of the indeterminate Real to be more helpful for understanding the more mysterious aspects of our world.
Occult Forces
The body, for example, is a deeply mysterious place. Its obstinate opacity, the simple fact that our skin and flesh make it impossible to see the condition of things underneath, remains one of the biggest challenges to medicine, which is forced to rely on dangerous radiological methods for observation—methods that may raise the risk for the very diseases (e.g., cancers) that they are probing for. On the other hand, the body's opacity may be one of its most fundamental advantages, from a psi standpoint. The obvious fact that our bodies are not transparent (like those of some deep sea animals) creates worlds of possibility within us, vast reserves of Not Yet for psi to exploit.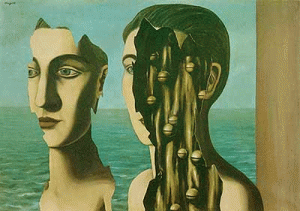 Based on a very suggestive article by William Braud on the possibility of targeting past states of incipient illness through a kind of retro-PK a la Helmut Schmidt, Russell Targ (in Limitless Mind) has described a target of psychic healing as effecting a change within the body while sickness is still vague and indeterminate, before a firm diagnosis is "locked in" through observation (for instance, in an X-ray or surgical procedure that makes the source of the illness visible). "Primitive" cures may (according to this notion) be the deft exploitation or even recruitment of quantum superposition through psychic effects, recruitment of unconscious mind-body connection, and correctly timed real-world observation. In other words, shamanism may be the art of cultivating or shepherding the emergence of desired actualities through careful timing of concealment and disclosure.
Paranormal phenomena might not simply fall between our epistemic cracks, but could actually be effects of such cracks, materializations of impossibility.
There is much in the literature of European alchemy to suggest that this idea was also part of the Hermetic tradition. The "fertility" (i.e., potential) of what remains hidden or in the dark (i.e., unobserved) is one of the central themes of Fulcanelli's 1927 masterpiece, Le Mystere de Cathedrales, one of the most seductive alchemical texts of modern times or of any time. Early in the book, describing the subterranean chambers beneath Gothic cathedrals, he writes: "Real, but occult, power, which is exercised in secret, develops in the darkness, toils without respite in the deep foundations of the work." He circles back and develops this idea at greater length, very provocatively, later on:
What, then, is this primordial condition, which is essential if any generation is to take place? I will reply on your behalf: the total absence of any solar light, even when diffused or filtered. Look around you, consult your own nature. Do you not see that with man and with animals, fecundation and generation take place, thanks to a certain disposition of organs, in complete obscurity, maintained until the time of birth? … There is no process, even down to the work of digestion … which does not take place in the dark. … I know, myself, that the goddess Isis is the mother of all things, that she bears them all in her womb and that she alone can bestow Revelation and Initiation.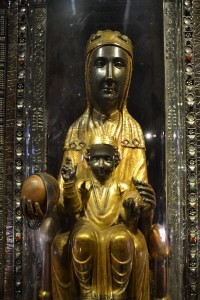 Isis was the Egyptian prototype of Mary, and the Black Madonnas found in some cathedral crypts reflect this ancient symbol of what could be called the "womb of the Real," the occult quantum potential from which the Actual (the Stone/Christ) is delivered. The alchemist could be seen as sort of a skilled midwife, helping coax into reality something latent in nature but ordinarily unexpressed or imperfectly expressed. The maternal symbolism goes to the heart of the Hermetic project, where the primordial chaos to be transformed into the philosopher's stone is called the Prima Materia—the "first matter" which is also "first mother."
Throughout alchemy, the interaction between lunar, feminine, indeterminate darkness and solar, masculine, definitive light or knowledge, was the central archetypal "dance" or interplay, skilfully orchestrated by the adept. Again, as in shamanism, alchemy—which Fulcanelli calls the "art of light"—is not simply "enlightenment" (as Buddhist or Tantric interpreters may understand it) but rather knowing when and for how long to keep things hidden, knowing the proper time to disclose or reveal (i.e., shed light) in order to, again, properly give birth to some possibility that is already latent within matter. Thus, "occult" in the Hermetic sense is not only a matter of keeping secrets from the rabble, but a whole ontology of the Real as what exists prior to knowledge, "light," and symbolization.
Hinting more directly at the quantum nature of Hermetic practice, Fulcanelli's colleague (and possibly alter-ego) Rene Schwaller de Lubicz described alchemy as being fundamentally a matter of "perception and gesture," implying that the key to alchemical creation really lies in a certain way of seeing (i.e., way of observing), as well as a knack for timing certain crucial disclosures. This may involve an occult way of knowing that can penetrate the darkness without light, concretely symbolized by the "rose windows" that dimly illuminate the interior of a cathedral and shed spiritual light on the Mass. This form of knowing, best accessed at night (don't forget the esoteric meanings of "rose" I discussed in an earlier post), seems to involve upsetting or scrambling the very order of Time and its customary sequences, and reminds me very much of psi.
In imitation of the ever-mysterious Fulcanelli, I will say no more on this subject.*
The Power of Luv
George Hansen has observed that paranormal phenomena all fall within the interstices of our cultural categories; using the terminology of structuralist anthropology, he calls them "anti-structural" (or liminal) phenomena. Lacan's Real, as the domain outside or beyond the Symbolic, is the equivalent of anti-structure, and I think it provides an even better conceptual framework for understanding the paranormal in all its blurred-together, impossible, absurd forms.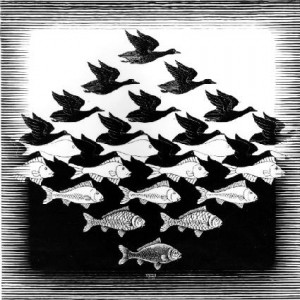 Although often characterized as an actually existing world beyond or underneath the Symbolic, Žižek came to interpret the Real as an insubstantial mirage produced by parallax, the shimmering rift between the Symbolic and Imaginary, a pure semblance or illusion, but one that nevertheless produces a real effect. (Late in his Exegesis, Phil Dick developed a philosophical category that he called the "surd," exactly like the Real, which he also linked to a parallactic or "Ditheon" mode of perception: The surd is a nothing, a flicker in the inconsistent fabric of the universe, vanishing before it even appears, yet uncannily exerting a tug or pull on reality anyway.) This parallactic understanding of the Real offers a new way of thinking about paranormal phenomena: that they might not simply fall between our epistemic cracks, but could actually be effects of such cracks, perhaps even materializations of impossibility, like those Magritte or Escher images in which the negative space between objects become objects themselves.
Thus the sub-question beneath that of psychically intervening in the quantum Real is this: Could it be possible to manifest this no-thing in consensus reality, perhaps shamanically, alchemically, or psychically, so that it could be shared and perceived? Is this somehow the answer to alchemical creativity, the "something from nothing" promised by the ancient mysteries? The Jungian idea, for instance, is that UFOs are somehow manifestations of the collective unconscious in a time of cultural shift; what if we reframe this slightly and suggest that UFOs are manifestations of Symbolic-Imaginary "negative space"—conceptual gaps and discontinuities that under certain psychologically intensified conditions can manifest as solid, existent, objects 'standing out' in the world? In Messengers of Deception, Jacques Vallee offers such an occult possibility as one that should at least be considered.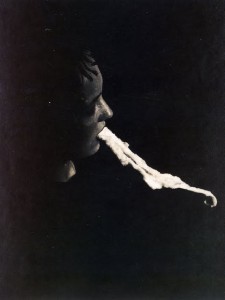 Various magical traditions describe the ability to create thought-forms; Vallee mentions tulpas, the materialized imaginal beings of Tibetan Buddhist magic. Buddhist orthodoxy declares that these are stabilized hallucinations in the mind of the creator, meant to give insight into the fact that all of reality is mind-created. The ritual magic tradition typically also explains the creation of such forms as manifestations in a psychic interspace (the astral plane) rather than in physical reality, although the folklore surrounding the Jewish mysticism that fed that tradition spoke of animated protoplasmic beings (i.e., golems) running amok in real life. Perhaps less ambitiously, various spiritual traditions also speak of spectral bodily fluids that manifest on the edge of reality or in altered states of consciousness, and seem like similar conjurings of the stuff of the Real out of thin air.
One of the fascinating obsessions in Terence McKenna's account of his experience in Amazonia, True Hallucinations, is the mysterious violet, blue, or black fluid that Amazonian shamans are reputed to vomit and/or sweat during Ayahuasca ceremonies and then use for divination and magic, not unlike the ambiguous "ectoplasm" of Victorian spiritualism (above): "These matters are extremely secret," McKenna writes:
Informants insist that the shamans spread the stuff out on the ground in front of them, and that one can look into this material and see other times and other places. According to their reports, the nature of this fluid is completely outside of ordinary experience: it is made out of space/time or mind, or it is pure hallucination objectively expressed but always keeping itself within the confines of a liquid.
McKenna's desire to learn about this stuff stems partly from his own earlier experience in Tibet, during a DMT-fueled sexual encounter with a British woman:
Then I saw that where our bodies were glued together there was flowing, out of her, over me, over the floor of the roof, flowing everywhere, some sort of obsidian liquid, something dark and glittering, with color and lights within it. … What was this fluid and what was going on? I looked at it. I looked right into it, and it was the surface of my own mind reflected in front of me. Was it translinguistic matter, the living opalescent excrescence of the alchemical abyss of hyperspace, something generated by the sex act performed under such crazy conditions? … I christened the obsidian fluid we had generated 'luv,' something more than love, something less than love, perhaps not love at all, but some kind of unplumbed potential human experience very little is known about.
Translinguistic matter … an unplumbed potential human experience that very little is known about… Although McKenna says he had smoked DMT, I suspect someone had actually slipped some Lacan into his pipe. That obsidian-black matter beyond language, called "luv," released in an act of bliss and acting as the medium of nonlocal information, sounds like nothing other than materialized jouissance, released in the rapturous rupture of the Symbolic order.**
Coagulating Jouissance
Is it perhaps possible for jouissance to spatially 'materialize' in some strange way or under certain circumstances, as an outcome of the temporal reordering implied by psi perception? In previous posts I have described how misrecognized precognition could create an atemporal feedback loop that adds gravitational weight (i.e., meaning) to a minor coincidence, thus producing what people experience in hindsight as a synchronicity. What if, on analogy with this, there could be an "aspatial" feedback loop that gives material density (or the appearance of density) to an idea, which through a similar chicken-and-egg tautological logic of being observed before it comes into being, feeds back on the prior observation, taking on a kind of temporary, palpable solidity or substantiality?
How many "impossible" paranormal phenomena might be the result of acausal bootstrapping of reality via psi? Is this what created (or, precipitated) the universe to begin with? Was God just a mega-shaman who drew the universe out of his dark chest as a kind of cosmological phlegm?
This admittedly crazy-sounding idea occurred to me not long ago after staring at a duck/rabbit image I have tacked up on my office wall. As I described in my "Rashomon Mind" post several months ago, I was doing this exercise in hopes that I could eventually make the image stabilize on a neither/nor state, thereby defeating or neutralizing the duck/rabbit's oscillating force. I would thus triumphantly disprove a century of psychological doctrine that the mind cannot tolerate contradiction. It has proved harder than I expected, and my results are still inconclusive. What I did not expect, however, and what astonished me, were certain brief visions that this practice generated … including briefly seeing the duck/rabbit as a solid, 3-D object pushing out of the paper.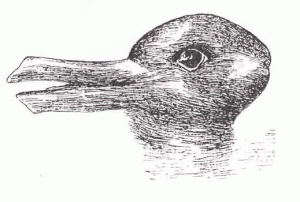 Weirdly, I could briefly not only see but mentally "feel" the duck/rabbit's solidity in space, like a heavy 5-inch-long lump of gray metal. This was a typically fleeting 'Solaris-Mind'-type vision or hallucination, gone in a split second, but I suspect that this 'felt sense' of a solid physical object in one's presence, as a result of meditation on a model of a desired object, could be the basis of tulpa experiences in much more adept meditators, or thought forms for adept magicians. I don't know, but perhaps it could also be the basis for palpably experienced magical phlegm described by McKenna. When you stare at something long enough, you hallucinate it in a new, weird way.
In my synchronicity model—and this continues to be borne out in my observation of precognitive dreams—a central role is often played by trivial/mundane coincidence, which serves to make a future event, or multiple future events, into a seed around which the synchronicity forms. In what I'm describing here, some brief expectation or misperception could serve, similarly, as the nucleus of the effect. Such a thing could explain the theatrics and fraud that seems to be common in the study of even 'genuine' mediums and psychics. A little bit of fraud or trickery to implant the expectation not only in others' minds but also in one's own mind could be a necessary seed to facilitate the conjuring of the substance of the Real out of the void, perhaps utilizing the "group effect" of shared expectation.
McKenna's "luv" seems like such a possible materialization: transitory and flickering, mirage-like, because it is a contradiction, arising from a paradoxical "loop" in the atemporal dimension of substance, mass, and meaning—a kind of intensification of the Real, generating itself as a cause, vanishing as a mirage afterward.
As in the self-confirming circular causation of synchronicity, a thought form conjured literally out of nothing could contribute to the mental state that gives rise to it—at least temporarily, while the conditions are exactly right, before evaporating. If a mental state of 'anticipation-of-seeing-X' could be produced and stabilized by a talented trickster/shaman, a drug, or a piece of sophisticated illusionistic or mind-control technology, it might have the effect of actually temporarily manifesting an object that fulfills observers' expectations, perhaps even exerting real causal effects in the world before it evaporates; a UFO or similar manifestation could actually feed on the strong emotional reactions of witnesses in order to take form. Could this explain the theatrical aspects of some UFO sightings and apparitions?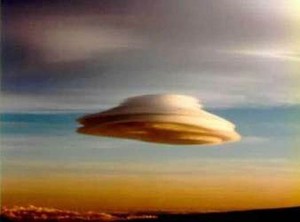 The question is, again, would such a thing be only a hallucination? It is one thing to trick oneself or maybe a small group of intoxicated people in the dim candle- or moonlight into seeing something compelling, but could there be "real reality" to these fleeting visions? It sounds preposterous on one level, yet it occurs to me that the paradoxical substance of enjoyment, conjured into existence through careful manipulation of personal totems, would be a kind of shamanic model, in miniature, of how matter might arise as a product of contradiction in a parallactic relativistic universe where no two realities are alike and the future and past don't neatly join along a nice seam.
By creating contradiction and intensifying it in the confined theaterlike setting of a shamanic ceremony/performance, might creation ex nihilo be what the most gifted shamans and ectoplasm spiritualists are demonstrating? Is this what Fulcanelli was hinting at, when he said he knew that all things emerge from the womb of Isis? Very suggestively, the central concept in Rene Schwaller's Hermetic theory is Salt (part of the classical alchemical triad with Sulfur and Mercury), which he describes as having a "styptic"—that is, coagulating—function. By "Salt" is he referring to light or observation itself (i.e., perception) as 'coagulating' a desired state of matter out of the quantum potential, perhaps by carefully timing the moment of observation? Or is he referring to some literal conjuring of matter out of nothing, out of the primal chaos of the Real, the Buddhist void of no-self itself?
I wonder if psi is the basis of this, and could enable an acausal 'bootstrapping' of reality. Is this bootstrapping what created (or, precipitated) the universe to begin with? Was God just a mega-shaman who drew the universe out of his dark chest as a kind of cosmological phlegm?
POSTSCRIPT: Woman Does Not Exist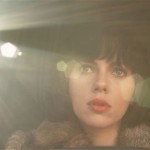 The latent potentiality in seemingly fixed matter is, as I mentioned, figuratively a kind of "fertility," and thus the quantum domain behind the veneer of the actual is especially entangled with the idea of femininity and maternal enjoyment. I argued that the Oedipus myth expresses the taboo and hubris of meddling magically with the non-actual, but the punishment for such (male) hubris is also perhaps the latent meaning in Jonathan Glazer's masterpiece, Under the Skin, my favorite science fiction film of the past few years.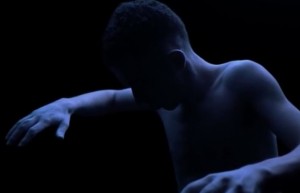 Scarlett Johansson plays a cold 'alien' (of some sort, though her origin and her mission are unclear) who seduces men on the streets of Glasgow, luring them to their doom. The black petroleum-like medium into which she draws her would-be lovers, and their hallucinatory "experience" as they hang suspended in it, somehow out of Time, distinctly call to mind the translinguistic bodily fluid that obsessed McKenna. Seeing that the alien's "true self" is made of the same black grease-like substance, we realize that it may somehow be her very body, the 'feminine body of enjoyment,' that her victims are absorbed and trapped in.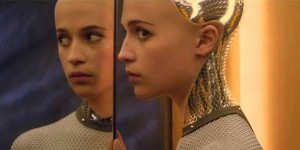 My distant second favorite sci-fi film of the past couple years, Ex Machina, came out over a year after Under the Skin but resembles it in so many details*** that I think they need to be seen as Levi-Straussian permutations of the same underlying myth. The fact that "alien" can be substituted with "robot" shows that, on one level, that myth isn't about anything science-fictional, but about femininity as a problem of surface (skin) in relation to depth. They are films about the basic idea that, as Lacan put it, "Woman does not exist." He didn't mean women do not exist, obviously; he meant that in our psychic landscape, femininity and womanhood represent precisely indeterminacy, fluidity, and dependence on observation to become Actual.
Woman is thus Real, the exact equivalent of the quantum Not Yet, and thus these films carry forward the ancient alchemical "lunar" archetype. When the jet-black alien is revealed at the end of Under the Skin (top of this post), she could just as well be one of those Isis/Madonnas in the cathedral crypts described by Fulcanelli.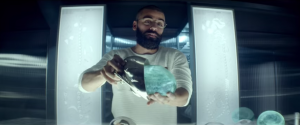 Ex Machina is being discussed as an interesting exploration of artificial intelligence, although really there is nothing that original about the questions it poses—the same questions were asked in Blade Runner 35 years ago, and that film resolved with similar rich ambiguities. What Blade Runner rightly emphasized, and Ex Machina failed to, was that consciousness is a matter of feeling (that is, sentience, not just "intelligence"), which is linked crucially to embodiment, including the body's capacity for enjoyment and emotional responses (e.g., Roy Batty's "We're not computers, Sebastian, we're physical.").
The emphasis on Turing Tests and artificial intelligence in Ex Machina basically skips over the real "hard problem" of why it is so hard to build a realistically functioning android body in real life, as evidenced from the ongoing DARPA-funded efforts. It's not Ava's brain we should be focused on, in other words, but her physical form—and indeed, that is exactly what we are focused on, despite the film's various efforts to clothe that interest in philosophical problems. How might the film have been different, and possibly more interesting, if Ava were unattractive, overweight, and clumsy, not unlike the robots that tripped and stumbled through the recent, sadly funny DARPA Robotics Challenge?
Under the Skin, on the other hand, doesn't make any pretenses about its core mysteries, and when Scarlett Johansson scrutinizes her nude body in the mirror near the end, there is real questioning, because what is under the skin is actually unknown, unexplained, and deeply confusing.
So in some sense, Ex Machina is not just a permutation: It is a materialistic bowdlerization of the messy, dirty mystery examined in Under the Skin. The supposed issue at stake, whether consciousness can be created artificially, is itself "the magician's hot assistant" (to use the metaphor the film itself provides) to keep us from seeing that our real interest is actually in, and should be in, the magician's hot assistant, not the magic trick. (As Žižek puts it, "a thing is its own best mask.") That's because it is the hot assistant's body that contains the Real, feminine, physical mystery, "how something can arise from nothing"—which in different ways quantum physics, alchemy, and (I argue) Lacanian psychoanalysis all suggest has to do with jouissance and its potential ability to reorder Time itself.
###
* … BUT if you're interested, and would like some crucial enlightenment, you could do worse than securing a copy of Andre VandenBroek's Al-Kemi, paying attention to the author's hints about decoding other alchemical classics, and then going back and applying that insight to Fulcanelli's cathedrals book, paying particular attention to sphinxes that don't bark in the night, and other Oedipal themes. Did I mention that this was crucial?
Oh no, the Hermetic mafia are knocking on my door! I said too much…
** Stephan Beyer discusses the magical phlegm of Amazonian shamans in his recent book Singing to the Plants. And, interestingly, David Lynch displays knowledge of such a substance in connection to the occult. In his painting "Red Man Does Magic Near His House" (below), the magic man of the title exudes an obsidian black (clearly labeled) "fluid."
*** You don't believe Under the Skin and Ex Machina are essentially the same film? One is about a cold beautiful alien with borrowed skin tricking and destroying men in a Northern locale; the other is about a cold beautiful robot with borrowed skin tricking and destroying men in a Northern locale. In both films, the non-women must learn to be human, show warmth, and thus earn the trust and interest of men, via their desires. In both films, the non-woman is initially under the control of a powerful man, who ultimately loses that control (the mysterious motorcyclist in Under the Skin and Nathan in Ex Machina). Both films have a disturbing scene where the non-woman coldly ignores the desperate pleading of a male (the baby on the beach in Under the Skin—one of the more distressing and artful set-pieces in recent cinema—and Caleb banging on the glass as Ava leaves the house in Ex Machina). Then of course there is the penultimate sequence in both films, in which the beautiful non-woman gazes at her nude body in the mirror.
I might add that both films also boldly and sensitively feature men with severe facial deformities (the man with neurofibromatosis Scarlett Johansson seduces in Under the Skin, and Nathan in Ex Machina—assuming you count hipster beards as deformities).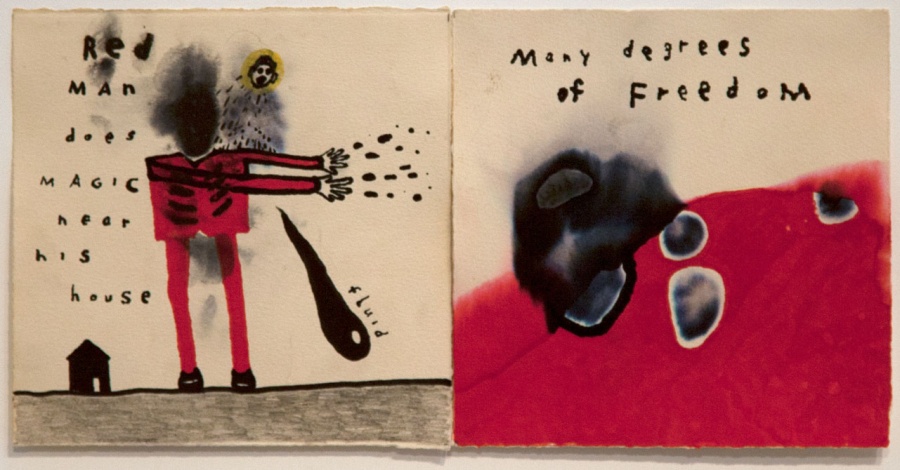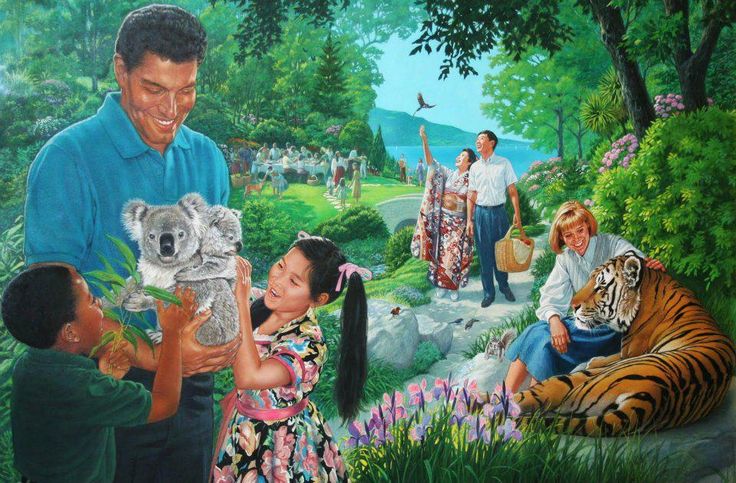 Classical physics, with its totally determinative, forward-in-time, billiard-ball causation, requires sweeping anomalies like psi under the rug, not to mention resigning ourselves to an absence of higher meaning and direction in the universe. Even the local islands of order allowed within the framework of dynamical systems theory that emerged in the middle of the last century with the work of Ludwig von Bertalanffy, Ilya Prigogine, and many others seem (to some) like disappointing consolation prizes in a universe still largely governed by the second law of thermodynamics. Thus in an effort to bridge science and spirituality and transcend bleak mechanistic materialism, a lot of anti-materialist writers are now tweaking thermodynamics in ways that make time appear more symmetrical, the universe less disorderly, and consciousness more central.
The expansive, dissipative past, born in a primordial explosion, seems to demand a receptive orderly destiny to cozily balance things, lest it all end in chaos.
An interesting recent example is the work of Ulisse Di Corpo and Antonella Vannini, who have resurrected mathematician Luigi Fantappie's mid-20th-century concept of "syntropy
," a postulated countervailing principle to entropy, drawing systems toward complexity, coherence, and order.
Syntropy is retrocausal: Future nodes of convergence and harmony, or "attractors," exert a pull on the past, according to Di Corpo and Vannini. On the molecular level, special properties of hydrogen bonds (the "hydrogen bridge" discovered by Wolfgang Pauli) make water a uniquely syntropic medium, capable of organizing itself and serving as the basis for the emergence of complex, anti-entropic biological systems out of the entropic, prebiological matrix. In humans and other sentient organisms, emotion acts as a signal current from future attractors; love is a signal of being on a harmonious, life-conducive path, whereas anxiety signals deviation from it. (Thought, by the same token, reflects signals from the past, based on learning and experience.) In this view, as we move toward the future state of order, information is increased—or at least, it does not lose ground in the information/entropy see-saw.
The authors draw on a wide range of research, from quantum mechanics to systems theory to findings in parapsychology, to support their argument. They point for instance to anomalies that seem to indicate consciousness's power to reverse or inhibit entropy. Robert Jahn and Brenda Dunne's famous experiments with random event generators at the Princeton Engineering Anomalies Research (PEAR) lab showed that directed attention reduced randomness in the machines; this sort of effect has been found in many different types of experiments in many different laboratories. The authors also invoke Rupert Sheldrake's arguments about "formative causation"—the notion that there is an extra-genetic template guiding the development of complex organisms and preserving a "memory" of past experiences of a species.
Presaging and hovering over syntropy theory and other 'complementaristic' attempts at a more meaning-congenial synthesis are Carl Jung's theories of synchronicity and archetypes, which were, in their day, also intended to supplement the cold meaningless thermodynamic universe with a sense of meaning, purpose, and direction. Synchronicity, his proposed 'acausal' connecting principle, was perhaps what we would now call a retrocausal principle, in which events are, as in syntropy, drawn toward some future coherence. Archetypes, the nodes of this coherence, are much like Plato's "ideal forms" and Di Corpo and Vannini's attractors—patterning structures latent within the collective unconscious and giving direction to our lives and fates.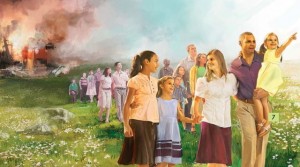 Such ideas appeal to our human love of balance and symmetry: The expansive, dissipative past, born in a primordial explosion, seems to demand a receptive orderly destiny to cozily balance things, lest it all end in chaos. But is that really the case? Is it really impossible to account for complexity and order, explain psychic anomalies, and make a home and a role for consciousness without departing from a traditional systems framework?
Balance Within Imbalance
In thinking about systems and complexity, I have always taken inspiration from Eric Jantsch's breathtaking 1980 summa, The Self-Organizing Universe, which showed how entropy-exporting (or "dissipative") systems arise and flourish and complexify—and give rise to meaningful order—within the traditional principles of thermodynamics. Dissipative systems generate complex emergent forms, including not only the complex forms of galaxies, animal and plant life, and the brain, but also the regularities of social existence and universal symbolic structures related to our life as humans, including the most profound cultural symbols. I think systems theory, and its more recent offshoots like chaos theory, fractal geometry, and so on, can actually go a long way toward explaining the "balance within imbalance" of the cosmos without invoking new complementary principles.
Some portion of the uncanny regularity we detect in our lives arises from how we unconsciously cast meaning forward and reel it in, responding to our own future potentialities. We may even, without knowing it, be co-creating the systems of the natural world.
For example, orthodox systems theory demands no syntropic attractor to account for the geometrically perfect, chambered shell of a nautilus, and doesn't even suggest there is a blueprint for it within the mollusc's DNA. A very specific schedule of protein synthesis and chemical reactions triggered by DNA transcription gives rise to cellular structures, which give rise to further structures, in a kind of recursive cascade of emergent forms of increasing complexity; the adult form of the animal, including the intricate structure and pattern of its shell, is a more or less predictable outcome of its growth and energy exchange with its environment.
What's more, even mechanisms for 'Lamarckian' morphological change over the generations in response to life events and environmental pressures are now being revealed through epigenomics: Changes to the cellular environment alter gene expression, with no need to invoke something like Sheldrake's morphogenetic fields. The symphony of molecular and cellular processes is mindbogglingly intricate, but there is no reason or need to think that the final completed form of the animal is (retro)causative in some abstract Platonic fashion, or that there is any prototype for the nautilus either ahead in the future or out there in some nonlocal informational ether.
Attractors as chaos theory understands them (versus in syntropy theory) are regularities that emerge as a result of multiple interacting variables that produce feedback loops in the "phase space" of a complex system; these exert a kind of gravitational attraction toward a certain form, like a whirlpool, but there are no blueprints for them. It's just that the myriad mutually interfering/balancing forces create a regularity of outcomes that looks in hindsight somehow intentional, orderly, and even intelligently designed. It is in this sense that I invoked the concept of attractors in thinking about now misrecognized psi leads to apparent synchronous occurrences in our lives; the difference from Jung's concept of synchronicity or from Di Corpo and Vannini's concept of syntropy is that the attractor, the meaningful pattern, is a result, not a cause.
One of Jung's important insights about religion was that humans personify abstract functions and forces in order to conceptually manipulate them using the familiar metaphors of social interaction ("negotiating" with gods and spirits, for example). Yet his archetypes are themselves sort of artificial personifications—or you might say, mechanizations—of universal human psychic and experiential regularities. The fact that humans everywhere experience certain common themes like heroism and motherhood and the ironic self-undercutting of the "trickster" arguably just reflects the regularities of the mindbogglingly complex systems (within systems within systems…) of human life and mind (including psi, in the case of the trickster), not the machine-like patterning and organizing activity of a preexistent organizing psyche.
I am suggesting that there is no real blueprint for our unfolding "out there" in the collective unconscious, or in the future as understood by syntropy theory. We are radically free agents, and it seems important not to lose sight of this in our attempts to rescue order and meaning (and meaningful anomalies) in the universe. Syntropy and related ideas may be reifying the regular outcomes of systems whose complexity just happens to exceed our human capacity to grasp.
Penetrating Time
Where I strongly agree with both syntropy theory and Jung's theory of synchronicity, however, is that I think consciousness plays a crucial, decisive role in making our future and shaping reality. Many interpretations of quantum theory insist upon this. And I also strongly agree that the crucial X-factor missing from the standard thermodynamic picture is specifically the future's ability to affect the past via consciousness (i.e., psi). Systems and attractors, even if they are not determinative, are indeed atemporal, and a future systems theory will need to accommodate consciousness's ability to penetrate the veil of time.
The boundary we call the "present" may not be a knife edge but a blurry mess, with latent potentials extending well into the past and future.
I have been suggesting on this blog that some portion of the uncanny regularity we detect in our lives arises from how we unconsciously cast meaning forward and reel it in, responding to our own future potentialities. This may include even "we" as observers of other, natural and biological systems (like the slimy systems that produce molluscs and seashells)—and thus we may even, without knowing it, be co-creating the systems of the natural world. In other words, our fate as well as the fate of systems under our purview and observation emerge from a pattern of interaction with the field of future potentialities that we unconsciously detect and respond to, ever misrecognizing (or 'misunderestimating') the creative role of consciousness in the whole picture. (I even wonder if some of the effects of globally changing biological systems described by Sheldrake, such as lab animals on one continent learning a new task more readily after conspecifics are trained on that task on another continent, may reflect the role of human consciousness, i.e. the knowledge and intentionality of the experimenters, in shaping those systems.)
Yet, while psi appears to be an interaction with the future (and past), I would argue it is not symmetrical with entropy, and not some kind of natural, born complement, like yin to yang. This may seem like a quibble, but it actually makes a world of difference, because it restores an instability or imbalance—indeed, incoherence—that needs to be there. Noncoherence, the nonidentity of things with themselves—what the Buddhists call "no self" and what Slavoj Žižek calls "parallax"—is essential to the openness and nondeterminism of the universe and the real existence of free will.
The past is half of time, but its complement is purely virtual or imaginary, and the boundary we call the "present" may not be a knife edge but a blurry mess, with latent potentials extending well into the past and future, insofar as they remain unobserved and unmeasured, and thus opening up a whole realm of PhilDickian effects. If psi is related to the perception of quantum potentials and probabilities, as I have suggested in previous posts, it may arise from precisely this asymmetry in the order of things (i.e., parallax). Both the mind and our culture balk at such an asymmetry, though, as well as at the notion that the past and future can interpenetrate. Despite ostensibly offering a way for the future to affect the past, I think concepts like syntropy and synchronicity also paint a picture of a pristine, family-friendly cosmos in which truly messy asymmetries in the order of things, and taboo possibilities like time travel, are papered over.
The Future Looks Shitty From Here
Part of the problem syntropists have with existing dynamical systems theory is that systems "shit": They take in energy, convert it to order/information, but ultimately excrete ("dissipate") chaos. They are not content to find meaning in local islands of order (dissipative systems) so long as there is seemingly a larger gain in disorder across the universe as a whole. Even the most beautiful and perfect systems wallow in a bigger pigsty universe where the shit (chaos) just piles higher and deeper. In a purely classical universe, that shit would indeed ultimately swallow and engulf the whole.
The latent Not Yet in quantum physics is often described as a "smear" of potentials existing in a state of quantum superposition. Thus we should not miss how disgusting the world of unactualized potentiality is.
Quantum physics (at least as I understand it) is not as interested in this classical "future" and "past," as demarcated neatly on some dimensional timeline, as it is in the distinction between the Actual and the Potential, or what I like to think of as the Is and the Not Yet. At any given point in time, from the standpoint of an observer, the past may be a good-enough proxy for the Is, or what has been "collapsed" through observation, but in fact even the landscape of the Is is permeated by the Not Yet in the form of vast reserves of unobserved and thus uncollapsed potential that remain out of view, just under the skin of the visible universe—like Schrodinger's cats trapped in the walls. This may help account for various retrocausal effects seen in laboratories, such as the rather mindbending experiments of Helmut Schmidt, where subjects affected a random number generator in the past via their intention; according to Henry Stapp, it may also account for Benjamin Libet's paradoxical findings that seemed to disprove the existence of conscious will (I'll return to this in a later post on Stapp's fascinating work).
That latent Not Yet in quantum physics is often described as a spread-out "smear" of potentials existing in a state of quantum superposition. Thus we should not miss how disgusting the world of unactualized potentiality is: Isn't that "smear" a little bit like the pigsty future promised by classical thermodynamics? When you think about it, unactualized potentials are the ultimate mess; it is only when consciousness engages in observation that that mess is "cleaned up" so to speak, to become something real and solid and shiny and pristine and definite. Mentally intervening or meddling in the not-yet-actual via psi, though, is basically wallowing in that disgusting gray smear of quantum possibility.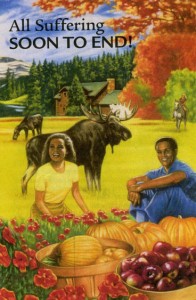 The syntropy model with its future attractors drawing us toward them with love sort of bowdlerizes the disgusting-sounding possibilities latent in quantum physics (and psi), by replacing the indeterminate gray smear with an "already existing future" that looks rather like a scene from a Jehovah's Witnesses pamphlet: Shiny beautiful glowing perfect people beckoning to you to come join their church picnic. But I think the syntropists (and Platonists, and Jungians) needn't worry: Consciousness itself is bound to transform the from-here-disordered-looking future into some kind of order and information, even if there's no way to predict what that order will look like.
And we do home in on that future precognitively. But that precognitive engagement with our future potential actually trespasses on taboos even more basic than the scatological: Psi, insofar as it is 'intercourse' with the hidden Not Yet under the skin of reality, is basically the temporal equivalent of incest: fundamentally prohibited, and declared "impossible" because we just don't want to have to form a mental picture of something that is deeply, deeply awkward.
Time and the Oedipus Complex
Even if we are 'intellectually' on board with the notion of precognition, some part of us balks at the perversity of a universe that includes information (let alone objects and people) traveling backward in time. The perversity of time travel is, I think, the real meaning of the myth of Oedipus.
A story about a prince taking the place of his own father and marrying his own mother is about the closest the ancient world had to a story about time travel and its paradoxes. Sophocles was Greece's Phil Dick.
The ancients reckoned the forward, unidirectional, linear flow of time (chronos) through generations—the inevitable, always-forward-moving structure of kinship as well as the forward march of political regimes passed down via offspring. In a sense, kinship and politics were kind of equivalent to the second law of thermodynamics for us, something inexorable and irreversible, moving in a single direction, never flowing backwards, and always basically getting worse (thus always dramatized as tragedy). Thus a story about a prince taking the place of his own father and marrying his own mother is about the closest the ancient world had to a story about time travel and its paradoxes. Sophocles was basically Ancient Greece's Phil Dick.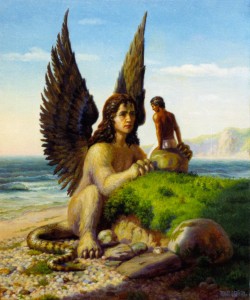 That Oedipus was effectively a time traveler has long been part of the esoteric understanding of that myth. Consider the role of the Sphinx, whose riddle Oedipus correctly answers before he becomes King of Thebes. Sphinxes are symbolic guardians of Time. When HG Wells' Time Traveler (in The Time Machine) visits the distant future, for example, he finds that a great Sphinx structure has been erected more or less on the site of his laboratory. After his machine is confiscated, he must penetrate that structure to find it and return to Victorian England.
The way one defeats time is by reordering it, signaled by the "creature" in the Sphinx's riddle: What goes on four feet in the morning, two in the afternoon, and three in the evening? Viewers of the play knew the answer was "man," who first crawls, then walks upright, then moves with the aid of a cane; but the story implied that most "men" don't get the answer, and this ignorance is their Achilles heel, enabling the Sphinx (/Time) to defeat them. Oedipus was himself the completion of the riddle, in some sense; he walks with a limp, and his name means "swollen foot" (his father Laius and other male ancestors all also had names connoting "lame" or "limping"). Thus Oedipus was the sole (get it, sole?) human who walked upon only one (good) foot—thus completing the quaternity of the Sphinx's riddle, but further destroying its numerical sequence.
Blindness and Enjoyment
Di Corpo and Vannini argue that emotions, principally love, are the cord drawing us toward future order. If I am right, it may be something more like enjoyment that transcends time and acts as the carrier of information from our future. (Love per se is a special condition in which we experience enjoyment in common with other people—a unique problem at the heart of social existence and a crucial way in which psi guides and directs us toward others to reproduce and form complex social systems.) I have argued, based on a metaphysically broadminded reading of Lacan and Žižek, that enjoyment must in some sense be "nonlocal"; it is through repetition that a symptom acts as a mechanism amplifying the future's effect on the past and vice versa. Symptoms are atemporal/acausal formations within the sea of enjoyment. Hence the connection between prophecy, neurosis, art, and ritual/repetition.
How many of our dreams tell of future events that might have occurred but didn't, because we live in an open, nondeterministic universe? Psi may always be visible only in a very narrow band at the edge of our consciousness.
Enjoyment, which "impossibly" connects the future to the past, is thus what turns psi into a psychoanalytic problem: The point is not merely that Oedipus "traveled into the past" by marrying his mother and killing his father; it is that he committed these crimes and enjoyed them, and only belatedly discovered what it was that he had been enjoying. His guilt was not over his actions but over his misrecognized enjoyment. Our ignorance as to our enjoyment (i.e., our blindness to it) allows both the past and future to affect our lives in uncanny and seemingly "impossible" ways like synchronicity.
Oedipus's self-blinding upon discovering his crime is always seen as a kind of dramatic literalization of his own blindness at not having heeded various prophecies, like those of the blind Tiresias—another character who (psychically, in this case) "travels through time." It suggests to me a secret connection or even identity between these two figures: They are two sides of the same coin. The past and future cannot affect the present except insofar as we are blind to our true enjoyment; they derive their power (and ability to travel through time and space, their nonlocal "cloaking" from the eyes of Heisenberg) from being unseen and unknowable—at least by the persons they most closely affect. Hence prophets are, at least figuratively, blind; and we are largely blind to psi's actions (and enjoyment) in our lives.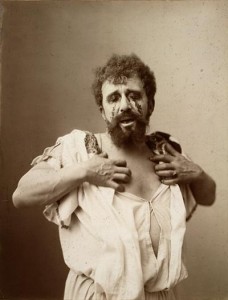 As I mentioned in my post on Vallee and remote viewing, fundamental philosophical conundrums effectively "hobble" or at least severely restrict psi, including the Platonic inability to know what we don't know. This as well as other factors, such as the "perverse" fact that penetrating the veil of time involves secret/disavowed enjoyment, may tend to work against individually "knowing the future" in a literal or actionable way.
Ordinarily, the future seeps into our consciousness to the degree that we misinterpret it, and our most vivid foreknowledge is only verified after the fact, in dreams, artworks, and other nonliteral "transmissions" that usually don't seem very useful in consciously altering our course or changing our destiny. By the same token, when psi does provide premonitions or warnings we heed, the status of those "predictions" as information may evaporate because we have no way to verify them (except in vivid cases like airplane crashes or ocean liner sinkings). How many of our dreams tell of future events that might have occurred but didn't, because we live in an open, nondeterministic universe? Psi may always be visible only in a very narrow band at the edge of our conscious awareness.
The methods devised at SRI to amplify the psi signal and make it efficacious in the real world involved protocols to work around these types of problems. Remote viewers must be "blind" (in the figurative, experimental sense) to the target, first of all. Thus psi really only works in groups of at least two, preferably three people, who possess different degrees of knowledge about the target or question to which an answer is sought. Also, the rigid formalistic protocol itself works to distract and occupy the conscious mind so that psi information can be received more easily via unconscious channels. And, most importantly, confirmation is necessary, which may be understood as providing the insecure psi mind with rewards (like sardines to condition the behavior of a dolphin) or may be understood as the actual target of remote viewing, if we accept the possibility that it may in fact just be precognizing our own future states of enjoyment/reward. (In his book Limitless Mind, Russell Targ considers feedback a usually essential part of Remote Viewing; although, in considering this question of its necessity, he does cite a few experiments that seem to show successful remote viewing in the absence of feedback.)
From Syntropy to Parallax
So to sum up: Order not only arises provisionally, contingently, within the "doomed" chaotic system described by classical thermodynamics, but also hovers over and lurks within it as consciousness in its constant interaction with unrealized potentiality. Syntropy, like certain other concepts in post-materialist thought, might best be understood as an umbrella term covering various entropy-defeating phenomena in their as-yet mostly unmapped interaction, rather than as as a reified principle or "force" all its own. I'm not sure Di Corpo and Vannini mean to suggest that that syntropy is actually causative, any more than Jung meant to imply that about synchronicity, yet these concepts are susceptible to that interpretation, and certainly Jung's concept (which suffered from vagueness) has been 'perverted' in that way over the years.
Fortunately the unconscious, which has no sense of time, cannot be offended by the outrageous paradoxes and perversions that enable quantum physics—and psi—to work.
Einstein can serve as a warning about the haste to add new principles when we don't immediately like what we see about reality. He felt that the picture of the universe in disequilibrium that his own theories led to required a new yet-undiscovered principle, so he postulated a "cosmological constant" to make the equations add up in a more intellectually and aesthetically congenial way. There was no evidence for such a thing, and later he regarded this as the biggest blunder in his career (although new theories of dark energy do sort of harken back to it). The physical laws we know about may not be the only ones, and as Sheldrake importantly argues, they may not actually be set in stone; but they still may be able to do the job. Quantum physics seems like it provides what we need, particularly given that it not only allows but actually requires precisely what was missing in the classical universe: a role for consciousness, and the possibility of causal interactions that defy our commonsense understandings of spacetime.
Part of what keeps us from embracing the discomfiting parallax and asymmetry of things is our sense of meaning as a kind of equals sign. "Meaning" in this sense collapses when we replace the Minkowski glass-block universe (where the future already exists) with a state of radical indeterminacy. In lived fact, there is no meaning, just a succession of states within a larger turbulent, looping flow. Those states appear "meaning-like" in hindsight, when we imagine time as flattened and static, but that fiction of meaning is a screen masking the acausal obscenities I described.
Fortunately the unconscious, which has no sense of time, cannot be offended by the outrageous paradoxes and perversions that enable quantum physics—and psi—to work.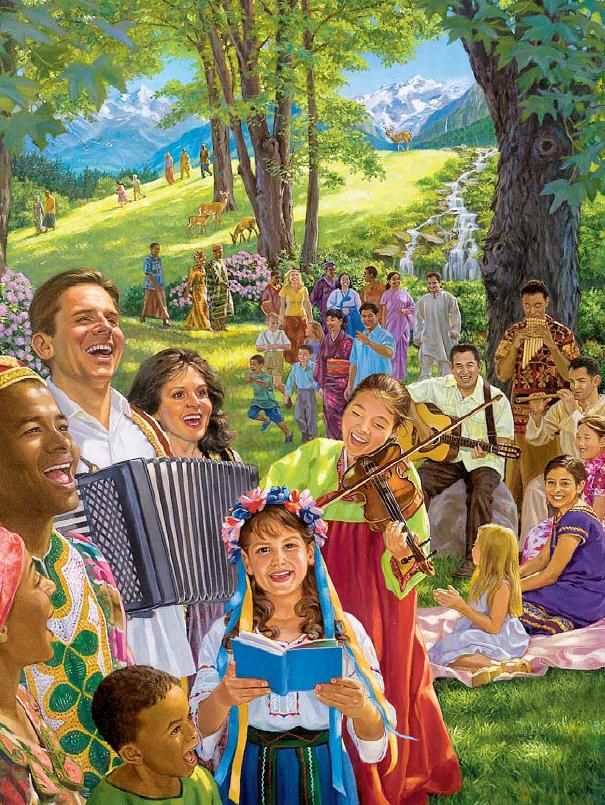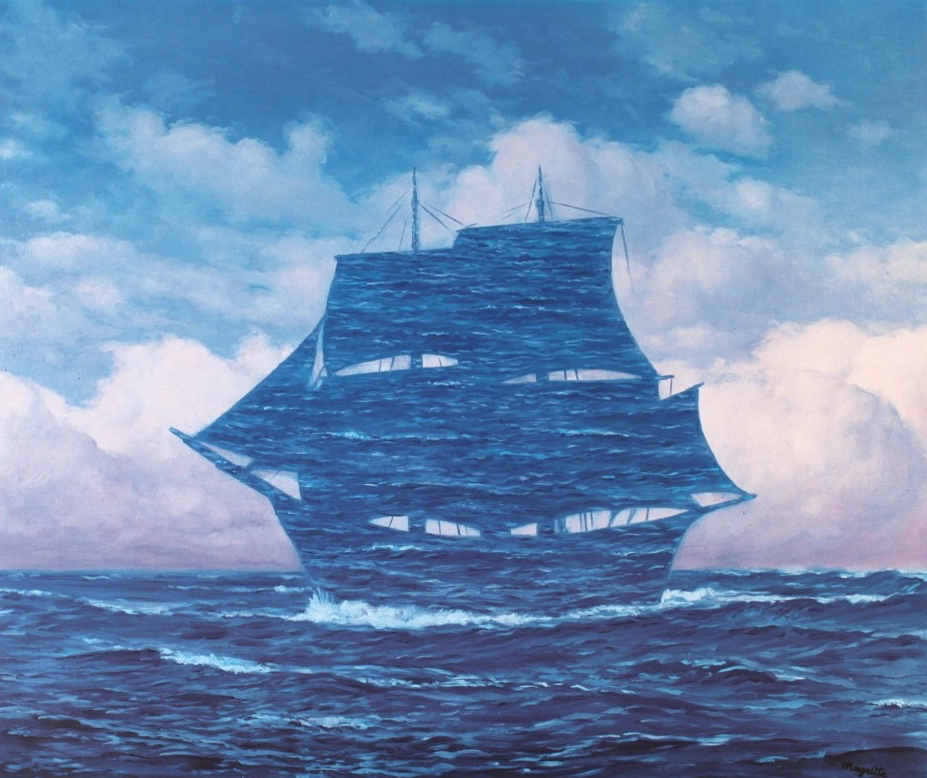 I have always been skeptical of parapsychologists, because their experiments and their theories borrow the standard concepts of space and time dimensions from physics. These concepts seem obsolete to me. They are not appropriate for understanding telepathy, or the moving of objects at a distance, or ghosts, or Melchizedek. I have always been struck also by the fact that energy and information are one and the same thing under two different aspects. Our physics professors teach us this; they they never draw the consequences. —Jacques Vallee
In his 1979 book Messengers of Deception, Jacques Vallee called for a "physics of information" that would enable scientists to think in a more nuanced way about a wide range of paranormal phenomena. Four decades later, it is an idea that is now strongly resonating with many UFO writers. The late Bruce Duensing had been thinking about the equivalence of energy and information on his blog, for example; and lately I see the phrase "physics of information" everywhere I turn. Vallee himself reiterated his call in a TED talk, "A Theory of Everything (Else)" a few years ago (linked below).
In absence of a nice, materialist-sounding theory, the behavior, or character, of psi becomes almost like an interaction with an omniscient intelligence.
What Vallee's book (and TED talk) left mostly between the lines is that his idea for such a physics arose as much or more from his involvement with psi research in the 1970s as it did from his thinking about UFOs. As a friend and colleague of the CIA-funded researchers and psychics who were revolutionizing the study of psi at SRI, Vallee, whose day job at SRI in the early part of that decade was developing the Arpanet, was in the right place at the right time to cross-fertilize their work with his own wildly outside-the-box thinking. (If there's anything studying UFOs can do to some people, it is removing the usual barriers to thought and creativity.) Vallee's contribution to the field of psi was decisive, and his comment about a physics of information directly refers to that contribution.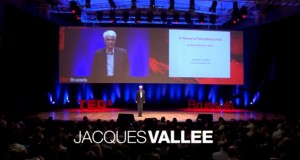 From the beginnings of psychical research in Frederic Myers' day up until the early 1970s, psi was commonly (albeit not universally) assumed to work somehow on the model of telegraphic or radio transmission. This metaphor invokes the notion of a sender and receiver, and thus psi was generally thought to be fundamentally a connection between minds—that is, telepathy. The early research at SRI proceeded on this assumption. At SRI, the early protocol in what came to be called "remote viewing" was to use an "outbounder" as a psychic transmitter—that is, a confederate who went to a randomly determined location in the Bay Area while the psychic back at the lab described what they were seeing.
The SRI team was at that time struggling with how to make this form of clairvoyance more suitable to real-world intelligence applications, and they were forced to adjust their operating assumptions to a growing realization that it didn't actually operate by known physical principles, or via anything like telepathy. They could find no electromagnetic force at work and no "inverse square law" that diminished ESP or psychokinesis (PK) over distance, and psi effects seemed to ignore any form of electromagnetic shielding. Another blow to the "telepathy" concept came from New York artist/psychic Ingo Swann, who brought to the team a different model of how psi operated—not as telepathy but as some discarnate part of consciousness leaving the body and seeing things at a distance.
In his own previous work with ESP researchers in New York, Swann had traveled out of body to view concealed objects, and thus his assumption was that a psychic didn't need another person as a sender of the information; the psychic could theoretically just "go there" and see the target in his/her mind. This worked so long as you knew where you were trying to go psychically; but the protocols at SRI demanded the psychic be blind to what and where the target was. How could the psychic know where to send his or her consciousness, or find the needed information, without something concrete to home in on?
Here is where Vallee, with his experience in the problem of accessing information in the virtual, dimensionless world of a computer database, was able to offer Swann a key piece of insight: thinking of psi information in terms of "addressing." Vallee thus suggested to Swann using geographic coordinates to designate the target.* Swann saw the logic of this, and (according to Jim Schnabel's account in his book Remote Viewers) initially waged an uphill battle convincing Hal Puthoff and the other SRI folks to experiment with using coordinates. The tries were a success, and thus "coordinate remote viewing" or CRV was born—the methodology that became the military protocol refined and taught by Swann to the first generation of military remote viewers over the subsequent decade.
Just Say "Target"
The leap initiated by Vallee and Swann should not be underestimated. The logic of using coordinates is really an 'illogic,' with any moment's thought about the problem: Geographic coordinates are a purely human construct with no objective link to places on the globe; they are an arbitrary informational overlay. It is an example, in fact, of the arbitrary connection between words and things that forms the basis of structural linguistics—the signifier bears no necessary connection to the signified; linguistic meaning is a function of how signifiers relate to each other, as in a vast grid system, not how they relate to actual things in the real world. We are thus able to use words grammatically correctly even before we know what they refer to; the way they connect in our minds to actual things depends instead on associative linkages, built up and reinforced across early life (and later) experience (I'll return to this below).
The notion that the psychic apparatus can seek and find "the right answer" based on an arbitrary signifier is another version of the basic stone of offense that prevents skeptics from accepting psi on principle: Where is the psychic getting their information?
The arbitrariness of map coordinates produces a special conundrum when applied to psi in the way Vallee was suggesting: If given a set of map coordinates, the viewer theoretically and ideally has no idea what those coordinates relate to. It's like being asked to go get a chapeau if you know no word of French. How, then, does the psychic apparatus "know" to go to the right place? Yet amazingly, and illogically, the SRI researchers found that using coordinates worked just as well as using a human outbounder. Somehow, the psychic apparatus did know where to access the requested information, even though the viewer possessed no conscious knowledge (at least with any precision) of Earth coordinates.
Eventually, given the remote but plausible idea that viewers could make guesses about the target based on having memorized the earth's geographical coordinates (perhaps through months and years of CRV practice), coordinates were replaced by even more arbitrary symbol or number systems. As Schnabel records, SRI remote viewer Keith Harary at one point exasperatedly said to Puthoff, "Why don't you just say 'target'?" Indeed, just saying 'target' worked as well as coordinates or random numbers. The psychic apparatus still knows where to seek and find the information even with the barest minimum of a signifier designating the information sought. (Consequently, the "C" in CRV eventually came to stand for "controlled" rather than "coordinate," to reflect that military viewers departed from the coordinate system in favor of even more arbitrary codenames.)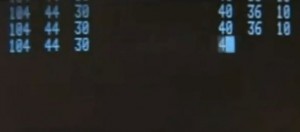 What, then, is the word "target" or an arbitrary codename standing for? If it is simply marking or registering the intent of an assigning officer, it raises the question whether remote viewing still involves, or is even mainly, a form of telepathy—that is, connecting, via that codeword, to the intentions of a distant, unknown person who does know where the target is, rather the same way a psychometrician might handle a cigarette lighter and provide information about its owner. Or, does "target" register or mark something more abstract in the nonlocal psychic database, like "the right answer" or "the correct target"? Does it even serve a purpose, or is it just a kind of empty ritual in the whole process?
The notion that the psychic apparatus can seek and find "the right answer" based on an arbitrary signifier is another version of the basic stone of offense that prevents many people, especially hardcore skeptics, from accepting psi on principle: Where is the psychic getting their information? The persistence of the electromagnetic theory, or the concept of an "energy" being transmitted through space, at least held out the possibility that psi had a rational basis that might one day be assimilated within our understanding of physical laws. But the SRI work, in various ways, undid those notions and left psi without any firm footing, even as it resulted in an actual method that could be taught and applied in real-world settings. In absence of a nice, materialist-sounding theory, the behavior, or character, of psi becomes almost like an interaction with an omniscient intelligence.
Traversing Events by Association
So, it is partly this situation and realization—that information is structured in the universe such that it can be accessed through arbitrary symbols—that Vallee meant by a physics of information that would replace our everyday physics of space and time conceived as dimensions. Cartesian coordinates (which he astutely notes are probably conceptual artifacts of graph paper) are inadequate for accessing data on a computer network. Information is scattered randomly and in fragmentary fashion in such systems and must be accessed through addressing schemes and algorithms that home in probabilistically on the required data. Search terms connect to this information associatively.
Synchronicities and remote viewing both share the central mystery of meaning: How can the Universe know our own intentions, thoughts, needs, etc.?
He suggests that the problem of accessing information in psychic space via association is directly related to a more familiar problem experienced even by non-psychics, the meaningful coincidences Jung called "synchronicity." During the period leading up to Messengers, Vallee experienced a real doozy, which shook his prior assumptions about causality to the core. After seeing the name Melchizedek scrawled on the Paris metro, Vallee learned that the name (Abraham's teacher in the Old Testament) referred to a UFO group, which turned out to have members even in California, where he was then living. He then devoted a great deal of work to this and other groups and their beliefs about UFO contact. Then, the week when he started compiling his notes on Melchizedek and writing Messengers, he was given a cab ride in LA, and when he later looked at the receipt the driver had given him, it said "Melchizedek." There was only one person with that surname in the LA phone directory. Unless someone or something was staging an elaborate hoax to screw with him, the odds against that one person driving the cab he happened to hail on an LA street are impossible to calculate but must be astronomical.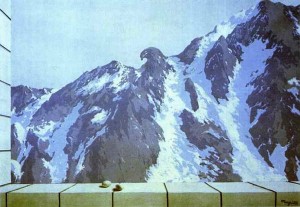 Creative work invites small synchronicities, almost to the point where I consider it its own variety of the phenomenon. Even in the course of writing this post, I experienced an intense perfect storm of "research synchronicities" in which previously unread books or previously unseen web pages magically fell open to the exact information I needed and/or took me down some personally significant rabbit hole. Any creative writer or artist knows this experience, and may even come to take these things for granted. However, synchronicities of the scope of Vallee's Melchizedek are rarer and may be life-altering. Jeffrey Kripal, who visited Vallee's home while researching a chapter on him for his book Authors of the Impossible, notes that Vallee had built a series of five stained glass windows in his study honoring his life's passions; one of them depicts the Biblical Melchizedek. (As I suggested in a previous post, honoring our synchronicities has the effect of connecting with the thread of our enjoyment and setting up the expectation of coincidence, which increases their frequency.)
Synchronicities like Melchizedek and remote viewing within the new nonlocal paradigm of Vallee's SRI friends both share the central mystery of meaning: How can the Universe know our own intentions, thoughts, needs, etc.? There is something outrageously "godlike" about synchronicity, and the extent to which we are awed (and confused) by such occurrences attests to our unwillingness to leave it all up to God or some higher intelligence.
In Messengers, Vallee gave a fascinating taste of what a physics of information would entail, and how it might link up his various interests:
If there is no time dimension as we usually assume there is, we may be traversing events by association. Modern computers retrieve information associatively. You "evoke" the desired records by using keywords, words of power: you request the intersection of "microwave" and "headache," and you find twenty articles you never suspected existed. Perhaps I had unconsciously posted such a request on some psychic bulletin board with the keyword "Melchizedek." If we live in the associative universe of the software scientist rather than the sequential universe of the spacetime physicist, then miracles are no longer irrational events. The philosophy we could derive would be closer to Islamic "Occasionalism" than to the Cartesian or Newtonian universe. And a new theory of information would have to be built. Such a theory might have interesting things to say about communication with the denizens of other physical realities.
The Universe as Dream
Information is only information to a thinking being. Thus there can be no abstract, objective physics of information; rather, such a physics would be a sort of epistemology, the study of knowledge and how we know, and how it inevitably relates to a subjective knower. This inevitably leads to the question of consciousness and its relation to matter (including the brain).
The fact that synchronicities and UFO phenomana so strongly reflect an associative (rather than causal) logic tells us—and early on, told Vallee—that they cannot be regarded solely as matters of objective reality.
The notion that we exist in a nonlocal quantum field of information that fundamentally has no spaciotemporal dimensionality at all is widely accepted in the physics community as well as among today's psi researchers, and thus is destined to transform the brain sciences and psychology as well (even if the psychologists need to be dragged into the new paradigm kicking and screaming). The physicalist presumption that consciousness arises from brain activity cannot be supported either philosophically or empirically (as any number of writers have lately pointed out). And for the most part, information may not in fact be "stored" in the brain as representations, despite our habit of thinking about it as a memory bank.
Yet, the brain is undeniably central in our embodied experience of being alive, either as a mediator between consciousness and events unfolding in physical reality (for instance as a "receiver," although that partakes of a metaphor that is becoming increasingly obsolete) or, in Bernardo Kastrup
's terms, as an "image" of the localization of our egoic experience within the larger field of consciousness. Whatever the case, I suspect that a future Quantum Neuroscience may come to understand the brain as a system of finding needed information from the larger nonlocal quantum field—that is, it is an information registration or accession system, like a card catalogue in a library or, just as Vallee anticipated, a search system in a computer network. (Or, it will be seen as the 'image' of such a system.)
What occurrences like Melchizedek seem to suggest is that the structure of time and causality as we experience them are dictated by the associative linkages among symbolic information. The universe of potential things to know, potential information, may be "out there" in the nonlocal field, but our brains are the gateway to it, because our neural architecture contains the accessing scheme. The study of dreaming and the ancient punny, associative, and spatially organized "art of memory" provide much insight into how this scheme functions and is created and maintained.
Dreaming is essentially the art of memory operating automatically while we sleep, although it probably also goes on continuously below the level of conscious awareness even during waking hours. I have described this elsewhere as "making new memories" although it would probably be more accurate (following the recent work of Sue Llewellyn) to say "making associative junctions." Those junctions not only help us access mnemonic information (wherever it actually resides) and, more often, cobble-together good-enough reconstructions of past events with a liberal dosing of schematic "frog DNA" to make it seem and feel complete and accurate. These junctions also keep events in our lives bundled together to preserve an adequately accurate internal chronology. In the absence of an objective temporal yardstick, keeping events that happened together associated with each other is the only way we can preserve a sense of our own biography and, thus, sense of self.
In searching our memories for information, we do precisely what Vallee described: we "traverse events by association." Those associations operate exactly the way Freud described in his work on dreams: They are often non-logical, governed by root metaphors that are often highly concrete (even superstitiously simple-minded), and operate by puns and various literary devices and tropes—precisely the logic of surrealism, myth, and folklore. And they are situated in distinct spatial environments that are often familiar or related to the environments of our early life and formative years. As I argued in my "Feeding the Psi God" post, precognitive dreaming appears to create associative memory junctions for future experiences in precisely the same way.
The fact that not only synchronicities but also UFO phenomena so strongly reflect precisely such an associative (rather than causal) logic tells us—and early on, told Vallee—that they cannot be regarded solely as matters of objective reality. The psyche of the witness is inextricably entwined with whatever is happening to him/her on an objective level. It could be that technology is interacting with and stimulating their associative neural networks to produce a certain experience; it could be that alien beings or technology somehow navigate a psychic interspace; or it could be that, to make sense of a fundamentally baffling experience, the witness is forced to draw upon deep cultural and personal associations. It could be all of these things. Duensing's blog, A Transit of Contingencies, is essentially a prolonged, dense, but rewarding meditation on these possibilities. (A recent Radio Mysterioso tribute conversation with Duensing afficionados "Burnt State" and "Red Pill Junkie" is a good, accessible exegesis of Duensing's ideas.)
Before Vallee, Carl Jung insightfully saw the psychic connection or dimension of UFOs, regarding them as linked in some way to the collective unconscious. The folkloric dimensions of UFO encounters certainly speak to the shared nature of basic cultural symbolism within communities. But the most fundamental symbols in our lives—the most effective "power words" in our associative mental registry—are always those that feel most unique to us, even if we happen to share those symbols with others or, indeed, with the whole human race.
There's a large body of anthropological research on the way shared symbols become powerfully personal and motivating by linking to our personal psychosexual lives, and it is why Freud remains hugely influential in anthropology (probably the only place in science, anymore, that he is still read), whereas Jung, despite taking such a deep interest in myth, is not. The motivating power of symbols, be they simple arbitrary signifiers like "chapeau" (or "target") on up to core religious and cosmological motifs, is not automatic and mechanical, emanating from some collective psychic interspace that precedes us, but is highly idiosyncratic and, in the case of religious symbolism, built up through emotionally moving religious (and, I would add, paranormal) experiences in our lives. The unconscious, where our associatively linked symbols are active, is consequently a deeply private, personal place.
This matters, because it affects how we understand our relationship to distant or nonlocal information if our brain is indeed a search engine. The fact that the associations used by our search system are built up through life experience may in the end be all the difference between the future and the past: the past—or, one's own past—is that which has been accessioned, like a library or museum collection. It is that accessioned stuff that must provide the initial breadcrumb trail of associations leading us to the new and unfamiliar. (It also suggests why research with UFO witnesses must be, as Vallee suggests, a process, unfolding over time, to excavate personal meanings and associations, not unlike a psychotherapeutic relationship.)
The Eyes of Heisenberg
There may be no physical spaciotemporal barrier to accessing all information, anywhere, anytime; as information formations, we are all made of the same stuff. There's no real discontinuity between "me, here, now" and what's happening on Gliese 667c, or what will happen there in a million years. But in order to find out what is happening there and then, I must be able to formulate a question—what I want to know—in precise enough terms to retrieve an answer from the cosmic database. That's tough, because I don't know what I don't know; and, I wouldn't recognize the needed information if I did retrieve it, or have any way to judge its accuracy.
Psi may only be functional—and useful—when the psychic eventually has an experience that definitively confirms or disconfirms whether or not he/she "got it right."
This happens to be the basic epistemological quandary that led Plato to conclude that all learning is actually remembering, or anamnesis. Basically, we don't know what we don't know, so there is no way to know something new that we didn't already know before, in a previous life. This would fit pretty well with today's consciousness-centric philosophies like Kastrup's—that the self with its brain-image is a "dissociated alter" of a larger singular all-knowing "Mind at Large"; everything we don't know is really what we have forgotten we know or forgotten we could know, if we only knew how to ask.
It also suggests why psi may only be functional—and useful—when the psychic eventually has an opportunity to make a physical observation or otherwise have an experience that definitively confirms or disconfirms whether or not he/she "got it right." It has been suggested that even what seems like remote viewing could in fact be precognitively seeing something like "the right answer" as it is confirmed during a feedback session at a later time—what I described elsewhere as the "scene of confirmation." Psi researchers Edwin May and Sonali Bhatt Marwaha have suggested that all psi experiences are precognitive, and Vallee raised this possibility after a talk at the 2007 IRVA conference. It would indeed reduce some of the mystery about how we locate and access psychic information: Instead of somehow finding and accessing information omnisciently from the entire nonlocal quantum field, the psychic could be just drawing information from a single channel, a scene in his or her own future that is/will be linked by memory association to the remote viewing session itself.
Psychic experiences that are not confirmed are, well, not confirmed, and one must beware of circular or tautological psychic claims, of which there are many. The great pitfall claiming the minds and careers of some of the original Star Gate viewers seems to have been attempting to view uncorrelated (or unconfirmable) targets like UFOs or historical events like the Crucifixion. There seems to be even something Heisenberg-like about psychic information: It doesn't count as true or false—and thus, doesn't really exist as "information"—unless and until some real state of affairs is observed physically by the psychic him- or herself.
As I have argued, the precognition theory can also explain synchronicity. Insofar as we are ignorant of the functioning of precognition in our lives (the crucial Lacanian dimension of misrecognition), we would dissociate from, disavow, or more generally just misattribute and misinterpret information that came to us via this channel. The same way that subliminally or unconsciously acquired insight and knowledge can be misattributed to another intelligence interacting with us, future information would be misattributed to present or past circumstances—the "temporal bias"—and in certain extreme cases this would produce jarring experiences of "meaningful coincidence": a feeling that the cosmos had stage-managed events to provide some indication to us or give us needed information.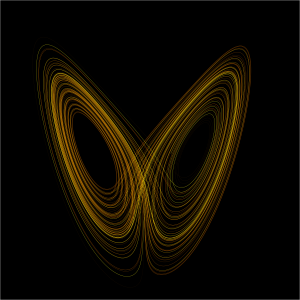 Even with Melchizedek, the "time-loop amplification" model I proposed could explain it: In other words, the amazing experience of reading a cab receipt with the name Melchizedek on it could have primed Vallee, months or years earlier, to notice that name on a Paris metro wall. The name on the receipt would have been "amazing" (and thus sent ripples back in time along the resonating string of his creative jouissance) because of the intellectually exciting intervening life events (researching the Melchizedek group, etc.), which unfolded because of that priming.
As preposterous as they sound on the surface, such time-loop structures must exist if information can travel through time and influence the past, because our resulting actions would have to be able to feed back on that future information (or else negate it, which is probably the more likely outcome—the other butterfly wing of the strange attractor in the dynamic systems space of psi). Jung was right to call synchronicity "acausal" if we take that to mean this kind of tautological chicken-and-egg logic. In his TED talk, Vallee himself invoked a similar "double causation" synchronicity theory advanced by Philippe Guillemant: "Our intentions cause effects in the future that become the future causes of present effects." A meaningful nexus like "Melchizedek" may be a kind of symptom-vortex acting as an attractor for a person's unconscious jouissance—or what in Lacanian terms is called a "symptom."
Physics of Omnipotence
Quantum physics leads tentatively to the conclusion that we are potentially omnipotent as well as omniscient, given the necessary role of conscious observation in collapsing wave functions and thus converting possibilities to actualities. The $64,000 question is, does psi "observation" by itself have a similar effect? Is following that breadcrumb trail of tokens and search terms—or traversing events by association—just accessing information via the brain's associative search engine (associations built up over a lifetime of idiosyncratic experience and dreaming), or is it also co-creating the reality it is searching for?
is following that breadcrumb trail of tokens and search terms—or traversing events by association—just accessing information via the brain's associative search engine, or is it also co-creating the reality it is searching for?
One possibility I've raised previously is that the difference between psychic perception and embodied observation might be that the former only "sees/knows" certain probable or likely outcomes in a still-indeterminate condition of Quantum superposition. This seems likely to me, because otherwise precognition would actually amplify determinism, collapsing the wave functions in front of you and thus solidifying your fate. Viewing the future psychically, I propose, should not be able to force it to come true (I shouldn't think). Thus here again, it really all comes down to those "scenes of confirmation"—the physical observation of outcomes. Such scenes may play a crucial role in the circuit of psi and the manifestation of our psychic intentions. It also raises questions about the real mechanism at work in, for example, cases of PK and psychic healing. Are intentions really acting at a distance in the present, or are they actually leading us to collapse wave functions at a future scene of confirmation, as in the precognition model of ESP/remote viewing?
If the latter is the case, it could explain a lot of baffling problems in science, like the tendency not only in psi research but in all research for results to conform to experimenter expectation (I'll return to this in future posts). And again, this idea might also illuminate why psi leads to such a quagmire of deception and paranoia when it is deployed against "uncorrelated targets" like alien intelligences, UFOs, or the Loch Ness Monster.
Tangentially, this notion could also unify my "psychic astronauts" and "noöverse" hypotheses. Any psychic exploration of spacetime might require embodied machine proxies to help conscious beings back home confirm and thus assist in the waveform collapse that makes psychic "seeing" (not to mention world-creation) reliable. If some subset of UFOs are, as I have speculated, nonsentient drones, they may nevertheless be an essential component in somebody somewhere's "psychic space program" (or, perhaps, "psychic dimensional program").
* Jim Schnabel's book Remote Viewers omits Vallee's crucial contribution, the use of geographical coordinates as an addressing scheme, claiming instead that Swann thought up the idea himself one day while lying by the pool. Vallee's more detailed and, I am sure, more trustworthy account appears in his Forbidden Science, Vol. 2; he also discusses it in his IRVA talk.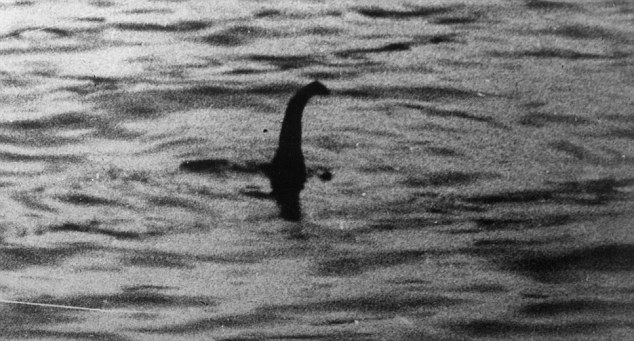 Scientists always seek better ways of aligning their categories with what they take to be preexisting ruptures or boundaries in nature—the idea of "carving nature at its joints." I love that phrase, because I have always been troubled specifically in certain divey Chinese restaurants when I see a fowl like a chicken or duck being cleaved contrarily to my Western understanding of anatomy, like through the middle of a leg or horizontally across the middle of the breast. Asian cooks seem to follow a completely different conceptual map of the animal, one that pays much less attention to skeletal structure—and joints—than I would.
It always reminds me of Borges' fictitious Chinese encyclopedia, the Celestial Emporium of Benevolent Knowledge, in which animals are divided into the following categories:
Those that belong to the emperor
Embalmed ones
Those that are trained
Suckling pigs
Mermaids (or Sirens)
Fabulous ones
Stray dogs
Those that are included in this classification
Those that tremble as if they were mad
Innumerable ones
Those drawn with a very fine camel hair brush
Et cetera
Those that have just broken the flower vase
Those that, at a distance, resemble flies
"Paranoia" is in some sense just an unkind diagnostic epithet for people who draw connections that cut across hallowed cultural boundaries, connections that others cannot or do not wish to see.
This mad classification system is jarring (and funny) because it upsets our implicit Western understanding of logic, which is based on exclusive categories and nested sets, not sets that inevitably overlap (such as "belonging to the Emperor" and "Those that have just broken the flower vase"). Borges' encyclopedia inspired the structuralist philosopher-historian Michel Foucault to write a whole book, The Order of Things, about the slowly shifting conditions of discourse that define knowledge in a given culture and time, or what he calls an episteme. Thinking about our own cultural categories, and what is thinkable and speakable within them, is crucial for understanding the marginal position of Fortean and paranormal topics within the modern, Western episteme.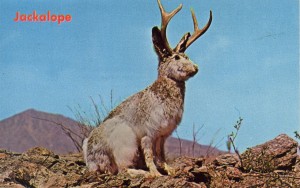 The paranormal, as George Hansen
has shown, consists specifically of boundary-crossing things, things that fall in our cultural cracks. These cracks are dangerous and dirty. He cites anthropologist Mary Douglas, who described how whatever transgresses boundaries or doesn't stick within the confines of our familiar conceptual fences is experienced with revulsion. For instance, pigs were regarded as unclean by the ancient Hebrews because they were cloven hooved, like cows, yet did not chew a cud; it violated their cultural logic. Or, something as innocent as soil may be experienced as disgusting or repellant (i.e., as "dirt") when it is tracked into a modern home, because it then violates the implicit boundary between "nature" and "culture." (Protestants and other clean-freaks often respond to stray dirt in an apoplectic manner unbefitting its objective harmlessness.)
Fortean topics are perfect examples of the repulsive aura that surrounds boundary-crossing subjects. UFOs and ESP and Bigfoot, when talked about seriously, are repugnant to the mainstream mind, and mentioning them can put people off on a very fundamental level. There is some way in which these topics, in their inappropriate betwixt-and-between-ness, resemble private or even shameful bodily functions, or indeed dirt. This is beautifully depicted in Close Encounters, when UFO witness Roy Neary crazily drags dirt and plants into the family living room to assemble his Devil's Tower model, as the neighbors look on in pity. The more we Forteans and anomalists display our strange, transgressive obsessions, the more the world shuns us as unclean, for reasons that are deeply epistemological. Thus being a Fortean can be socially (or at least, intellectually) isolating.
The Paranormal and Paranoia
People are repelled by margins, and they also distrust those whose minds are comfortable dwelling there. "Paranoia" is in some sense just an unkind diagnostic epithet for people who draw connections that cut across hallowed cultural boundaries, connections that others cannot or do not wish to see.
Nash himself said "I wouldn't have had good scientific ideas if I had thought more normally."
It goes without saying that there is a lot of paranoia in the Fortean world. As Hansen shows, paranormal topics tend to lead to paranoid thinking in those who go down the rabbit hole of UFOs, parapsychology, cryptozoology, and related areas of interest, although there is also a factor of self-selection: People who appear to be made paranoid by the study of the paranormal may have been in some sense paranoid to begin with; a nicer way of saying this, though, is that they start out open-minded and intellectually curious. In the cross-cutting demographic that attends to anomalies, you get a lot of people whose minds make connections that other minds don't. Forteans, unlike more mainstream thinkers, allow their minds to "go there," wherever "there" may be.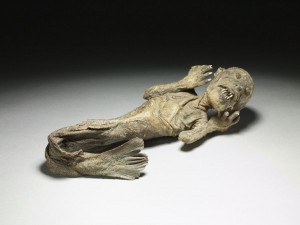 Scientific geniuses and artists are often pattern-seers too. Theories are patterns; new theories are made by people who have a knack for discerning them. When newly perceived patterns can be supported scientifically, it can push a field in new directions and rearrange our existing categories in ways that previously might have seemed as illogical as Borges' encyclopedia. Thus to some extent, paranoia is always relative, defined in terms of a given episteme or paradigm. It is not often enough mentioned that great scientific theorists are usually guilty of creating some bad theories amid their better-known solid ones. A certain amount of theoretical 'pareidolia'—if not true paranoia—just goes with the 'genius' territory.
I was reminded of this a couple weeks ago with the sad death of John Nash and his wife in a taxicab accident. Nash, the Nobel-winning mathematician immortalized in A Beautiful Mind, also suffered from paranoid schizophrenia, and among his 'delusions' was the belief that aliens were attempting to communicate with him via The New York Times. It is an important reminder that you frequently can't have penetrating insight without a degree of wild imagination (some would say lunacy, but who am I to say he wasn't being contacted by aliens via the newspaper?). Nash himself said "I wouldn't have had good scientific ideas if I had thought more normally."
Us and Them
Yet even if we philosophically acknowledge Indra's net, the ultimate interconnectedness of all things, some pattern-seeing is too much an affront to reason to be helpful or useful. And it can serve to perpetuate the social marginalization of Forteans, and this marginalization can in turn contribute to paranoia, in a kind of feedback loop. Being isolated both individually and as a (small) group makes it difficult to triangulate ideas and apply proper critical distance, creating a perfect breeding ground for the creeping seeing of (probably) illusory connections.
Forteans often contribute to their own exclusion by taking an antagonistic attitude to the mainstream.
I recently I wrote about Mars anomalies, for example: While there are a handful that are genuinely perplexing (including, I am now re-persuaded, the famous "face"), these are tainted by a vast array of items that range from the absurd to the sad, such as "cities" feverishly discovered in photographic compression artifacts or plainly ridiculous "animals" somehow wandering about the frigid Martian surface. A failure to exercise critical discernment, coupled occasionally with a truly well-intentioned and democratic "anything goes" attitude on such sites, effectively exiles the entire subject from any serious consideration by the mainstream.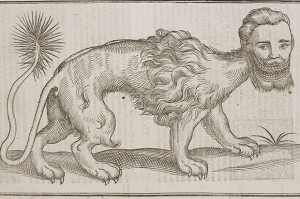 Forteans often further contribute to this problem of cultural exclusion by taking an antagonistic attitude to the mainstream, bitterly transforming the marginality of our areas of interest into some kind of conspiracy by the powers that be to hide the truth. Planetary anomalies and ufology are full of this kind of thinking, of course, but there is no area of Forteana that is untouched by it.
For example, I recently attended a talk by an outsider archeologist presenting very interesting epigraphic evidence for pre-Columbian presence of Celtic and other European and Mediterranean peoples in the New World, possibly as part of multicultural crews of ancient Phoenician trading vessels. While his evidence was compelling, he characterized mainstream archaeology's resistance to this evidence in implicitly paranoid terms: "We've been lied to," he said more than once, and compared the edifice of mainstream academic archaeology to a priesthood jealously preserving its hegemony against outsider thinking. It's an unfortunate attitude that is both unhelpful to the cause of paradigm-shifting and also betrays an ignorance of the sociology of knowledge.
The Knowledge System
Scientific and academic paradigms are subsystems within the larger system of academic knowledge, which itself is a subsystem within a larger episteme (in Foucault's sense) as well as political-economic-cultural world. Thus paradigms are effects of a constellation of sociological, economic, and other forces, including pressures on publishing, tenure, grant funding, etc.—forces tend to be conservative. Whenever consensuses are forged, it advances a field of study, but it does so by ignoring disconfirmatory data. For a field to advance in any direction, anomalies must be swept under the rug; if and when enough of those anomalies accumulate, paradigms may shift, but again at the expense of data that would disconfirm the new paradigm. It's the sort of lurching oscillation between openness and closure that characterizes all kinds of systems, from the weather to cortical signaling in the brain to political structures to religious movements.
Whenever consensuses are forged, it advances a field of study, but it does so by ignoring disconfirmatory data. For a field to advance in any direction, anomalies must be swept under the rug.
I am not an archaeologist, but I am sure that the academic "priesthood's" resistance to pre-Columbian anomalies is not that they are suppressing some big truth that they want to keep secret, but simply that they are human beings working within a knowledge system, subject to the same pressures of prestige, reputation, and status that are the academic equivalent of capital in the world of trade for goods and services. Whether you are selling ideas or cars, you are going to be biased, because you're human. You want the world to buy your car, or your anti-diffusionist account of ancient New World culture, not the shiny new product of some upstart competitor. Your culture of academic insiders is going to encourage scoffing and mockery of the competition, because face it, that's what humans do. We're cliquish and classist and can be nastily closed minded, especially when we are in our little professional groups. (It doesn't matter what the profession—all are equally bad.) There are also larger forces of cultural and political correctness (ideologies) subtly exerting an effect on what is seeable and sayable.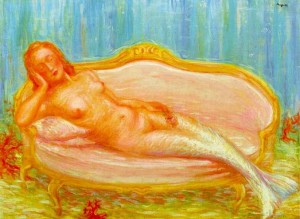 Given the limitations on his time, a professor who has been teaching and writing his whole life that sustained Old World contact with the New World began with Columbus and his men (not counting that minor blip of Erik the Red), has no incentive to consider sparse and often poorly provenanced evidence to the contrary. It's not that he's knowingly "lying" to his readers and students. The academic consensus he has worked within his whole life may indeed cause him to not even see evidence that would support another theory; but again, this is just human, and not evidence for conspiracy or deception. The more the accumulating anomalous evidence comes in a paranoid package—as "revelation" of "secrets" that have been "silenced" and concealed by academic "lies"—the less incentive the tenured have to listen.
This is not to defend the knowledge system or the governing ideologies—systems can always be improved and ideologies critiqued or overthrown. But what may look to outsiders like a conspiracy of lies and secrets is often just an effect of the inertia of systems to change, the result of countless different interacting factors that are, each individually, perfectly innocent. Those systems are always being renegotiated and modified to make them work better, but change is always sluggish from the viewpoint of outsiders, such as the far-seeing paranoids and Forteans on the margins.
Subjects Presumed to Know
In approaching the problem of entrenched dogmas and how to think about undercutting them, I have taken a lot of inspiration from a group of outsiders and mavericks at the discussion forum Applied-Epistemology.com. Buried in the pages of discussion on that site are enough thrillingly persuasive revisionist theories of history and archaeology (as well as a wide range of other topics, including continental drift and cosmology) to keep a casual lurker occupied for days. But it is a crowd that approaches its problem very differently than we Forteans are often used to.
Careful ignoral is just an effect of the sociology of knowledge in a highly partitioned and cliquish academic space.
They are not conspiracy theorists, for one thing. Their M.O. is to simply to pick apart the received historical wisdom on a subject by examining how it is that academics really know what they claim to know (i.e., they apply epistemology). What they frequently find is that accepted paradigms are rooted in little more than academic tradition, and that that tradition has its roots in various scholarly echo chambers leading back, in many cases, to original sources of dubious merit.
The 'leader' of this band of knowledge deconstructors, M.J. Harper, whose deliciously irreverent and mind-expanding books I've reviewed before on this blog (for instance here and here), has apt terminology for the kinds of resistance to anomalies encountered by revisionists. My favorite Harperism is "careful ignoral": the tendency of specialist scholars to defer anomalies to other specialists on the presumption that the answer to a challenging question is likely to be found in someone else's field of study. It's not unlike Jacques Lacan's psychoanalytic concept "the subject presumed to know"—the neurotic assumption that someone else possesses all the answers—but here appearing as a defense mechanism for academic specialists to avoid cognitive dissonance. As Harper writes, tongue only somewhat in cheek, "Whenever there's an insoluble anomaly, academia makes sure that there's a carefully inserted fissure just where the anomaly is. That way, neither side need take responsibility"—a comment that fits well with what Hansen has observed about the relationship between anomalous/paranormal subjects and the less-policed intersections or boundaries between cultural categories.
Harper's first book
, for example, is a thrilling and rather devastating application of his pet critical method to the history of the English language. That that history is controversial is not something you would ever guess, given an origin story that has been recited confidently by English professors and linguists for centuries, enshrined in the heaviest and densest of reference books (the supermassive OED, around which all lesser English dictionaries obediently revolve), and equally importantly, popularized by everyone's favorite fantasy writer. (Middle Earth being essentially the poetic Imaginal of the Anglo-Saxon tongue J.R.R. Tolkien studied and taught for his day job.) Yet this origin story, Harper shows, is so anomalous in the history of languages as to be, really, when you examine it even for a few minutes, totally unbelievable.
There is no other known language that ever transformed not only its vocabulary but its entire grammar over any span of time, let alone a couple hundred years—the span between the Norman invasion of 1066, when the Anglo-Saxon leaders of the English people were overthrown, and the first "Middle English" texts like those of Chaucer (which are basically just modern English with French spelling). When you trace the evidence for the story that what we now speak is a mix of French and an otherwise forgotten Germanic tongue brought over from Denmark in the Fifth Century back to its sources, you find little more than politically-motivated Renaissance-era scholarship, numerous probable forgeries (which were rampant at the time), and a self-reinforcing academic echo chamber that has sustained many, many careers over the centuries since then.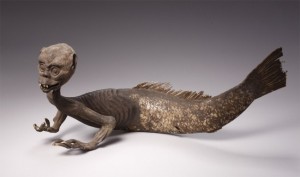 The much likelier and historically more boring truth, which no respectable English scholar will dare countenance, is that the people living in what is now called England always spoke what we now call English—back even in the days of Stonehenge. The presumed "evolution" of our tongue from Anglo-Saxon and French is just a retrospective illusion produced by the haphazard and confused way English first emerged as a written language in the first half of the last millennium.
"The human brain is quite good at teasing out correct solutions when put to the test," Harper writes, "but it's much better at avoiding being put to the test in the first place." He is explicit that academic buck-passing, for instance between historians and linguists and philologists and archaeologists and literary scholars and others whom the anomalies in the story of English would be asked to weigh in on, is not cynical or dishonest; "nobody here is being other than scrupulously professional. Being a specialist means knowing when to concede to another specialist…" The problem is that this daisy chain of deferrance becomes a neverending whirlpool that feeds on itself.
In other words, there is no "conspiracy" to have everyone think that Beowulf is the cornerstone of our language—no one is being lied to—it's just that, at this point, so much has been invested in that particular story (there are whole university departments devoted to it, not to mention the edifice of the OED) that it is in practically nobody's interest to question it—nobody except outsiders, that is. Careful ignoral is just an effect of the sociology of knowledge in a highly partitioned and cliquish academic space.
Government Conspiracies
We could extend this kind of reasoning to the more science-fictional of Fortean anomalies too. UFOs, for example, are right in that giant fissure between the sciences and humanities, and nobody can even agree which sciences and which humanities. Most now agree that the recipe for a close encounter includes at least a dash of physics and a cupful of psychology, but what's the ratio? Astronomy is no longer on the ingredient list for many, having been replaced by folklore and religion. But whatever your own preferred recipe, it is clearly the case that UFOs' betwixt-and-between-ness has resulted in their not being studied seriously within any university department—i.e., careful ignoral.
UFOs are the ultimate hot potato, and the easiest thing to do with hot potatoes is to pretend they don't exist.
But should it even be a problem for universities at all? In Messengers of Deception, Jacques Vallee reports a conversation with a retired U.S. Intelligence officer named "Major Murphy," who pointed out to him that the apparently intelligent nature of the phenomenon properly takes it outside of the domain of science (and implicitly other scholarship) altogether: You don't study intelligence scientifically, this man said, but with, well, intelligence—meaning that the proper domain of UFOs isn't science or academia but various secretive arms of the government. Yet, as John Alexander
has argued, careful ignoral seems to be the state of affairs in government, too. UFOs don't fall squarely in the turf of any particular branch of government or the military; moreover, those all consist of massive siloed bureaucracies that don't communicate well internally or externally, so responsibility has historically been avoided and deferred. UFOs are the ultimate hot potato, and the easiest thing to do with hot potatoes is to pretend they don't exist.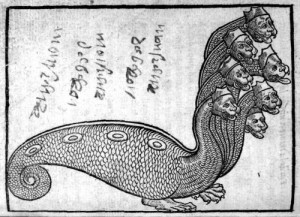 The problem is, careful ignoral by multiple military and intelligence entities, coupled with the inertia and general out-of-touchness that characterizes such bureaucracies, looks to outsiders like a monolithic wall of silence, evasion, and lies, and this perception fuels the paranoia that is endemic among people with an interest in the subject. (It doesn't help that some military and intelligence organizations appear to have used UFOs, and people's belief in them, as smokescreen to disguise other, probably totally unrelated agendas.) That paranoia, through various psychological and social mechanisms like those I've mentioned, is self-perpetuating. Attempting to fill in the blanks, ufologists make connections that may or not be there in reality; and the more they make those connections, the more the outside world marginalizes them as kooks.
The persistent conviction that "the government" is keeping some kind of monolithic secret about UFOs or the presence of ETs on earth—a secret which could somehow be "disclosed"—is of course just another example of the neurotic/paranoid obsession with a "subject presumed to know." Official silence or inconsistent dithering on the UFO topic really could indicate nothing more sinister than human and institutional discomfort with the anomalous. Yet … there's no way of knowing for sure.
This is the epistemological problem we are up against as Forteans: Because knowledge is a social construct, truth is importantly determined by consensus; one person's pareidolia might be another person's great discovery. There is no objective arbiter, no one you can go to to "disclose" what the true state of affairs is. So whose consensus are you going to choose, that of the unimaginative but sober masses, or the paranoid lunatics on the margins?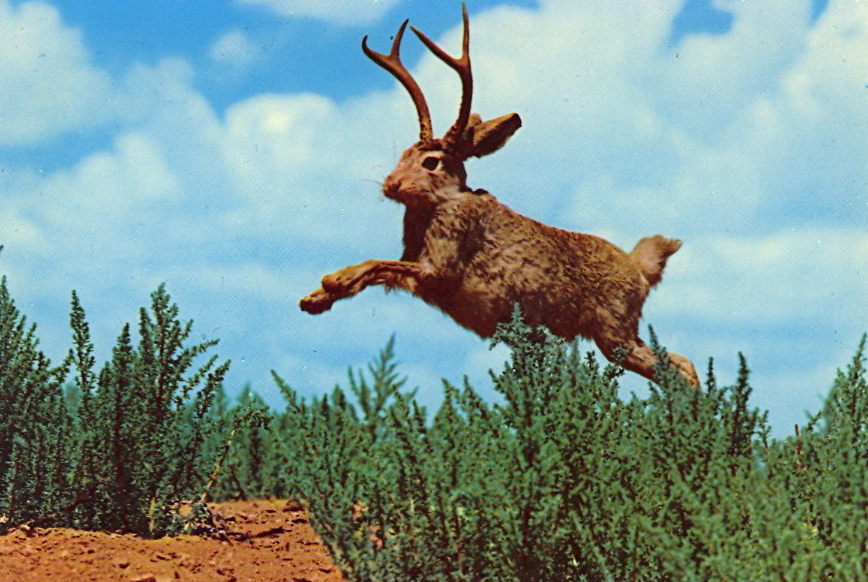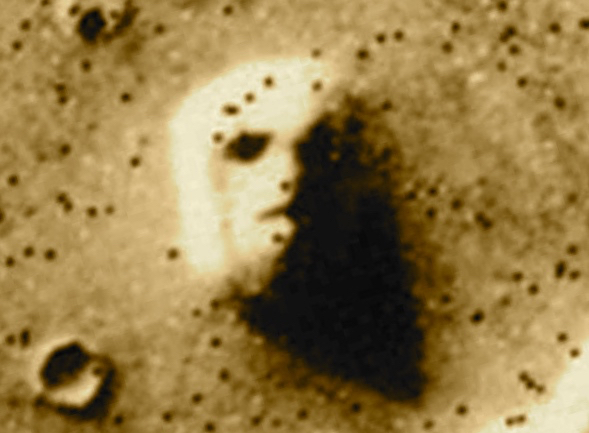 Ever since the Viking orbiters photographed a curiously face-like mountain and oddly pyramidal features in the Cydonia Mensae region of Mars in 1976, many have liked to speculate that the Red Planet was once inhabited, either by human settlers in the distant past—the argument made by Richard Hoagland—or by an indigenous civilization that flourished many hundreds of millions of years ago, when that planet was blue and green. Mac Tonnies summarized the claims (and counterarguments) in his excellent 2004 book After the Martian Apocalypse
; now a recent book, Death on Mars
, provides an insider account of outsider Mars research, as well as offering a dark scenario about what might have befallen an ancient Martian civilization.
Based on various pieces of evidence including an anomalous excess of the isotope Xenon 129 in the Martian atmosphere, author John E. Brandenburg, a former NASA plasma physicist, makes the bold argument that the Red Planet's inhabitants perished in a nuclear attack about half a billion years ago. He argues that they did not destroy themselves: Given the seemingly bronze-age technology of the Cydonia complex and other allegedly artificial features, Brandenburg argues that the bombs were lobbed from off-world—a possibility he finds chilling, since we have no idea of the motive for this holocaust, and whether we ourselves might be next.
The mind hates uncertainty, so it fills in the blanks with its own story, like a Rorschach inkblot, or like the frog DNA used to fill in the gaps of spotty dinosaur genome in Jurassic Park.
The evidence for nuclear detonation in Mars's past is impossible for a non-specialist like me to evaluate, but the claims for the artificiality of the Cydonia face and its nearby "pyramids" is, unfortunately, highly tenuous at this point. Recent images of the "face" convincingly (to me) show a very un-face-like mesa. And the more anomalists claim to find "sacred geometry" and the like in the irregular angles of the nearby "pyramid complex," the more I am reminded of other obsessive Forteans who somehow distinctly see Sasquatches in every forest shadow and orb-like spirits of the dead in the lens flare of their photographs.
Pareidolia is seeing patterns, meaningful information, in what is probably noise. It particularly haunts various anomalistic fields, because they concern mysterious phenomena for which data are patchy at best. The mind hates uncertainty, so it fills in the blanks with its own story, like a Rorschach inkblot, or like the frog DNA used to fill in the gaps of spotty dinosaur genome in Jurassic Park. For instance, while anyone could be forgiven for seeing a face in the original low-res Cydonia images taken by the Viking orbiters, many of ur-anomalist Richard Hoagland's other "discoveries" on Mars and elsewhere in the solar system, such as giant crystal domes and latticework he claims to see in Apollo lunar photographs, veer well into sad/laughable territory.
Brandenburg dwells too heavily on the Cydonia face and many lesser, even less convincing face-like features, but on the whole his argument is less outrageous than some of Hoagland's conjectures. Other parts of his book, such as his discussion of the contentious evidence for microfossils in Martian meteorites, and even the personal narrative in which his argument is embedded, are actually quite interesting. So is his only somewhat paranoid-seeming argument why we should be distrustful of NASA's contractor Jet Propulsion Laboratory (JPL). The argument will be familiar to readers of Tonnies' 2004 book, but Tonnies was drawing there on Brandenburg's earlier work.
JPL's speciality has always been robotic exploration, thus it has a vested interest (Brandenburg claims) in promoting Mars as mainly an object of geological, not biological (let alone anthropological), interest. Discovery of life or, even more significantly, the remains of a civilization, would very quickly turn Mars into an urgent destination for human missions and thus challenge JPL's monopoly on planetary exploration. It is noteworthy that the only Martian landers ever to carry actual life-detecting experiments were Vikings 1 and 2, and the results—which actually tipped in favor of the presence of microbial life—resulted in endless bitter contention among planetary scientists. Whether it is to avoid further insoluble disputes or really reflects the "dead Mars" preference of JPL, subsequent missions, including the Curiosity rover currently surveying the base of Aeolus Mons ("Mount Sharp"), have had no ability to test for life in the Martian soil.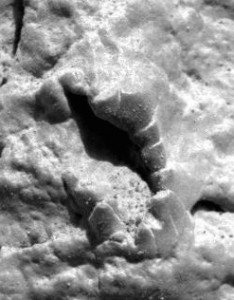 When Viking's low-res images were supplanted by higher-resolution images in the late 1990s that seemed to dispel the face's faceyness, the Mars anomaly community claimed the images had been deliberately manipulated by JPL or its image subcontractor Malin Space Science Systems, as part of a coverup to keep the Red planet dead. While I would prefer to think any bias against detecting life has more likely guided JPL tacitly and institutionally rather than deliberately and conspiratorially, in 2004 Hoagland exposed a troubling case of what could only be called serious negligence if it was not indeed part of a coverup: The Opportunity rover photographed a feature looking very much like a terrestrial crinoid fossil (left), and instead of examining it more closely, promptly sanded the feature into oblivion with its "rock abrasion tool." (The original before and after photos can be seen here.) The ways four decades of interplanetary exploration may have been shaped by specific scientific assumptions that just happen to keep JPL's contract with NASA secure seem to be a possibly important story awaiting investigation by some enterprising (and unbiased) space science journalist.
Dead and Red: The Martian Imaginal
Paranoia and pareidolia go hand in hand. Mars anomalistics is only the latest phase in what could be called the Martian imaginal—the tendency to make the Red Planet into a projection screen for our hopes and, more frequently, fears (and, in JPL's case perhaps, financial interests). It goes back to Perceval Lowell's canals, HG Wells' War of the Worlds, and numerous other lesser-known touchstones. Whether or not it is because of the planet's symbolic past and astrological significance, war and death have often played a big role in this imaginal.
Brandenburg's Herod-style slaughter of the Martian innocent "as an attempt to prevent the birth of Christ in this solar system" is the most creative motive I've read for interstellar genocide.
Brandenburg places his research on an ancient inhabited Mars and its subsequent death within the context of the Cold War and his own perspective as a physicist involved directly in researching energy weapons for possible use in missile defense. For him, the evidence of a Martian nuclear holocaust was a chilling warning, both that the Superpowers needed to end the insane arms race and that, as a human imperative, we urgently needed to launch a manned mission to Mars to investigate what happened on that planet. Although more cautious of the evidence for Martian inhabitation, Carl Sagan was a supporter of this vision. Indeed it was thanks to Sagan's enormous scientific imagination that Mars and Venus, our neighboring worlds, became object lessons for the major Democratic causes of late- and post-Cold War America: nuclear disarmament and climate change, respectively. Venus's rampant greenhouse effect showed us what Earth could turn into if we don't rein in our emission of greenhouse gases; and Sagan used dust storms on Mars to illustrate the scary notion of nuclear winter, a frigid life-eradicating darkness that would ensue after multiple bomb detonations.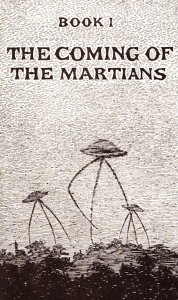 Much to Brandenburg's credit, he does not harbor the antipathy to Sagan that many anomalists and Forteans do, reminding us that Sagan himself was open-minded about the possibility of an ancient Martian civilization, even if he appeared closed-minded on other areas with much better evidence, like UFOs. I've argued before that Sagan's skepticism toward UFOs may have reflected his own kind of cosmic imaginal, which actually served a wise social/political agenda: A vast universe with distant intelligences and perhaps ancient relics of ET visitation on Mars or the Moon was a sublime vision that went hand in hand with taking responsibility for our cosmic fate and the fate of our planet, rather than expecting benevolent intervention by flying saucer brethren buzzing around our solar system in the here and now.
Brandenburg's own Martian imaginal, although entertaining and based on some interesting evidence, is way too speculative to take very seriously. He also concedes it is grounded partly in his religious beliefs. Near the end of the book, he offers an admittedly "emotional conjecture" that "this Solar system may have been prophesied to be the home of the Christ by other species in space, and perhaps became a target because of it." Brandenburg is not writing science fiction, but his Herod-style slaughter of the Martian innocent "as an attempt to prevent the birth of Christ in this solar system" is surely the most creative motive I've read for interstellar genocide. However, no less a mind than Stephen Hawking has also waxed alarmist at the prospect of ET aggression, suggesting we should make no attempts to advertise our presence lest we invite invasion or destruction. Are such fears realistic?
A Requiem for Alderaan
While it is often justified in religious terms, human aggression always boils down ultimately to competition for valuable resources and to self-defense. This fact itself is, I believe, one of the biggest counterarguments to most "hostile ET" scenarios.
All sci-fi scenarios for planetary destruction—including pure paranoid insanity—are predicated on an absence of the one thing I suspect the universe is actually full of: knowledge.
ET civilizations with the mastery of energy and matter on the scale required for extensive interstellar travel (i.e., Type I or Type II Civilizations, let alone higher) will have long since solved any resource problems that we or our planet's (or even solar system's) resources could help them with. Earth is truly, as Sagan underscored, a miniscule blue spec. Our minerals, our water, our meat, and our nice attractive real estate, dearly precious to us, will offer ETs nothing they can't manufacture for themselves via sidereal and planetary engineering. Given the wild dissinchrony that will obtain between different intelligent races/civilizations/post-civilizations in our galaxy, anybody out there capable of becoming aware of us is in all probability already living in massive Dyson pleasure spheres, or has transcended physical reality altogether, if they are not long dead and gone. Whatever the case, they're not in a position to want anything from us. Nor are they in a position to feel terribly threatened either by our presence or by our weapons (including our secret weapon, Jesus).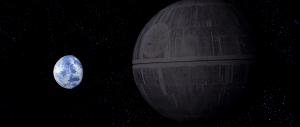 Yet the assumption that advanced ETs could simply be malicious or have some other nefarious or unfathomable motive to destroy young civilizations like ours is a widely held one, and is of course a sci-fi staple. For example, Alastair Reynolds' Revelation Space series is premised upon the discovery of civilization-destroying booby traps placed billions of years ago by an ancient race called the Inhibitors. Their purpose is to cull emerging civilizations throughout the galaxy in order to make galactic engineering easier when Andromeda and the Milky Way collide in another 3 billion years. Although I mostly love Reynolds' imagination, this ancient agenda—sort of the opposite of that of the slabs in Arthur C Clarke's 2001—falls flat. Not only does it seem like rather insane and pointless cosmic stewardship, it also (I assume unintentionally) calls to mind Douglas Adams' comical scenario in Hitchhiker's Guide to the Galaxy: destroying Earth to make way for a cosmic express route.
More worthy of consideration is the motive for preemptive genocide that serves as the premise of a bad-but-interesting 1995 novel called The Killing Star, by Charles Pellegrino and George Zebrowski. A race of coldly logical alien octopi completely obliterate Earth and all human outposts in the solar system, without warning, using relativistic missiles—self-guided projectiles traveling at velocities edging toward the speed of light. The octopi's motive is that they detect from our TV broadcasts (including Star Trek) that our species is on the brink of acquiring the technical capacity for relativistic spaceflight, so could potentially create a relativistic missile ourselves. Their attack is a preemptive strike just to be on the safe side.
Advanced ETs won't look out into space the way we still do, seeing darkness and mystery and potential threats. Their technology will have created for them a cosmos of light, a noöverse.
The basic (and interesting) idea here is that relativistic spaceflight is itself the deadliest of weapons: An object accelerated to an appreciable percent of lightspeed would have kinetic energy well in excess of an equivalent amount of antimatter, and thus be practically the most destructive thing imaginable. Forget nuclear weapons; no warheads are needed. Also, such an attack would also be impossible to see coming. Applying this logic to SETI, the authors of The Killing Star suggest that the Great Silence (Fermi Paradox) may reflect not that civilizations destroy themselves but rather that they destroy each other: Specifically, whoever in our galaxy first acquired relativistic capability went ahead and suppressed all other newly arising civilizations with swift, planet-killing bullets to assure their own safety.
This is a distinctly Cold War logic, reminiscent of what was surely going through the minds of some strategists who were tasked with thinking the unthinkable: namely, preemptive strikes to eliminate the nuclear threat posed by Russia and China. It is an important argument to consider as an answer to the Fermi Paradox; but we also need to look at the geopolitical world that replaced the Cold War, and perhaps project newer (and ideally, future) realities onto the night sky instead of outmoded Dr. Strangelove fantasies. All the various sci-fi scenarios for planetary destruction, from the (weirdly) custodial motives of Reynolds' Inhibitors to the purely survival imperative of Pellegrino and Zebrowski's octopi—and even, pure paranoid insanity—are predicated on an absence of the one thing I suspect the universe is actually full of: knowledge, produced by ongoing active machine surveillance on a planet-to-planet level.
It's a Noöverse, Folks
If ETs exist at all, the math dictates that "they" are already aware of us and were aware of us long before we started setting off nuclear warheads and long before they started receiving our broadcasts of Star Trek and I Love Lucy. ET surveillance drones could have been here before we stood upright on the savannah, and likely even before the primordial oceans bloomed with algae. This should not be a scary thought, but a reassuring one: A vast active drone intelligence system operating quietly across million- and billion-year timespans, which I have argued is probably the inevitable project of advanced civilizations, eliminates the kinds of scenario favored in space operas or cosmic paranoia scenarios like The Killing Star.
Klaatu is a myth we should, as thoughtful adults, grow out of. I'm here to tell you, though, that there are probably lots and lots of very unobtrusive Gorts.
Paranoia takes over in the absence of noös, knowledge and knowing. When you don't know what's out there, you fear it. Advanced ETs won't look out into space the way we still do, seeing darkness and mystery and potential threats. Their technology will have created for them a cosmos of light, a noöverse, that they can inhabit virtually and that supplies them (or their machine proxies) with godlike prediction-and-control capacity. If, through a massive stealthy automated program of deep anthropology, you have complete predictive power over any and all 'lesser' species and civilizations, you—or really, your machine proxies—have ample warning to intervene in subtle, non-drastic ways to ensure your long-term safety. Emerging threats such as new spacefaring warlike civilizations and imminent supernovas (not to mention galactic collisions) will be foreseen long in advance, enabling easy steps to prevent calamity—rather like an ocean liner making a gentle, minor course correction ten miles away from an iceberg instead of a panicked course correction a half mile away. Swarming the galaxy with a neural net of autonomous Von Neumann probes capable of nuanced cultural intervention would require far less expenditure of energy and resources than accelerating projectiles to relativistic velocities. Surveillance and control in this subtle, long-duration sense will, I suspect, have largely replaced weapons and warfare for the universe's more mature (and ancient) inhabitants.
The argument that the universe is really a noöverse can be made solely based on the Drake Equation and various mathematical models of interstellar expansion and Von Neumann probe propogation. Yet, two pieces of the UFO puzzle harmonize rather nicely with it: One is Vallee's "control system" hypothesis—the notion that whoever/whatever is behind the UFO phenomenon, they seem to be steering us or nudging us somehow. Although Vallee favors a more local or interdimensional origin for these phenomena, a very long term project of subtle cultural course corrections coupled with a program of deep anthropology fits well with an ET drone hypothesis too, as I've argued previously. (Personally I suspect that the UFO phenomenon is actually multiple separate phenomena, including some ET component and a more local or interdimensional one, and that lumping them together contributes to our bafflement.)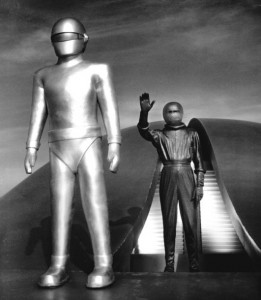 The other puzzle piece is UFOs' overt and well-documented interest in nuclear weapons, noted by various authors including Leslie Kean
and evidenced by Robert Hastings' impressive body of data on UFO encounters in the context of nuclear tests and at missile silos. The notion that ET is here to steer us away from using nuclear weapons has of course been a staple of UFO folklore and popular culture from the start—most famously, the 1951 classic The Day the Earth Stood Still. Just because it's pop culture doesn't mean it's wrong. My only modification to this scenario is that ET "interest" in our military technology would be very long-term and would not at all be personal: Klaatu is a myth we should, as thoughtful adults, grow out of. I'm here to tell you, though, that there are probably lots and lots of very unobtrusive Gorts.
Postscript: Surveillance States
In the noöverse, we have no expectation of privacy. When our galactic antecedents could be millions or billions of years beyond us in technological capacity, being surreptitiously watched by them and even nudged culturally should be a reassuring prospect, not a disturbing one. What about affairs closer to home, when advanced technological states are, sort of similarly, light years beyond their citizenry in technological capacity? Considerations and reconsiderations of cosmic paranoia should force us to reflect on more immediate political realities.
If a paranoid military-government apparatus lacked the technological ability to listen to its citizens' phone calls and read its e-mails, might it not feel compelled to engage in a more widespread pattern of imprisonment, torture, and assassination?
Much as I applaud Edward Snowden and others who are reporting on and fighting the encroachment of the modern secrecy/surveillance state, I think it is also useful to at least consider how a situation of pervasive surveillance might actually be preferable to certain alternatives in our current "archonic" terrestrial reality. Before you hurl tomatoes at me, listen: If a paranoid military-government apparatus lacked the technological ability to listen to its citizens' phone calls and read its e-mails, might it not feel compelled to engage in a more widespread pattern of imprisonment, torture, and assassination of people even remotely fitting the profile of a subversive or terrorist?
In other words, state surveillance is worse than privacy, but it may be better than other possibilities we generally avoid thinking about—like a pattern of outright, stealthy killing and "disappearances." While I suppose it could reflect a passive, cowardly cynicism about political structures and governments, part of me wonders whether high-tech state surveillance, by reducing state-level paranoia, might actually make make us safer from those governments, if not actually safer from ostensible external threats like terrorism. I don't know the answer, but I put that out there for consideration and discussion.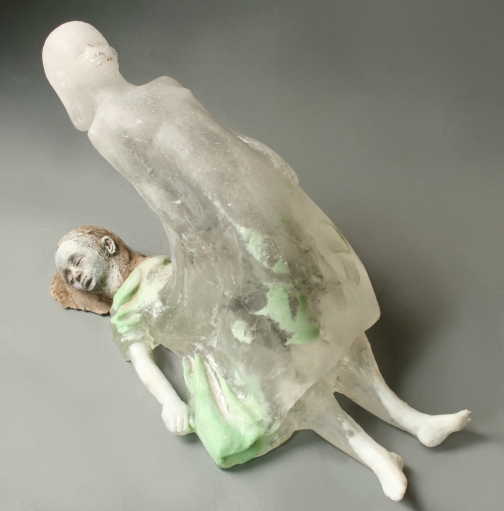 The ceramic-and-glass sculptures shown in this article are by artist Christina Bothwell, used with her kind permission.
Judging from the number of books and YouTube videos now available on the subject, out-of-body experiences (OOBEs) seem to be enjoying a contemporary revival, and there is surely no hobby more ontologically controversial. Several authors, including Robert Monroe (Journeys Out of the Body
) claim to have had veridical experiences in a discarnate state (that is, experiences that correspond to reality) and thereby proven to their own satisfaction, if not the world's, that one's perceiving consciousness can exist apart from the physical body. Other writers understandably are skeptical of such claims, regarding the seeming realness of OOBEs as a cognitive or memory trick.
Whatever out-of-body experiences "really" are—actual journeys beyond the body or just lucid dreams that seem like it—it is increasingly clear that they were crucially important experiences in ancient mystical traditions.
Susan J. Blackmore, for example, initially believed in her own OOBEs' realness but then retreated to a skeptical, safely materialist position; her 1982 book, Beyond the Body, is a thoughtful, comprehensive examination of the subject and its connection with psychical research. Recently, in his excellent exploration of Buddhist psychology and neuroscience, Waking, Dreaming, Being
, Evan Thompson presents a similar narrative of youthful belief in the realness of his OOBEs followed by mature doubt. For these writers, OOBEs can only be a subset of lucid dreams—a state of being actively aware and conscious in a dream environment (in this case, one that just seems like one's actual surroundings or other terrestrial locales). Lucid dreaming is itself an increasingly popular, albeit less controversial, contemporary hobby, thanks to the pioneering research and instruction of Stephen LaBerge. There are numerous guides to the practice available, mostly repackaging the ideas in LaBerge's 1985 book Lucid Dreaming and in some cases incorporating Tibetan "dream yoga" techniques.
Whatever OOBEs "really" are—actual journeys beyond the body or just lucid dreams that seem like it—it is increasingly clear that they were crucially important experiences in ancient mystical traditions. Achieving these states may have been the aim of the ancient Greek shamanic practice of "incubation"—sensory deprivation in caves—as has been described in the writings of Peter Kingsley
. And thanks to the work of Jeremy Naydler
and Algis Uždavinys
, we now know that descriptions of spirit travel in Egyptian sacred 'funerary' texts did not simply refer to the travel of the soul in the afterlife; they reflected a proactive shamanic exercise undertaken during life. Egyptian mystics actively practiced out-of-body travel, in other words, as the ultimate philosophical preparation for death.
One could imagine other, more mundane purposes too. Given the intelligence-gathering role of prophets in ancient Israel, it would not be far-fetched to guess that the Egyptian priesthood might have employed OOBEs along with other shamanic techniques in what we would nowadays call "psychic spying" on behalf of the state. OOBEs are linked to psychic abilities like clairvoyance, and some of the foremost modern remote viewers, including Joe McMoneagle, Ingo Swann, and Pat Price, have linked their abilities directly to OOBE experiences—in Price's case, during Scientology training. One could easily imagine Egyptian priests performing a service to the kingdom much like psychics did to the U.S. and U.S.S.R. during the Cold War.
The feminine, animal-like spirit was thought capable of leaving the body when we sleep. The Egyptians called it Ka. For pagan Europeans, it was our spirit double or feminine spirit guide.
The Middle Eastern and European traditions of alchemy that evolved out of the Egyptian mystical tradition would have carried on these practices, albeit disguised under layers of "materialistic" symbolism. Carl Jung famously illuminated the inner aspect of alchemy, arguing that the Great Work consisted of projecting unconscious mental stuff into material transformations, using laboratory processes and procedures as a symbolic control panel in personal journeys of individuation. Yet even though he described "active imagination" as a method of self-exploration, Jung to my knowledge was not aware of what we now call lucid dreaming, and even though he experienced his own OOBE, or what the spiritualists and occultists of his day called "astral projection," after a heart attack in 1944 (what we would now call a near-death experience or NDE), I am not aware that he ever linked such experiences to what alchemists were trying to achieve.
But given what we now know of the ancient shamanic practices of Egypt that gave rise to alchemy, European alchemy's Eastern analogues in Tantra and Yoga, and the pagan shamanic traditions that persisted on the margins of mainstream Christian culture in Europe, it becomes ever clearer that alchemical explorations would have gone, and indeed must have gone, much beyond active imagination and the projective processes Jung described. The real philosophic gold for some (or many) alchemists may have been fearlessness in the face of death—figurative "immortality"—achieved by self-induced veridical or veridical-seeming OOBEs.
Spirit and Soul
Crucially, and perhaps counterintuitively, the prerequisite for developing one's astral capacity, in various ancient as well as modern traditions, was to cultivate not simply a Cartesian dualistic conception of psyche and soma, mind and body, but also to further subdivide the subtle psychic part of our nature into at least two distinct components of its own. Pagan and folk traditions all described a spirit with a dim animal-like awareness that was distinct from our more rarified and active, wilful, conscious component, equivalent to what in Christian tradition came to be called the soul. These were separate entities, not synonyms as they are for most people today.
In general, the feminine, animal-like spirit was thought responsible for phenomena belonging to what Freud and Jung later called the Unconscious, and was thought capable of leaving the body when we sleep. The Egyptians called it Ka. For pagan Europeans, it was our spirit double or feminine spirit guide. Claude Lecoutoux, in a fascinating study
of European pagan/shamanic traditions about spirit doubles, shows that this component not only took nightly trips remembered as dreams but also was responsible for ghost and poltergeist phenomena as well as animal familiars. As an enlivening force, the spirit was closely allied to our breath (whence the name, spiritus); linked to our physical body, it was also connected to our bones in some intimate way. Much later, in the Theosophical tradition, it came to be known as the "etheric body"; modern New Age writers write of an "energy body" that is more or less equivalent (see below).
This feminine, energetic spiritual component was in contrast to the more rarified, conscious, aware component allied to masculine, rational, awake thought. Although this "soul" component was capable of heavenly ascent after death or during ecstatic states, in daily life it was more imprisoned in the body than the spirit component. Indeed the two parts of the subtle self tended to resist being in direct contact when not together animating the awake physical body. This soul component was the Ba of the Egyptians (capable of ascending and uniting with the transcendent Akh) and corresponds to the Theosophists' "astral" components of the self. If you take away its ancient connotation of existing beyond death, it is more or less equivalent to what we nowadays call consciousness: the center of awake, aware subjectivity.
Such a tripartite division of our earthly existence into body, soul, and spirit seems remarkably universal across non-Judeo-Christian cultures. Whatever you call these subtle psychic components, shamans throughout the world, including in Medieval and Dark Age Europe, claimed the ability, through meditative practice and sometimes use of drugs, to yoke them together and thereby achieve the feat of leaving their bodies consciously. And, some of the most mysterious texts of 16th and 17th century alchemy show indirect or direct evidence that, whatever else they were up to, alchemical adepts were also attempting precisely these difficult "journeys beyond the body."
Lambspring
The clearest example is The Book of Lambspring, an alchemical poem that first circulated as a manuscript in the late 16th century and was later published with a series of beautiful illustrative engravings. It asserts that the key to riches, long life, and kinglike sovereignty over one's existence is a process of taking the separate subtle components, soul and spirit, consciously uniting them, and leading them out of the body and back again. Among the various symbolic expressions of this are the imagery of a deer and unicorn living in a forest…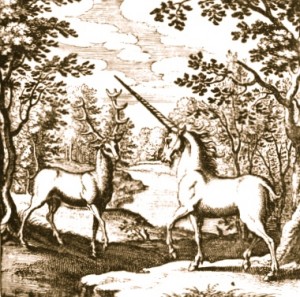 The sages say truly
That two animals are in this forest:
One glorious, beautiful, and swift,
A great and strong deer;
The other a unicorn.
They are concealed in the forest,
But happy shall that man be called
Who shall snare and capture them. …
If we apply the parable to our Art,
We shall call the forest the Body.
That will be rightly and truly said.
The unicorn will be the Spirit at all times.
The deer desires no other name
But that of the Soul; …
He that knows how to tame and master them by Art,
To couple them together,
And to lead them in and out of the forest,
May justly be called a Master.
For we rightly judge
That he has attained the golden flesh,
And may triumph everywhere;
Nay, he may bear rule over great Augustus.
Lambspring gives us further explicit indication of his belief/assertion that the soul and spirit actually leave the body during the alchemical work in the second half of his book, where he replaces the symbolism of forest, unicorn, and deer, with the more humanized symbolism of Father (body), Son (spirit), and an angelic Guide (soul). The Guide leads the Son out of the body of the Father, brings him up to the top of a "mountain in India" and carefully leads him back. This process of separating and reuniting—Separatio and Conjunctio—is one of the most central and universal motifs in European alchemy, but it is nowhere more explicitly identified as a process of leading the consciousness and spirit out of the body as it is in this book. The alchemical motto solve et coagula—"separate and reunite"—can refer on one level to this process.
On its own, Lambspring's book would be pretty unhelpful to a modern person attempting to actually achieve an OOBE, but the author's symbolism resonates strongly with the methods emphasized by some more modern teachers of the subject. The Theosophical tradition, which placed great emphasis on astral projection as a means of accessing cosmic consciousness (the Akashic Records, etc.) and communicating with ascended and alien intelligences, carefully emphasized the crucial role of the lower, denser "etheric body"—the subtle, energetic envelope or spiritual vehicle that could detach from the physical body on its own (dreaming) or which could, through effort, be yoked to the astral component (conscious awareness or soul) to achieve a conscious astral flight. The key to leaving the body consciously, in other words, was uniting the astral and etheric components, which, as I mentioned earlier, ordinarily don't mix well together. (The resistance of the unconscious and conscious minds to commingle is of course a theme in Freudian and Jungian psychoanalysis, and may be seen as a kind of parallel here.)
One of the many modern teachers of astral projection, an Australian energy worker named Robert Bruce, has (in his book Astral Dynamics
) essentially repackaged the Theosophical theory and its Eastern Tantric equivalents in modern, Western terms. Bruce teaches meditative exercises and a rather unique method of "tactile imaging" to cultivate a finer-tuned awareness of the physical body and its subtle energetic aspect (equivalent to the energy body with its nadis, chakras, etc. described in Asian systems) as a prerequisite to developing proficiency with astral travel. The separation experience at the outset of an OOBE is universally described as a vividly energetic sensation that may also resemble sensations familiar to those who have "raised their kundalini." There is no indication in Bruce's writing of familiarity with pagan folk traditions about the detachable spirit double, but clearly, despite using a modern computer idiom of "downloading" astral memories etc., his metaphysics are basically the same.
Energy Doubles
To my mind, the strongest evidence that Lambspring was referring to the refined, dreamlike but compellingly real-seeming state we would now call the OOBE comes from the testimony of modern astral travelers like Bruce that the key to decoupling alert awareness from the sleeping physical body is actually to be found, counterintuitively, in the reentry—the Conjunctio part rather than the Separatio. Lambspring places special emphasis on this: The Guide says to the son, "I will not let thee go alone; From thy father's bosom I brought thee forth, I will also take thee back again."
If you can't recall it when you return, it's like you never went. Developing a habit and a practice of recording dreams in the morning is a crucial preparatory step toward having a remembered astral journey.
Special care in rejoining chemical substances in physical alchemy could of course also be indicated here, but I think it signals a special concern with the process of reuniting the soul/spirit with the body as intrinsic to the success of the astral venture. The purpose of "careful reuniting" is not safety, as one might naturally suppose: Despite instinctive fears of permanent separation, there are no known cases when an astral traveler has failed to awaken safe and sound. Rather it is because the conscious portion of the self (i.e., soul or astral body) must remain in contact with the spiritual/etheric body, lest all recollection of the experience be lost. If you can't recall it when you awaken/return, it's like you never went. Consequently a crucial part of some modern training in OOBEs focuses on developing the capacity to remember it after the fact, because an unremembered OOBE is no OOBE at all.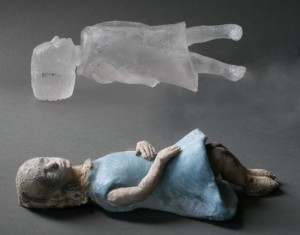 This is the most crucial piece of advice given by Bruce: He even suggests that we are astrally projecting all the time but lack memory of it; thus his method focuses on initially keeping flights brief and then celebrating and recording one's small successes. Developing a habit and a practice of recording dreams in the morning is a crucial preparatory step toward having a remembered astral journey.
The relationship between OOBEs and lucid dreams is widely disputed, but the same "induction" methods work for both, not to mention the necessity of keeping records afterward. This is true of any dream-work, as I've argued previously in the context of precognitive dreaming. Anyone who knows the extraordinary value of attention to dreams (even in a simply psychoanalytic vein) knows you will have a hard time remembering a dream or its crucial innocuous-seeming details if you don't write it down right away, or at least jot down a few words to jog the memory when you have time to record it more fully later in the day.
Atalanta Fugiens
My favorite 17th-century alchemical text, Atalanta Fugiens by Michael Maier, contains among many other things a coded recommendation about keeping a dream diary, likely as preparation for more advanced Tantric or OOBE exercises.
It's a very special quality of dreams that they evaporate very quickly and must be seized immediately after they occur or they are lost forever. Quick note-taking is required to fix this volatile substance.
The title of this lovely collection of engravings and accompanying poems and fugues, literally "Atalanta Fleeing," refers to Ovid's story about the race between the beautiful fleet-footed virgin Atalanta and her would-be suitor Hippomenes. The central secrets of alchemical books are sometimes hidden in plain sight right in their title pages, like Poe's "purloined letter," and this is true of Atalanta Fugiens, whose frontispiece depicts various scenes from the Atalanta legend. The 50 emblems and commentaries in the book supposedly relate in various ways to the Hermetic themes of that ancient myth.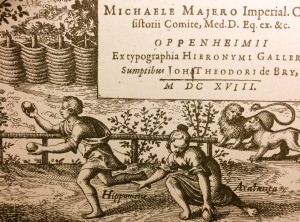 Atalanta was the fastest in the land—so fast she couldn't be caught—and would only marry a suitor who could beat her in a race. Hippomenes wins the race (and her hand in marriage) by availing himself of three gold apples given to him by Venus; during the race, he throws the apples on the ground, one by one, each time catching Atalanta's attention and slowing her down (you know, the way even tomboy girls are easily distracted by pretty, shiny things). After winning the race, Hippomenes steals a kiss from his new bride in Aphrodite's temple and the couple (as punishment from that goddess) are turned into lions. The conflict of two lions (and/or dragons) resulting in their ultimate union—again, soul and spirit which do not initially get along but which, with difficulty, can be forced into a productive merger—is a near-universal alchemical motif.
We are meant to ask, what is it that flees and how can you stop it from fleeing? The name Atalanta, "not held," does not really give a clue to the nature of the volatile substance. But Hippomenes himself can tell us a lot. The name can be parsed firstly as hippo-menes or "horse mind," which by itself signals that we may apply the wild-etymological method that the great 20th-century adept Fulcanelli called cabala (from caballus, horse), and redivide the word however we see fit. The most obvious re-parsing is hip-pommes, or "dropped apples," which doesn't tell us anything we didn't already know. But there is a very similar Greek word, hypomnema, which meant a reminder, a note jotted down. It happens that Emblem VI depicts this process explicitly: A farmer tosses gold coins onto furrowed ground (a gesture similar to Hippomenes tossing golden apples), accompanied by the motto: "Sow your gold in the white foliate earth." Hippomenes thus seems to be a pun for the very thing indicated by "white foliate earth" with its "sown gold"—that is, hypomnema, precious reminders of something fleeting, jotted down (sown) in the white pages (folia or leaves) of a notebook.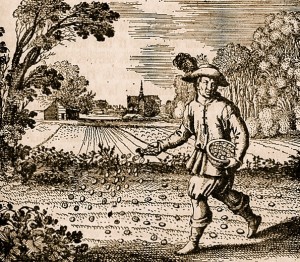 Keeping records of laboratory procedures and results and the visible changes occurring in the retort would be an obvious interpretation here, not to mention the ultimate creation of a book that will serve to guide others: the alchemical text itself as philosopher's stone. But are consciously observed chemical reactions, however fleeting, so ephemeral (or volatile) that they are completely forgotten unless fixed in the very moment they occur? No—it's a very special quality of dreams and related phenomena like hypnagogic/hypnopompic images that they evaporate very quickly and must be seized immediately after they occur or they are really lost forever. Quick note-taking is required to fix this volatile substance.
There is way, way more that could be said about Atalanta Fugiens, which contains enough fascinating "Tantric" imagery to reward years of perusal and study. But let me move on to a third book that most explicitly addresses the link between dream life and OOBEs and also uses its own brilliant symbolism for dream recording.
Mutus Liber (Enlightenment by Means of Dew)
The 1677 alchemical masterpiece Mutus Liber (or "Silent Book") is a series of mostly wordless alchemical 'cartoons' by a writer with the pseudonym "Altus," depicting a complicated esoteric process undertaken by a pair of adepts, one male, one female. (Sometimes it is described as a male alchemist and "his" female assistant, wife, Tantric soror mystica, or Jungian Anima, but the book gives no cause to privilege the male figure over the female—they both seem to play equally important roles.) This book is another example of an alchemical text that hides its cipher in plain sight, right on its title page.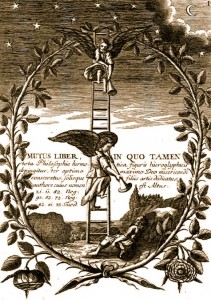 The frontispiece depicts Jacob's famous dream in Genesis 28, of angels ascending and descending a ladder to heaven. Any reader would know that, in that story, right after he awakens, Jacob anoints the stone he has used for a pillow beth-el, "House of the Lord"; until the arrival of Christ himself in the Old Testament's sequel, this stony pillow is perhaps the clearest and most literal expression of the Philosopher's Stone in the Bible. But more crucially for the book we are concerned with here, the Jacob frontispiece includes three backwards chapter/verse numbers in Hebrew, each referring to Biblical passages about heavenly "dew." The centrality of dew in this book is also signaled cleverly by the roses framing the scene: Rose is a pun on the Latin word for dew, ros (which should also give you a clue to the 'true' meaning of the rose in other esoteric contexts, such as Rosicrucianism).
The stuff of dreams is the materia prima, the murky raw material that must be taken, analyzed, worked with, to create true philosophic gold.
In subsequent panels, the alchemists are depicted engaging in various laboratory operations utilizing dew that has been initially collected in an array of sheets during spring mornings, the season being symbolized by a ram and bull, Aries and Taurus, rampant in the background (although the animals could have other connotations—see below). As a means of collecting literal nocturnal moisture, wringing out sheets one has suspended on posts in a field seems that it might be highly impractical. But "dew" is not meant to be taken literally here.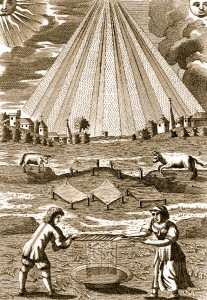 Adam McLean's diagram of the process, provided in his Magnum Opus Hermetic Sourceworks Commentary
, is invaluable for keeping track of the operations and the dense symbolism in Mutus Liber. For another modern interpreter writing under the name Eli Luminosus Aequalis
, these sheets represent the five senses, and his subsequent analysis depicts a noetic, epistemic, and Tantric process. I agree with many of Eli's interpretations, but I think he is wrong about the ingenious symbolism of dew itself and its collection on bedsheets: What else is it that appears in the early morning hours and evaporates quickly with the dawn, and that one might carefully and quickly collect ideally while still lying in bed? The same thing Maier represents by the fleeing Atalanta, and the same thing Jacob is shown in the process of doing right on this book's title page.
Mutus Liber is actually pretty explicit about what we are supposed to do with this figuratively dew-like substance collected over a series of spring mornings. Subsequent panels depict an elaborate process of distilling and then mixing the dew's various components in different combinations. Assuming I am right about the identity of "dew," the process begins with what I believe to be isolating repeated dream motifs from other symbolic stuff and Freudian day residues and then using these recurring motifs as mnemonic triggers to wake up inside the dream (lucidity). This is the mnemonic-induced lucid dreaming (MILD) method recommended by LaBerge, and it may be taken as the equivalent of yoking soul and spirit and exiting the sleeping body consciously, as in Lambspring. Eli Luminosus Aequalus likewise argues that this part is about lucid dreaming. I imagine though that, at the time Altus was writing, there would have been no distinction between such 'mere' dream experiences and what we would now call OOBEs or astral travel.
Developing lucid dreaming capacity is useful for achieving a full-on OOBE and lucid dreams are the more common experience when the latter fails. Also, it is only in preparing for and interpreting an OOBE as such that one needs to first understand (or, be persuaded) that the spiritual component is distinct from consciousness imprisoned in the body (i.e., the first phase of the Mutus Liber process), which then enables one to learn to unite the consciousness with the spirit while leaving the body behind (the second phase), and lastly bring them together, followed by repetition of the process over time such that it becomes easier (lather, rinse, repeat).
The key to riches, long life, and kinglike sovereignty over one's existence is taking the soul and spirit, consciously uniting them, and leading them out of the body and back again.
So I think that the Mutus Liber is basically a Baroque astral projection manual disguised as chemistry: The stuff of dreams is the materia prima, the murky raw material that must be taken, analyzed, worked with, to create true philosophic gold: a special "blended" state in which the soul (alert consciousness) fully joins with the spirit double/"energy body" on its nightly travels. Successive separations and conjunctions (returns) exalt the self and lead to enlightenment. Over the course of the book, the curtains behind the alchemists progressively open, letting more and more light into their workshop.
Why All the Secrecy?
Beliefs in the separability of consciousness from the body prior to death were antithetical to Christian theology: Humans possessed just a single "subtle" principle, the soul, which departed the body only in death. Jesus was the singular exception, the only person possessing a divine spirit as well as a soul. As a result, all ordinary human phenomena hinting at spirit—from dreams and visions and mystical and other altered states of consciousness to manifestations of what we would now call "the paranormal," like ghosts or psychic phenomena—were at least distrusted and were often relegated wholly to the category of the demonic. You could say, Christianity successfully robbed religion of spirit, replacing it with faith.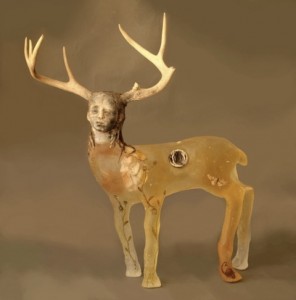 Whether or not we nowadays accept that each person possesses both detachable components, the work of Lecoutoux (for Europe), Naydler (for Egypt), and other scholars makes clear that it was firmly a part of pre- and para-Christian folk psychology, supported by infrequent but remarkable experiences like spontaneous OOBEs, lucid dreams, sleep paralysis episodes, near-death experiences, drug experiences, etc. The continuity of shamanic practices under various alternative labels (black magic, sorcery, witchcraft, etc.) in Christian Europe was certainly genuine, even if their prevalence and power was exaggerated by Church authorities. Alchemical explorers of consciousness would have pursued these techniques, marvelously and densely disguising their efforts under their chemical symbology.
Thus in their writings alchemists perpetually did a subtle dance around this issue of our subtle self: Is it one thing or two? When they wrote explicitly about soul and spirit as distinct, it was important to emphasize either that they were referring to physical chemistry—in which "spirits" are light volatile distillates (like alcohol) and the "soul" of a substance could stand for its oily and more distinct extracts—or alternatively, to insist that "the two are really one." We see this evasiveness clearly in Lambspring's opening verse. The author says "the sages will tell you" that the body contains a soul and a spirit and that "nevertheless they are one." Lambspring himself, weighing in on this, is more equivocal: "Now I tell you most truly, cook these three together … and hold your tongue about it." He seems to be saying that body, soul, and spirit really are in some sense three things, but if you are smart, you won't admit to holding such a belief.
The extent to which this Christian duality of the person influenced subsequent rationalist, materialist tradition have been less acknowledged. Enlightenment science and the rationalist tradition carried forward the Christian presumption of a singular mental principle that might somehow be distinct from the body, as in Descartes, and required no third intermediary, no third term mediating them or yoking them together, other than God himself. The result has been an almost complete erasure of the ancient and pagan traditions about spirit doubles, as well as lingering confusion about what spirit and soul mean. Most people now use the terms interchangeably, unaware that there was once a meaningful distinction.
Anyone who in their own spiritual explorations has realized the importance of figuring out just what (the hell) out-of-body experiences really are knows how difficult it can be, and also how worthwhile the pursuit as revealed by even the first glimmers of success.
To this day, we have difficulty conceptualizing a consciousness that is not somehow unified, yet we also perpetually have trouble conceptualizing how these two radically different things, consciousness and the physical body, could be linked together. They seem to need a mediator that our metaphysics completely lacks. Descartes' famous search for the seat of consciousness in the pineal gland is emblematic of the felt need for some mysterious mediating principle to yoke the soul to the living body.
It was of course the genius of Freud and his followers like Jung to renew our sense of the psyche's plurality, resolving it into the conscious and unconscious components as well as parsing psychological functions in various other ways. But even Jung and the analytical psychology he inspired continue to implicitly see the psyche as one thing, even if the person has delusionally lost sight of this unity through a refusal to recognize rejected components of self; spirit and soul are merely aspects of the same underlying consciousness that would realize its unity through individuation. For instance, the Jung-inspired writer James Hillman described the soul as the humid enclosed "valleys" where we live surrounded by the familiar local particulars of our lives, and the "spirit" as the mountain peaks to which we may at times loftily ascend, attaining a clearer, more objective, more far-seeing view. They are places our singular consciousness moves between, not actual separable components of our being. Lambspring's "mountain in India" where the soul and spirit ascend in tandem, would make no sense in Hillman's framework.
Laughing at Death
Anyone who in their own spiritual explorations has realized the importance of figuring out just what (the hell) OOBEs really are knows how difficult it can be—with months or years of setbacks, disappointment, and discouragement—and also how worthwhile the pursuit as revealed by even the first glimmers of success. Ordinary lucid dreaming, the continuity of consciousness in a typical dream environment and at least a related phenomenon (if not the same), is supremely exhilarating and empowering—famously a route to gaining control over one's fears and nightmares, much the way virtual reality is used to desensitize people from phobias or train extraordinary and dangerous skills. Actual OOBEs in "Reality I" (Monroe) or the "real time zone" (Bruce)—that is, experiences in which the immediate physical environment and even one's own sleeping body seem to be perceived and interacted with—certainly would provide the experiencer with an even greater validation of the separability of one's consciousness from material existence and, as an inevitable corollary, its possible survival of bodily death.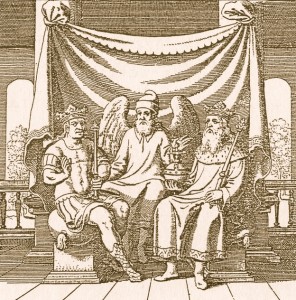 Such experiential verification of the indestructibility of consciousness would be priceless to humans living in the constant terror of mortality, so it is no wonder that, in the centuries before we could automatically blame such experiences on the material brain, such experiences constituted an "elixir of immortality" (i.e. as proof of immortality), as well as a talisman of power and health and courage. Once the son and father are reunited in Lambspring's final verse, "they produce untold precious fruit. They perish never more, and laugh at death." Assurance of the independence of consciousness from the body would indeed tend to make one brave in life, and this courage would tend to produce power and success. Once you've glimpsed it or been convinced there could be something to it, it really is something worth devoting energy and time to exploring.
Assurance of the independence of consciousness from the body would indeed tend to make one brave in life, and this courage would tend to produce power and success.
The methods are, and were, various. In the excellent recent collection of essays, Alchemical Traditions
(edited by Aaron Cheak), Hereward Tilton examines the writings of the 16th Century alchemist Heinrich Khunrath and his contemporaries, and concludes that Khunrath's work described (and concealed) processes that resulted in the creation of diethyl ether—a potent anaesthetic. Ether may have been literally the philosopher's stone for Khunrath, which supports the idea that European alchemists were indeed engaged in a project of exploring and using altered states of consciousness. Anesthetics particularly are notable for producing profound dissociative or out-of-body experiences.
But what the user gains in facility of entering an altered state using drugs may be canceled by the difficulty of controlling the experience and, in the modern world at least, easy dismissal of the experience's validity. Thus while entheogens may provide an important taste of out-of-body or lucid-dream-type experiences, the holy grail really seems to be the production of these experiences solely through meditation and other non-chemical techniques. The original alchemical text, the Tabula Smaragdina or Emerald Tablet, tells us that "the wind carried it in its belly," which points directly to meditation as the method of the Great Work. The link between breath (the original meaning of "spirit") and thought is well-known in many traditions, and so it was surely central to ancient contemplative practices and trance.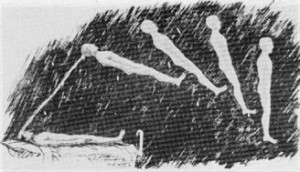 There are plenty of guides out there now to enable one to learn to have OOBEs and ascertain for yourself whether they are merely a subset of lucid dreams—obviously the only scientifically and socially acceptable materialist interpretation—or something more. I've mentioned a couple of them, but the very best books on the subject are from early in the last century. My favorite, and the most interesting, is the 1929 book The Projection of the Astral Body, a collaboration between an articulate lifetime 'projector' Sylvan Muldoon and psychical researcher Hereward Carrington. It includes thorough discussion of the means of inducing these experiences as well as interesting suggestions of their link to other phenomena like sleep paralysis ("astral catalepsy") and hypnic jerks ("repercussion"). Those authors mention a 1920 series of articles by projector Oliver Fox, subsequently published as Astral Projection, which I also really like—it is less comprehensive, but more personal, and also more frank about the difficulties and disappointments inherent in the practice, such as the increased difficulty of having such experiences with age.
Depending on how old you are, having OOBEs may prove much more difficult than most enthusiasts like to claim. Despite a few spontaneous OOBEs when I was a young adult and another about 18 years ago, deliberately bringing one on in my late forties has proven extraordinarily difficult—only one full-on success thus far, as well as many attempts resulting in lucid dreams or other precursor phenomena like sleep paralysis and strong energy- or Kundalini-like sensations like those described in the manuals.
It is plenty to satisfy me that the ancient and modern authors are not simply lying about the experience. Whatever is really happening in OOBEs, they do feel distinctly real/veridical in a way that lucid dreams do not, even though the surest method of induction—basically, sensation-focused meditation while lying in bed—is the same, as are the unusual, initially alarming energetic sensations frequently preceding or accompanying them. Meditative work with hypnagogia during the day or evening can also bring on remarkably real-seeming "remote viewing"-like experiences without the ability to actually move around in the seen environment; but "real seeming" isn't necessarily the same as real. I'm still on the fence about the nature of all these phenomena and how they relate to each other. That they are indeed related seems undeniable, however.
Postcript: What Are Sheep?
Rams and sheep appear throughout alchemy, and they also have a little-noticed symbolic connection to sleep going back hundreds or, I suspect, thousands of years.
Sheep, which must be closely watched at night, are like dreams, and shepherds are watchers of dreams.
First, the alchemical Great Work is always said to originate under the sign of Aries, the ram—ordinarily taken to mean the season of spring, which is what seems to be shown in Mutus Liber. Aries is symbolically associated with Mars (Ares) and the metal iron, which Fulcanelli emphasizes throughout his fascinating writings (for a tantalizing invitation down the rabbit hole of alchemy, the best place to start is Fulcanelli's Mystery of the Cathedrals
). Like many alchemical writers, Fulcanelli also draws our attention to Jason and the Argonauts' quest for the Golden Fleece, which has long served as an allegorical representation of the Great Work. Fulcanelli helpfully points out that the mysterious object of that quest, the fleece of the self-sacrificing golden ram Chrysomallus—was guarded by a dragon, etymologically from derkesthai, "ever vigilant" or "awake while sleeping."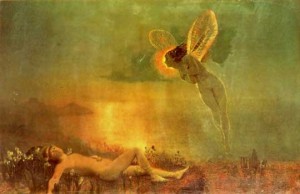 Sheep, which must be closely watched at night, are like dreams, and shepherds are watchers of dreams—like dragons, they are "awake while sleeping." The motif of the shepherd as dreamer, having fallen asleep on the job, appears throughout European art and literature, and it has ancient roots with the mythical Endymion, the handsome shepherd placed in a perpetual sleep to be adored in slumber by the moon goddess Selene.
Then of course there is "counting sheep" as a supposed cure for insomnia. It was recorded first in the 12th century but could be far older: There is a possible folk etymology linking the Latin imperative sopor sond ("sleep soundly") to the Hebrew sopwor tsoan ("count sheep"), and whether or not this is really the origin of the idea of counting sheep in connection to sleep, the linkage of sheep/shepherds and dreams is clearly ancient. I think it is possible that, as a focus of conscious awareness, counting sheep might originally have been intended, not to induce sleep, but as a meditative bridge to lucid dreaming using the wake-induced lucid dream—WILD—method described by LaBerge. In my experience, maintaining fixed meditative awareness across the sleep threshold is, although challenging, far more reliable than attempting to wake up in a dream once it has begun using a lucidity trigger, per the MILD method.
If sheep are an ancient symbol for dreams, then the ram, a male sheep, may also be specifically symbolic of dream lucidity. Ra, the nocturnal incarnation of Osiris, is depicted with a ram's head in his nightly voyage through the Duat or Underworld. The name of the Egyptian soul, Ba, also the word for ram, may have been an onomatopoeia, from the sound sheep make (i.e., "baa").
In light of this, the many other sheep and shepherding references in the Genesis story of Jacob signaled by Altus at the start of his "Mute Book," become suggestive. After his dream, Jacob goes on to visit the land of his cousin Laban, where shepherds gathered at a watering hole cannot refresh their flocks alone but must wait for all of them to gather so they can roll away a large stone that blocks the spring. When Laban's daughter Rachel, a shepherdess, arrives, Jacob is smitten and singlehandedly rolls away the rock so he can water her sheep. The power to bring on dream experience during daylight perhaps depends on an erotic power either sublimated or channeled in actual Tantric work with a partner—suggested perhaps by the partnership of male and female alchemists in Altus's book. There are other suggestions in Jacob's narrative that he was actually some kind of shaman and/or trickster, including his fooling of his blind father by donning the skin of a goat.
If I am right about the ancient esoteric symbolism of sheep, then we ought also to read Luke's gospel in the New Testament as an alchemical text, because it encodes the same esoteric awareness. Christ was born at night, and in Luke alone among the Gospels the first people to be made aware of his birth were the shepherds in the fields. The esoteric significance of the adoration of the shepherds would have been apparent to Luke's intended audience: Christ appeared first to the shamans and dreamers. (In Matthew of course, his first visitors were instead the Magi from the East—possibly signaling a Vedic, Buddhist, or Tantric commitment on the part of that author.)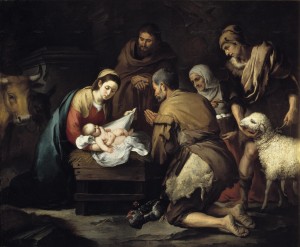 Christ was the Lamb of God, sacrificed in the cruciform manner of the Paschal Lamb, bringing full circle the sacrificial substitution of a ram for Abraham's only son in Genesis. In earliest Christian iconography, Christ was depicted not crucified but bearing a sheep over his shoulders (the "Good Shepherd," per one apocryphal text). The pseudonym "Lambspring" of course would have been a Christian allusion, and also, I suggest, another veiled reference to the subject of his book: the ability of the soul and spirit to "spring" (project) out of the body.
The secret subject of these ancient esoteric traditions, of course, is consciousness. Christ is awake, aware consciousness, the union of Soul and Spirit, martyred on the ancient symbol of matter, the Cross, which means both the body and light (because the Latin letters in "LVX" can be formed from +), but capable of transcending the dream of ordinary existence through realization of immortal life. His resurrection is enlightenment, which we all have in our power to achieve through meditation, particularly meditation on, with, and in our nightly dreams.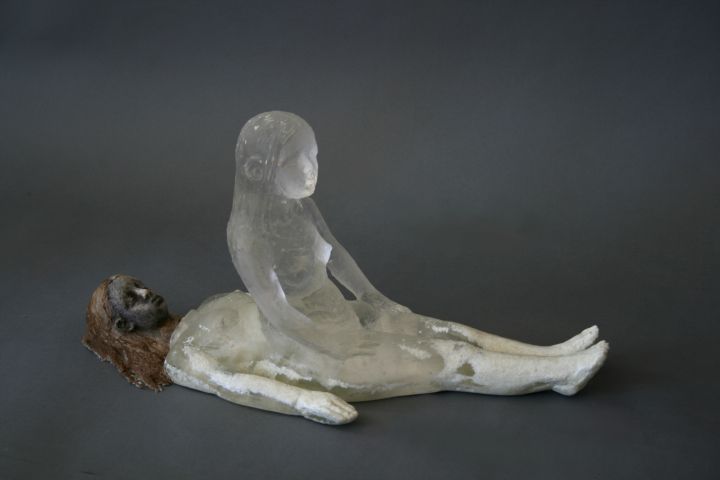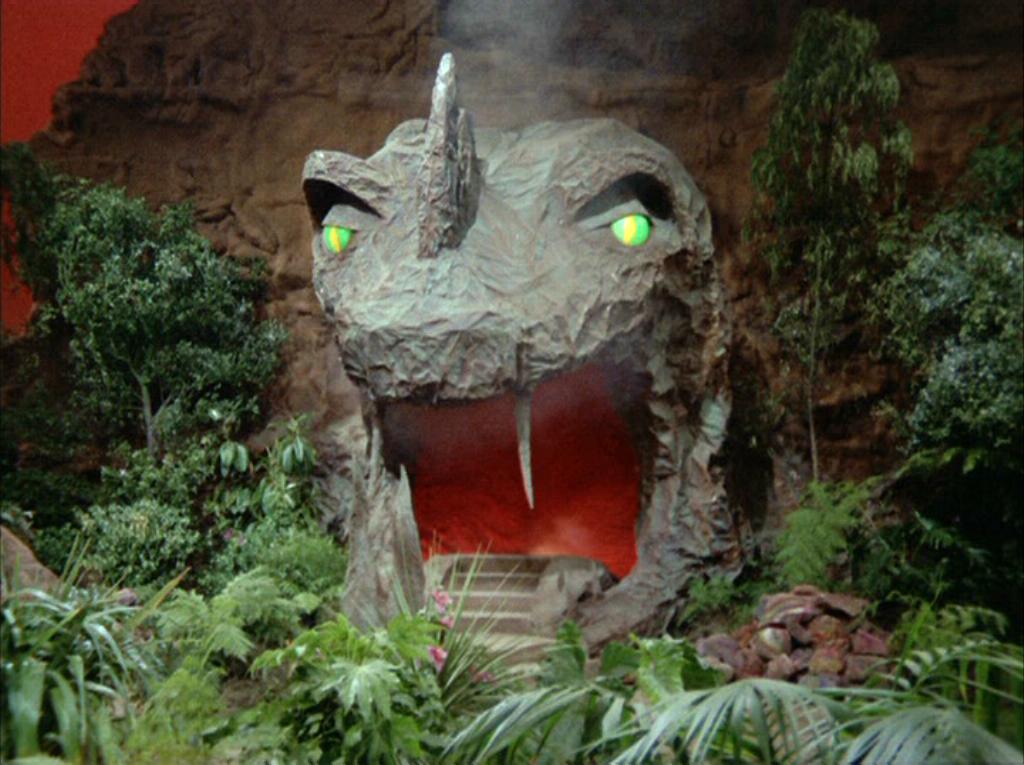 I've mentioned several times the debt I owe to J.W. Dunne and his 1927 book An Experiment with Time. Dunne was not a scientific researcher or a parapsychologist by training, but a military man and aeronautical engineer who became interested in questions of time and its structure after becoming aware of uncanny examples of apparent precognitive dreams he had had. His "experiment" was systematically recording his dreams and then comparing them in the days, weeks, and months afterward to events that occurred in his life. His book is filled with numerous apparent matches, although spread over the course of years. Precognitive dreams, he felt, happened at a relatively low frequency.
Because of our natural 'temporal bias,' we seldom consider the possibility that our dreams (let alone our waking thoughts) refer to future events, and Dunne notes this is the main reason precognitive dreams are so seldom reported. We simply don't notice them. His theory, based on the precognitive dreams his self-experimentation revealed, was that the apparent flow of time was an effect of consciousness moving like a searchlight through a past, present, and future that already exist, rather like Einstein's teacher Minkowski's solid four-dimensional spacetime block. Dunne thought that dreams sometimes picked up this 'already existing' future information.
Dreams are a royal road to discovering the bizarre Moebius structure of time and mind; if you are not already keeping a dream diary, what are you waiting for?
Interestingly, although Dunne was writing at a time when the study of dreams was popular due to the influence of Freud, he ignores the then-mainstream psychoanalytic school of thought that dreams' surface content consisted mainly of symbols standing in for hidden or latent ideas, concealing wishes repressed or buried in the unconscious mind. For Freud, dreams relate to events in daily life in a very nonliteral and usually non-obvious way. His method of dream interpretation required free associating on each remembered dream element to arrive at the latent dream thought. When done honestly and thoroughly, free association readily reveals real-life current preoccupations, worries, fears, and wishes, as well as powerful symbols from childhood. It also reveals that most dreams bear some connection to recent events in the dreamer's life. Many dreams contain a scattering of elements that are immediately recognizable from recent experience—what Freud called "day residues"—but unpacking a dream through free association reveals many, many more such connections.
Dunne, instead, focused only on the surface content of his dreams and thus on obvious future things "seen" in his dreams. But given the way dreams mostly distort material, we might expect free association on dreams' surface content to reveal much more future information thinly concealed in them, and this has been precisely my own experience since following Dunne's method. To create a truly powerful method and theory of precognitive dream analysis, we need to combine Dunne's hypothesis with Freud's method of free-associative interpretation. To show how this works, I will discuss two vivid examples from my own limited experience with precognitive dreaming.
Unmanned
The first example I mentioned briefly in an earlier post: Before arising from bed on the morning of September 11, 2001, I briefly noted dreaming about seeing a pair of identical "mosques" on a street near my childhood home; they were low, perfectly square, 1-story buildings with drab corduroy-like facades, on the site where, in real life, my father had had his clinical psychology practice for a short time when I was a kid. No immediate association came to mind for the "mosques" element, but both the height and location of the buildings pointed in different ways to a standard Freudian "castration" symbolism—that is, symbols of vulnerability, emasculation, and threat.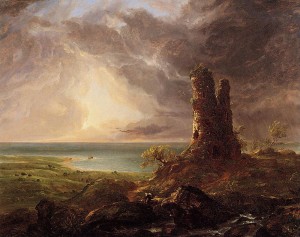 It is common for men to have dreams reflecting various long-term or immediate insecurities about their manhood. In my life I have occasionally dreamed of low buildings and ruined towers that seem, by being the distinct opposite of tall buildings, to have a "castration" symbolism (any noticed dream element will often, like a linguistic phoneme, derive its meaning from an alternative possibility it points to via opposition). In the case of this particular dream, that symbolism was what Freud called "overdetermined"—multiple symbolic elements pointed to the same meaning by different routes. The second route was really my sole association with the actual real-life building that these "mosques" replaced in my dream scenario.
For any odd distortion of reality in a dream, you must first ask: What is this replacing or substituting for, and what significance does that substituted object—in this case, my father's real-life office, replaced in the dream by "mosques"—have for me? This was easy: It was during the brief time my father had had his private practice in that specific location that I remember him being called one evening to meet a desperate male transgender client of his who was having some kind of suicidal crisis. So I associated the building, the place of the dream image, with a kind of emasculation—in other words, "castration" again. I also associated it vaguely with 'suicide'—also relevant to the themes of the eventful day that followed this dream.
It must have been much later that evening, or possibly the next morning, that I noticed my dream notes and recalled the weird fact that the dream had contained two identical square "mosques" with facades that were just like the distinctive corrugated facades of the twin towers that had been destroyed in the suicide attack in New York. I was not yet accustomed to looking for precognitive material in my dreams—I had not yet read Dunne—but this seemed more than coincidental.
Traversing Associations
The distortion of daily events to create the bizarre tableaux in dreams is not, as Freud thought, a ruse to disguise shameful wishes from a 'censor' in the mind, but rather a natural aspect of the associative way that experiences and knowledge are remembered. Dreams obey a logic exactly like the classical "arts of memory" used by orators (and really, everyone) in pre-Gutenberg and especially pre-literate times. Essentially, the function of dreaming is the formation of long-term memories through playful associations, the art of memory operating automatically while we sleep. (I outlined this theory in 2010, and in late 2013, I was vindicated by a Manchester psychologist named Sue Llewellyn, who advanced exactly this notion in the journal Behavioral and Brain Sciences, along with a sophisticated hypothesis of how it may actually work in the brain.) Freud was mistaken in his theory of dreams' function, but he was absolutely correct in his method of dream interpretation—free-association—because association is exactly how memory itself works.
Even though some events seen in dreams or visions are traumatic, the emotion that carries the psi signal may really be a kind of excitement.
I have found in my own case (and I'd bet it's generally the case) that a given dream will pertain to a confined period of time or a distinct emotionally salient episode. I think this may have to do with how dreams not only encode memories but also preserve a rudimentary sense of chronology in our lives. Chronology can only come from a sense of events occurring together and thus remaining associated closely with each other in our long-term-memory store. There is no fixed objective temporal yardstick in our minds (or anywhere) but only a cross-correlation of events, rather like the way tree-rings corroborate and calibrate Carbon-14 data and vice versa. Chronology, ultimately, is an echo-chamber of self-reference, in our individual biographies as much as in the study of human and geologic history.
Most dreams relate to past events, incorporating them into long-term-memory in their surreal, associative, rebus-like manner. Notably, if my 9/11 dream really was "of" a future event, it nevertheless dealt with its salient details in the same scrambled 'art of memory' fashion: Islam was 'illogically' conflated with the ruined towers, and in a completely different setting than Manhattan, a setting that I specifically associated with emasculation and suicide. (For a brief introduction on the Art of Memory and how to apply it in waking life, see this article.)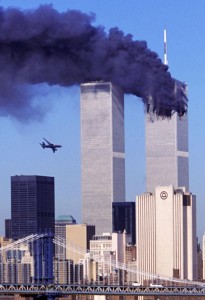 Every noticed element or detail in a dream is a relevant term in the memory hieroglyph being formed (and it's a very rare dream when we can remember all or even most of the details). It is common in dreams for attributes of one thing to be given to another and for subject and object to be reversed or conflated (for instance my dream's squashing together "Islam" and the towers). Often highly complex puns are also involved (although I could not detect any in this case). The real-life experiences being encoded are usually very recognizable after even brief free association on those elements. In this case, however, I didn't seem to be dreaming about any personal sense of vulnerability in the day or two leading up to the dream, but about a literal traumatic "castration" of our country that happened just a couple hours after it, the suicide attack on the towers. The symbolism of Al-Qaeda's bold gesture was deliberate and unmistakeable, and thousands of people reported vivid dreams, visions, and premonitions of those attacks.
One of Dunne's most important observations was that in cases of remote historical events being dreamed about, such as volcanic eruptions, it was not the actual event he was picking up on but the occasion of his own learning of the event in the news. This is a crucial point. It has been suggested that even in cases of apparent clairvoyance or "remote viewing," the information being received could actually be precognitive information of the future feedback session verifying the RV session's accuracy—what we might call the "scene of confirmation"—and not the distant event per se. It is at least worth considering whether all psi may involve precognition and, more specifically, precognition of one's own future emotional reactions to events.
It is at least worth considering whether all psi may involve precognition and, more specifically, precognition of one's own future emotional reactions to events.
Even though some events seen in dreams or visions are traumatic, the emotion that carries the psi signal may really, I suggest, be a kind of excitement. As I argued in my "Trauma Displaced in Time" post, I suspect the energy or current that carried information about the attacks back in time to dreamers, artists, etc. was precisely the conflicting giddy/horrified "enjoyment" that 9/11 sparked in a nation of TV viewers over the course of that day: excitement at the thrilling cinematic spectacle, which on an unconscious level seemed unreal, as well as even a basic amoral sense of 'survivor's relief' ("thank god it didn't happen to me," "thank god I and my loved ones weren't in those towers," etc.).
The genius of the attacks was not simply that the terrorists managed to symbolically "castrate" our country but that they got a whole nation to enjoy the spectacle and its aftermath in an unbearable, unspeakable, unacknowledgeable way. Enjoyment in this equivocal sense is, I am increasingly persuaded, a core element of some psi phenomena. My second, very recent example will illustrate this same principle, albeit in a much more personal and non-traumatic context.
Pushing the Envelope
I must first explain that this precognitive dream experience arose as an unintended side-effect of my hitherto disappointing efforts at remote viewing (RV). Like I am sure many who get interested in psi research, I have eagerly read guides by the pioneers and masters such as Russell Targ, Joe McMoneagle, and Ingo Swann; I've even read books by earlier authors on clairvoyance like Upton Sinclair, whose book Mental Radio contains a chapter by his clairvoyant wife Mary Craig Sinclair giving very clear instructions to her method, and Harold Sherman, the clairvoyant who accurately remote-viewed aviator Hubert Wilkins' arctic journey (recorded in the classic Thoughts Through Space) and who later wrote popular guides to ESP. As the easiest "protocol" I can think of, I simply ask my wife to print out some random picture from the internet while she's at work during the day, seal it in a brown envelope, and set it on the table next to my bed in the evening. Since it is late at night that I feel most "receptive" and it is easiest to attain a relaxed or hypnagogic state, it is before sleep that I attempt to sketch my impressions of what is in the envelope.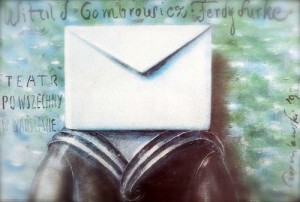 Despite my efforts, I am the world's worst remote viewer. With only occasional unexciting exceptions, I have had very few "hits" doing this. Recently, however, I modified the protocol to allow my dreams to maybe lend a hand. Instead of going ahead and opening the envelope after attempting to RV its contents, I wait until the next morning to open the envelope. In trying to view the picture inside the envelope the night before, I even imagine the scene of pulling it out of the envelope at the breakfast table; and prior to falling asleep, I silently request my unconscious to deliver information about the picture in the envelope. This has produced interesting and, in a couple cases, actually stunning results. But the results are indirect and symbolic, precisely in dreams' usual evasive manner, and in one case my dream showed me specifically the "scene of confirmation" rather than the picture I was trying to RV.
Let me explain: Late on a Friday evening two weeks ago, I did my usual, meditating in bed and then sketching images and impressions that flashed before my mind's eye while imagining the scene of opening the brown envelope over breakfast. Then in the morning, I arose and groggily jotted a few notes on the main dream I could recall from the night before: something about a lush, green, idyllic pastoral landscape that was somehow maintained by an advanced futuristic technology.
Although there is nothing more boring than someone else's dream, I must give a few details because they are significant: In this dream landscape was a group of people of uncertain ethnicity—it seemed significant that they were "dark skinned but not black/African"—who were reluctant to leave their Eden, despite the urging of an affable, white, heroic military man. That man was communicating by phone to some ship that was under attack—I pictured a sea-vessel on fire some distance away at an ocean port or harbor. There was also a scene of two of the "dark skinned" people, a man and a woman, facing each other at close distance, gazing into each others' eyes almost theatrically, as if they were about to sing a duet to each other.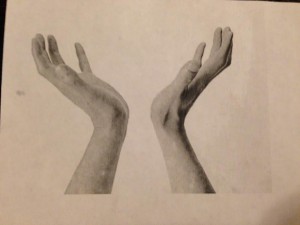 Over breakfast, I opened the envelope to reveal the accompanying picture of hands in an upright-open gesture. It bore zero resemblance or connection to my several pages of before-bed scribbled impressions, even by a remote stretch of the imagination. I put it down as another RV failure. However, a little while after breakfast I picked up the picture again and free-associated on it. The first thing that came to mind was the nearly identical gesture of greeting used by the primitive, deeply-tanned Polynesian-style villagers in the original Star Trek Season Two episode "The Apple"—a typical 'Gnostic' Trek episode about an ancient planetary computer named Vaal that keeps the planet's inhabitants in an innocent and ignorant (but idyllic) state of nature.
Lost Innocence
The entire original Star Trek series is burned deeply into my neural wiring as a result of a childhood spent watching reruns of the series every afternoon. Although I have not seen "The Apple" in well over three decades, many elements, including the natives' palms-up greeting, have always stuck with me, and my mild disappointment over a failed RV attempt turned quickly to delight: The picture in the envelope had clearly triggered an association to that episode. (In selecting the picture, my wife could not have anticipated this association because she's a ST:TNG gal and had never seen "The Apple.")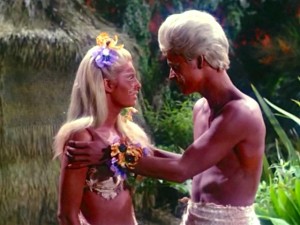 Because it was Saturday, I immediately re-watched "The Apple" on Amazon, to refresh my memory about the episode as well as revel in what seemed like a real psi "hit." It was even campier than I remember, but it clearly matched closely, or exactly, all the elements I remembered from my dream. But as I reveled in this success, I realized that the dream had not been "about" the image in the envelope at all; it was precisely about what I was right then doing: re-watching a particular old Star Trek episode in a state of eager excitement. My dreaming mind hadn't peered into the shut envelope, in other words; instead it picked up on the most emotionally salient event in the landscape of my near future. That event bore a chicken-and-egg relationship to the dream that precognized it. It was truly 'acausal' or even Moebius-like in precisely the way we should predict could occasionally happen in a science-fictional world where information can travel backward in time.
If anyone's innocence is lost here, it should be yours: Time is not what you were raised to think it is. Neither is your own mind.
That sounds preposterous, of course. A skeptic would say, reasonably, that watching the episode was obviously only an effect of my dream and not its cause; however, they would then have to explain the uncanny connection to the hand gesture in the photograph, which was actually the crucial mediating link or "short circuit" in the motivational chain that led to my watching the episode in the first place. In other words, without admitting the precognitive dreaming effect, you would then be forced to posit a "synchronicity" just like the scarab innocently arriving at the window of Carl Jung's Zurich office at the precise moment his patient was telling him a dream about a man offering her a scarab: You would be forced to say that it was an uncanny meaningful coincidence stage-managed by the universe, or by God, or somehow orchestrated by an "archetype of the collective unconscious."
I have argued over several posts why it makes no sense that a symbolic formation, by itself, could exert a shaping force on events. Granting "archetypes" this kind of stage-managing power in our lives is truly magical thinking, in a negative sense. We shape our universe to be meaningful, but often unconsciously or unknowingly, through precognitively informed actions that orient toward fulfillment of personal symbolic motifs. "Archetypes" are a perfectly fine concept so long as we take them in this latter, reduced sense. As impossible or even preposterous as it sounds, the simplest explanation for my "Apple" experience is, I believe, exactly what I think really happened in the scarab episode too: a simple case of precognitive dreaming, in which a future signal was amplified because post-hoc actions enhanced particular experienced emotions (namely excitement) during the "scene of confirmation."
A Jungian Star Trek fan would, of course, point out some obvious archetypal aspects of "The Apple": the "dark-skinned" villagers or Vaal himself as the shadow, for example, and Kirk as the "serpent" leading to a loss of innocence. But everything has an archetype in it, if you want to look for one. My narrative doesn't seem to be about lost innocence. My innocence was lost ages ago. If anyone's innocence is lost here, it should be yours: Time is not what you were raised to think it is. Neither is your own mind. Dreams are a royal road to discovering the bizarre Moebius structure of time and mind; if you are not already keeping a dream diary, what are you waiting for?
Vaal and Redemption
I have argued that psi events build around trivial unremarkable coincidences that we feed and fatten by an imagination and a mentality that is open to magic or psi—"feed," you might say, rather the same way the inhabitants of Gamma Trianguli VI ritualistically feed their computer god Vaal by pouring offerings of food into its big reptilian stone head.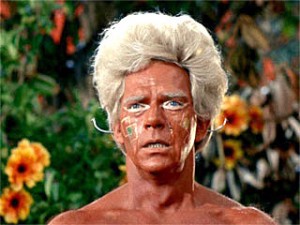 The minor objective coincidence between the significance for me of an old Star Trek episode and a picture my wife randomly chose off the Internet by itself was not enough to "power" any uncanny event. What amplified the signal was my (a) interest in psi, expressed through an RV attempt (a kind of ritual), coupled with (b) interest in coincidences (after all, I've been writing about them for several weeks on this blog—another kind of ritual), coupled with (c) a habit of delving into and 'commemorating' personal symbols that emerge in this path. This combined to produce a recursive spiral of enjoyment that, I argue, generated a precognitive dream.
The ritual aspect here is crucial I think. I have found that the ritual of re-watching, re-reading, or purchasing books or TV shows or other things from my formative years that emerge in my psi attempts and synchronicities actually contributes to generating the excitement and epiphanies that precognitive phenomena like dreams and RV attempts pick up on. In other words, honoring and commemorating psi successes and synchronicities actually contributes to creating them, in a kind of feedback effect, and an established habit or ritual of doing so is a crucial "feed-forward" component necessary to actually manifest these psi effects with any regularity. My psi god, if you will, or my personal Vaal-like unconscious self (Vaal=VALIS? … hmmm) responds to my offerings by producing affirmatory anomalies, encouraging this particular path.
Now, if I can just get my inner-child-psi-mind to predict the stock market and not just personal associations to pictures in envelopes, I'll have achieved something…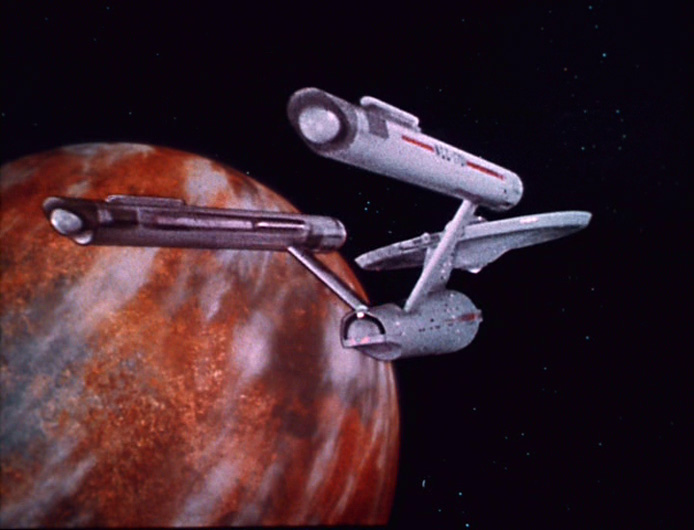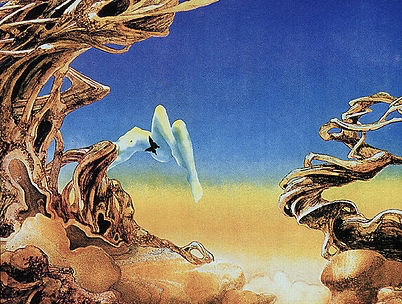 Like many people, I am fascinated by synchronicities that occur in my life, and I even see them as signposts on my life's path. Yet the "nuts and bolts" side of me agrees with Arthur Koestler in his wonderful 1972 survey of ESP research, The Roots of Coincidence: Carl Jung's theory of synchronicity is a muddle, little more than a label slapped onto a mystery without really offering any illumination. In this, it is a bit like the 17th-Century concept of "phlogiston," the postulated fire-like element that was proposed to cause substances to combust before scientists discovered oxidation reactions. Synchronicity seems like a placeholder concept, awaiting a better, more coherent story.
We have the power to create or nurture optimal conditions of our personal unfoldment and realization of our intentions; we simply need to take seriously the power of coincidence in our lives.
Several of my recent posts have attempted to offer a relatively simple mechanism for synchronicity, via psi. In a universe where information from the future can influence us, even just on an unconscious level, it must produce the kinds of complex impossible scenarios familiar from time-travel stories in science fiction, including both "grandfather paradoxes" and, occasionally, self-amplifying or self-confirmatory feedback loops resulting in truly uncanny-seeming coincidences. I've also suggested that the Lacanian concept of jouissance or "enjoyment" may be a kind of carrier of psi information through time—or at least may somehow mediate psi—and thus may provide a better language for talking about psi's science-fictional effects than the Jungian language of synchronicity and archetypes.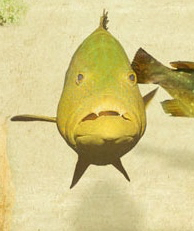 Still, there is an unmistakeable suggestiveness to the word "synchronicity" that is undoubtedly part of its appeal and staying power: Seemingly modeled on the word "electricity," synchronicity implies a dynamism and some sort of energetic current. Jung clearly intuited that this thing, this acausal connecting principle, was less like the static sticky "cords" and other subtle connections described in the Theosophical and spiritualist literature of his day and more like a dynamic energy that moved and flowed among material configurations and mental forms, ideas, and symbols. It's a thing in motion that, when touched, might shock you, and may be capable of short-circuiting; it may be capable of destroying you if you're not careful. An archetype, as Jung described it, is like a battery for storing and releasing this energy.
Whatever terminology we choose to adopt, the question that must ultimately motivate any research into the actual functioning of psi and coincidences would have to be: Can we weave it into our theories of how things happen enough that it could be predictive of events outside the laboratory? If treated in the right way, is it also capable of powering something? Can we harness this substance or this energy?
A Duh Experience
As I was finishing my recent post about my "eureka" that synchronicities are illusions created when personally significant but minor coincidences are unconsciously amplified through atemporal feedback loops, my eureka quickly degraded (as eurekas often do) to more of a "duh." My basic idea was nothing that many practitioners of ritual or chaos magic, or for that matter many adherents of various positive-thinking philosophies, would disagree with, even if I was drawing on different metaphors. Essentially, we have the power to create or nurture optimal conditions of our personal unfoldment and realization of our intentions; we simply need to take seriously, if not fervently believe in, the power of coincidence (and, by extension, magic and meaning—or psi, as I prefer to call it) in our lives. It is exactly this orientation to coincidence that helps us boostrap our condition in a favorable direction.
Enjoyment is the most basic, amoral, childlike power of "yes," which can even be thought of as extending both forward and backward through time like an atemporal power current in our lives, linking past and future into a timeless electric present.
A characteristic of synchronicity is that people often interpret it as a confirmation of being on the right track, following the right path, doing what they're supposed to be doing—"God winking" is how one person put it to me recently. Even if synchronicities are really illusions based on failure to see that we live in a Phil-Dickian universe and that we ourselves are unconsciously creating these self-confirmatory circumstances, they're nevertheless an indicator of a productive habit with high payoff: noticing, paying attention, being alert to the mysterious. One reason to shift from the vague and neutral language of "synchronicity" to terms of Lacanian psychoanalysis is that the latter idiom indicates just what it is we are really detecting when we notice a coincidence: We are detecting our enjoyment. Orienting to psi and coincidence is really an indirect but potentially powerful way of making enjoyment our life compass.
This is because it is precisely the giddy enjoyment of confirmation that is the "energy" at the heart of coincidences. The gratification that ensues when the objective world confirms our innermost beliefs, expectations, and wishes—even when there is a bad or even calamitous implication to the confirming event itself—can be picked up on in advance of the stimulating event. In the context of suffering-causing neuroses, Freud called these "secondary benefits," but even though it is a kind of pretentious foreign word, I kind of like "jouissance" because it connotes an enjoyment that could be either euphoric or harmful, even deadly, depending on our attitude. Prophetic jouissance is our enjoyment at the uncanny, including our own seeming uncanny powers, even when they have directed our attention toward or anticipated something terrible.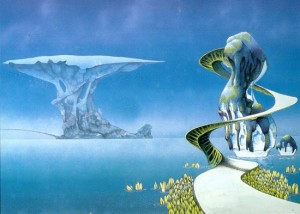 Enjoyment in this sense is the most basic, amoral, childlike power of "yes," which can even be thought of as extending both forward and backward through time like an atemporal power current in our lives, linking past and future into a timeless electric present.
"Follow your bliss" was how the Jungian mythologist Joseph Campbell famously phrased his prescription for the good life, and as a philosophy of life or life principle there is probably none better or more universal. "Bliss" is just the ancient Anglo-Saxon word for enjoyment (bliðs); Campbell's recommendation could be understood as an ironclad law if we understand enjoyment in its psychoanalytic meaning, as something we are always following but that actually causes us pain when we are living in a state of ignorance about what it is we truly enjoy and how we are getting our enjoyment secretly.
Thus Campbell could really have said: Know what your bliss is, because you can't help but follow it. And there, he'd be right in line with any psychoanalyst, Freudian or Lacanian, not to mention the Buddha (overcome ignorance), or pretty much any philosopher in the West (know thyself). Knowledge over ignorance is hard to question as a recipe for health and happiness. Because it is really unavoidable, bliss has a circular quality, and when we try to translate it into linear and logical terms, it produces the tricksterish and sci-fi effects that arise in a world that resolutely only believes in linear causality.
Turtles All the Way Down
I have often dimly noticed that the truest statements seem to have a fractal, recursive, self-similar quality: They are like the Indian story of the world resting on the back of the turtle, which rests on the back of another turtle, and it is turtles all the way down. Logicians and psychologists hate such things: Infinite regress and its variant, circular reasoning—that is, self-confirmation—are the very definition of error and fallacy. But self-confirmation is really the scandalous secret at the heart of language. Linguistic meaning can only ever rest, ultimately, on empty, circular, self-reference.
Bliss has a circular quality, so when we try to translate it into linear and logical terms, it produces the tricksterish and sci-fi effects that arise in a world that resolutely only believes in linear causality.
This was Lacan's great insight about the Symbolic register which entraps us as humans and causes all our neurotic suffering: The only thing that pins arbitrary symbols in place is the gaping holes in that structure, the empty signifiers like proper names (e.g., "the Name of the Father") and empty ideological constructs (e.g., "freedom"). These holes structure the slippery maze of more mundane signs, the same way supermassive black holes provide the structure to a galaxy: Without these empty or self-circular terms, language would be a slippy-slidey indeterminate nonsense soup. The only "really real" is outside of symbols and language altogether. For this reason, the truest statements—really, the only true statements—are those that are circular or otherwise nonsensical, that have no traction within the symbolic but eject us out of the symbolic into the Real, which is the domain of enjoyment/bliss.
Paranormal phenomena including psi and precognition have precisely this symbolically traction-less, illogical, circular—and I would argue, covertly blissful—quality. If and when we acknowledge their reality (despite their resolute illogic), then it gives circularity a new kind of force and truth. It is precisely our own entrainment to psi-confirmatory events (coincidences) through making a habit of noticing and perhaps commemorating them which causes our actions and our lives to assume a more meaningful, archetypal shape—a sort of positive version of what Lacanian psychoanalysis (which generally deals with dysfunction) calls a "symptom." In other words, through a circular and self-fulfilling logic, not only belief in but also enjoyment of coincidence enables us to harness, or is a prerequisite for harnessing, our unconscious psi capacities for our benefit.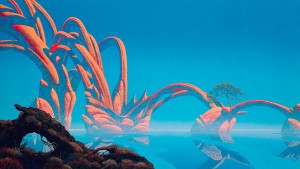 As some kind of atemporal, nonlocal constant in our lives, I'm almost tempted to call this self-confirmatory power of agreement the "enjoyment body" or sambhogakaya described in Buddhist philosophy (part of the trinity that includes the dharmakaya or "essence body" and the nirmankaya or physical form-body). It is like our atemporal being, our "long body," like the world-line of Minkowskian physics except the continuity is not that of the particles of our physical form but of the nonlocal and unchanging substanceless substance of our bliss, a sort of resonating string extending across our lifespan (and beyond?). It is something we may be only dimly conscious of, and there is always some level of it that remains hidden from view and monstrous, because it is partly beyond morality and takes pleasure even in horror.
I remember watching an interview years ago with a sufferer of temporal lobe epilepsy, which gave me some insight into the potential negative dimension of mysticism and why bliss in the face of tragedy is experienced as pain. Temporal lobe seizures sound appealing at first blush, because they effectively are 'religious' experiences in which everything is suffused with bliss and an overwhelming sense of rightness—an ecstatic agreement with the universe. But such a feeling can quickly become excessive and oppressive: The patient noted that even horrific events like the Holocaust had that same feeling of 'blissful rightness' when he was in the throes of a seizure. If the deeper foundation of the universe is a kind of nondual bliss-rightness, and this is the current that psi taps into, then it is easy to see why normal human cortical functioning may act as a powerful reducing valve on this kind experience. For social creatures, an amoral sense of rightness even in extreme human suffering just cannot be workable; this may account for why psi sometimes feels like playing with dangerous cosmic forces.
9/11, for instance, fulfilled unconscious calamitous wishes even as it horrified us, and consequently it set the bliss current, the enjoyment-body, vibrating in a very particular way, stimulating premonitory dreams beforehand and even, perhaps, inspiring many of the artworks that uncannily 'foretold' the event. If it takes deaths and tragedies to make us aware of our larger nonlocal self, do we really want that? Well, some amoral unconscious part of us would say "yes." That's the problem, and fascination, of psi.
Tricksters and Meaning
The healthy middle ground, of course, is neither pathological immersion in bliss nor complete ignorance or separation from it, but knowing where it is and being able to draw from it intermittently, as needed. Such is the aim of mystical schools like Zen and other schools of Buddhism (the "middle way"), which aim to put one firmly in contact with the ground of bliss-awareness without being swamped by it.
If it takes deaths and tragedies to make us aware of our larger nonlocal self, do we really want that? Well, some amoral unconscious part of us would say "yes." That's the problem, and fascination, of psi.
In its own way, the ideal of health formulated by the later Lacan was not unlike this; he said we need to learn to "enjoy our symptom," our furtive secret system through which we extract a forbidden extra something that gives meaning to our lives. Because of its dark dimensions, that extra something, that enjoyment, is always somewhat alien, somewhat beyond both pleasure and understanding … but there are different degrees of unknowing. Those who really suffer are those who are in total ignorance about the nature of their bliss, and thus it destroys them. At the very least it may be experienced as a tricksterish fate that constantly reaches in and mocks and parodies their aspirations, undercuts and sabotages their plans, thwarts them in their lives and hopes.
This seems to be the experience of therapists when confronted with some patients who seem to have devious and completely unconscious ways of eliciting punishment and suffering from their universe. For example, the neurotic trapped in a repetitive or obsessive symptom is deriving enjoyment but in a way that is hidden even from him/herself, and thus life for that person may seem like a constant car wreck. Enjoyment isn't the same as pleasure; we can go without mere pleasure, and many cultures and religions (such as the Calvinism of my own Pennsylvania Dutch ancestors) make a big deal of draining life of as much hedonic gratification as possible, but that's not the same thing as enjoyment. Even within the denial of the body and its pleasures, enjoyment can be extracted, a kind of furtive Promethean theft of what is truly the fire of life. Without that—without the ability to enjoy in some furtive secret way—then life is not worth living. Enjoyment is another way of saying "the meaning of life," and people who commit suicide are those who cannot find a way of enjoying, which is another way of saying their life has lost its meaning.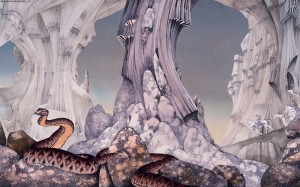 So, precisely here, the Lacanian notion of enjoyment touches this fundamental thing that is at the core of synchronicity: meaning. When we say a coincidence is meaningful, we don't mean that in the workaday sense that a word or a symbol has meaning, that it has a dictionary definition or that it can be decoded or put into words at all; we mean it in a larger, existential way—it connects with the secret sustaining substance of our life, our bliss, our atemporal "enjoyment body." The best synchronicities often read like a confirmation that we are following our bliss in an awake, aware, healthy way. The worst ones—and there seem to be plenty of those—seem like wake-up calls that we are not facing some dark dimension of our enjoyment.
Ac-centuate the Positive
Because our tacit precognitive capacity entrains our attention (our noticing) to random coincidences that happen to confirm our desires, expectations, and beliefs, we unknowingly participate in cultivating a universe that conforms to our intentions, and thus the world assumes an increasingly uncannily (or, gratifyingly) familiar and even magical quality—it becomes a more enclosed and secure universe, in some ways similar to the universe of childhood. This of course is one of the criticisms leveled by skeptics: that belief in the paranormal is a reversion to childishness. Because there is no living, respectable contemplative tradition in the rationalist West, mysticism is viewed similarly, even by psychoanalysts, who have seldom been able to see mystical experience other than as infantile regression.
We unknowingly participate in cultivating a universe that conforms to our intentions, and thus the world assumes an increasingly uncannily (or, gratifyingly) familiar and even magical quality.
In his monumental book, First Sight
, James Carpenter quotes Jung: "How does it come that even inanimate objects are capable of behaving as if they were acquainted with my thoughts?" Psi, Carpenter argues, arises in that unconscious (you might also say child-like) domain where there is no separation between self and other or between self and objects, and where perception and action merge. I would add that it is the world of what child psychoanalyst D.W. Winnicott called "transitional phenomena," similar to the "liminal" phenomena described by George Hansen in his also monumental book The Trickster and the Paranormal
. You could say that psi is a natural entailment of the underlying nondual nature of things that mystics have always asserted but that we are unable to consciously experience except in moments of grace or ego-less, wordless rapture, because of the "reducing valve" function of the cortex. This would fit well with the writings of Patanjali on the siddhis, for example, as well as the modern 'tradition' of linking ESP to mystical practices like yoga or Tantra (see below). When mystics dive down in meditation, a pure ocean of undifferentiated bliss-awareness is what they often describe.
If our enjoyment is indeed a kind of atemporal acausal connecting principle acting as a magnetic field polarizing our actions and thoughts at all times, then in trying to gain some greater insight into when and how synchronous (and, I'd wager, other paranormal) events happen in our lives, we should pay attention specifically to our enjoyment, not merely our thoughts. Indeed our thoughts, which yogis and Buddhists have always likened to waves in the sea of mind, seem like transient effects or epiphenomena on the surface of enjoyment, formations built out of that more basic and oceanic raw material like the fleeting architectural and mimetic forms generated on the sea of Solaris.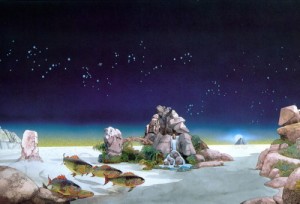 I think enjoyment may be a truer label for the nonlocal substrate of existence—even material existence—that many antimaterialists nowadays seek using the idiom of "consciousness." If we adopted the idiom of "jouissance" or "enjoyment" or "bliss" it might open up new ways of thinking about matter in relation to mind, as well as clarifying seemingly unrelated problems like those of artificial intelligence and the nature of sentience. For instance, people talk about computers becoming conscious, but this seems like a canard; the real question is, could they enjoy? (I strongly think, no.)
I also think it is directly relevant that there is a long tradition—what could be called a kind of alt-spiritual or New Age consensus—that positive thinking has a magnetic power or force over health, wealth, etc. This is of course the famous "secret" or "law of attraction" that has been popularized in countless self-help books and that is one of the core ideas examined in Mitch Horowitz's excellent history, One Simple Idea
. Positive thinking is not exactly or necessarily the same thing as enjoyment, but knowing enjoyment—the blissful as opposed to the ignorant, neurotic, resistant, painful kind—seems closely allied to positive thinking. If positive thinking really has some kind of attractive force in the world, some influence that spills over from mind to matter, you might say, then being in touch with our enjoyment would account for it, maybe precisely via the 'science-fictional' effects (e.g., atemporal feedback loops or "attractors") I described.
Shifting from Jung's language of synchronicity to Lacan's language of enjoyment enables us to formulate other interesting hypotheses about psi and coincidence that could potentially be tested. For example, it would be an empirical question: Are positive synchronous or paranormal events experienced more by mentally healthy, relatively less neurotic people who are more in touch with their enjoyment? Are tricksterish ones experienced more by neurotics? I don't know if synchronicity per se has been studied experimentally or how you would go about doing that, but Carpenter cites evidence that the traits of extroversion and optimism are strongly associated with high performance on tests of psi. This makes sense of why gregarious, confident, attention-seeking personalities—for instance folks like Uri Geller or, according to remote-viewing pioneer Russell Targ, Italian women—tend to do well at psi tasks.
Synchronicity and Kundalini
Another reason why rephrasing the concept of synchronicity in Lacanian terms might be an advance is that notions like "bliss" and "enjoyment" are closer to the literally or metaphorically sexualized energies that have in one way or another been linked, both in the West and East, to paranormal experiences and, more broadly, to human potentiality.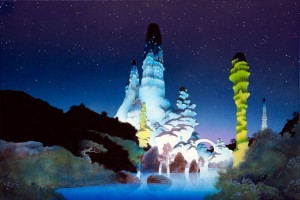 Jouissance in French connotes an orgasm so extreme it is actually agonizing. The maverick Freudian psychoanalyst Wilhelm Reich famously theorized the orgasmic nature of the chi-like energy linking us to the universe and called it "orgone." Reich's orgone theory closely resembles other ideas that have emerged again and again in spiritualism and occultism, such as the "odic force," Mesmer's "animal magnetism," Bergson's "elan vital," the "mana" of pseudo-Hawaiian shamanism, and in Russia, Nikolai Kozyrev's "torsional energy field."
Psychical researchers have always noticed a connection between psychic and paranormal phenomena and sexual development and arousal, frustration of sexual expression, etc. Poltergeists are associated with puberty, for example; remote viewing has been associated with sexual desire by some writers, such as Ingo Swann. The Western sex magic tradition links psychic effects to sex (e.g., chaos magicians often use the orgasm as a portal to the unconscious for the purpose of controlling fate through sigils; the "kalas" in the Typhonian tradition of ritual magic developed by Kenneth Grant are essences of female sexual lubricants produced through arousal; and so on). And most centrally, some Tantric traditions see the fundamental organizing energy of the universe as related to the body and its pleasures, in the form of Kundalini.
The Freudian-sexual framework with its concepts of "libido" and "sublimation" is in some sense just a clunky and very partial theory of this sexual psychic-cosmic energy: Kundalini is the libido extended to the full bodymind, a framework enabling us to see the value of this energy beyond mere reproduction and social dominance concerns (and art) and see how the mystical and even the psychic may draw from the same spring. (According to Jeffrey Kripal
, the Bhagwan Rashneesh once quipped that "Freud only got to the third chakra.") Kundalini might even be thought of as another term for jouissance, although one with its own particular cultural baggage and symbolism and its own particular blind spots. That this energy is believed to ordinarily slumber at the base of the spine could be in part a figurative understanding of the fact that most people are mainly conscious of their survival and sexual concerns and remain relatively ignorant of their "higher" priorities and the more obscure (and sublime) ways they derive enjoyment.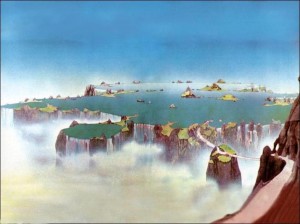 What we can usefully take from the vertical Tantric schema of Kundalini as a spectrum related to or at least symbolized by the hierarchy of chakras is (at the very least) that there's a continuum structuring the relationship between the various aspects of the human bodymind and the broader acausal context, and thus that this substance-energy, whatever we choose to call it, might be converted or transmuted or changed in wavelength—all the way from the organismic and the orgasmic "up" to the creative, intellectual, and spiritual. This "transmutation" is intrinsic to the definition of Tantra, as well as to the "inner" traditions of alchemy both in Asia and Europe.
Other mystical models start instead from the top and work down, privileging cosmic or heavenly energies or awareness or gnosis and deriving "lower" forms from them. One could include the Western Hermetic tradition here, as well as the "higher Tantras" of Asia, including Dzogchen, which privileges an oceanic Void of pure bliss-awareness and is, according to Targ, the royal road to developing ESP abilities. (If that's the case, Zen, which is nearly identical to Dzogchen in its privileging of the unborn Void, bypassing 'transmutation' of baser energies in favor of self-extinction of ignorance and desire, should be equally useful.)
Inner Conspiracies and Paranormal Enjoyment
In any case, and through whatever symbolic language or practice we adopt, the theory I'm putting forward suggests the way to move forward in a science fictional universe is to get clear about our enjoyment: What are we enjoying, and how?
Include the knower in the known by including the enjoyer in the enjoyed: What secret benefit or bliss do you get from your particular surreptitious bargain with reality?
Note, this is a very different question from that of desire—i.e. what do you want, which tends to be the focus of most therapy and even of much magical practice in the form of intention-setting. Desire and want point to lack, which is the underpinning of our insecurity and the motor of our forward motion in life. But even in our lack, even in the midst of our deprivation, we are enjoying. We enjoy our desires and our states of lack in very obscure ways, and thus cutting through desire to enjoyment is the key. In other words, include the knower in the known by including the enjoyer in the enjoyed: What secret benefit or bliss do you get from your particular surreptitious bargain with reality? What in you does your symptom serve, and why? Examine your secret sources of enjoyment, and then come clean about it, if only to yourself.
This kind of enjoyment-examination is perilous. Psychoanalysis lasts so long because the analyst is perceived as trying to steal away the patient's secret enjoyment, so years and years of resistance have to be overcome through attrition and trickery, like a shamanic cure but in slow expensive motion. It seems to me that private self-examination in meditation should be a much more direct and fruitful approach than this kind of frontal assault, because all it requires is self-honesty: You can keep your enjoyment a secret, in the end.
Enjoyment-examination (or perhaps, bliss-analysis) has direct and special relevance to those of us with an interest in psi and other liminal, paranormal topics, and who 'want to believe.' If you are honest with yourself, you may find you are in a very weird and precarious position with your enjoyment of this subject matter. What do you enjoy believing, and why do you enjoy believing it? Why do you enjoy believing in ESP, and what would happen if suddenly everybody else believed in it too? What secret benefit to you get from your time spent reading or discussing the topic of UFOs? What would happen if tomorrow there was some public and unmistakeable confirmation of their reality, and a confirmation that they were _______ (fill in the blank: ETs, tulpas, interdimensional beings, or whatever turns your crank)? Would that change how you relate to the subject?
Our enjoyments in this sense are what in a psychoanalytic idiom are called our "unconscious investments." As in the study of political-economic formations and conspiracies like Watergate, where you "follow the money," in understanding ourselves—and the nature of psi, and UFOs, and consciousness, and all the rest—we need to follow the bliss. The quagmire of complex unconscious investments in the paranormal fields may account for many of the tricksterish effects described by Hansen … but this is the subject for a later post.